Review: THE BAND'S VISIT Makes a Great Impression at OC's Segerstrom Center
The Tony-Winning musical's touring production is a sweet lovely musical with great impact
Even without dazzling special effects, spectacular, large-scale theatrics, or histrionic high drama, THE BAND'S VISIT---the Tony Award-winning stage musical now on stage at Orange County's Segerstrom Center for the Arts in Costa Mesa through April 3---still provides a powerful, if more subtle impact to those who give it a chance. Quietly poetic in its precious, slow-burning delivery, the show presents itself as a beautiful, sometimes quirky, and altogether heartwarming lesson in how a seemingly insignificant moment can leave a long-lasting, memorable impression for all involved.
Adapted from the 2007 indie film written by Eran Kolirin with the same title, the musical---which features a book from Itamar Moses and music and lyrics by David Yazbek---follows an oft-used trope of seeing a group of outsiders getting unexpectedly stranded in a strange town that was not their original destination. In this case, the people taking an unexpected detour are members of Egypt's Alexandria Ceremonial Police Orchestra, who were originally slated to perform by honorable invitation at the Arab Cultural Center in the city of Petah Tikvah. But, alas, due to a mispronounced ticket order at the bus depot, the band winds up in the dusty, tumbleweed town of Bet Hativka, an Israeli town so isolated and remote that its own citizens describe their own hometown as being "boring."
With no buses scheduled to arrive until the following day, the band has no choice but to wait it out in the wrong town overnight, much to the disappointment of their quietly regal band leader, Tewfiq (played by Sasson Gabay, who reprises the same role he played in the film version).
Understandably, there is mutual curiosity between Bet Hativka's citizens and its visiting Arab musicians upon their arrival. Even more intrigued is Dina (Janet Decal) the town café owner who convinces (well, strongly commands) the town citizens to provide temporary overnight shelter for the stranded musicians. She is most enamored with Tewfiq in particular, whom she personally offers a place to stay alongside Chet Baker fan Haled (Joe Joseph), the flirtatious trumpet player responsible for the bungled bus tickets.
As each set of musicians are divided up and distributed amongst Bet Hativka's reluctant B&B hosts, mutual transformations between the townspeople and their unexpected visitors begin to blossom, almost as if their sudden (and, really, accidental) appearance in town happened for a still-not-obvious good reason.
Soon, shy and timid Papi (the adorkable Coby Getzug) gets confidence lessons from Haled in order to get the attention of his girl crush. At a different home, a strained couple, Itzik (Clay Singer) and Iris (Kendal Hartse), find a moment of zen from marital strife and a screaming newborn thanks to their temporary guest, clarinet player Simon (James Rana) who plays a lovely, song he's been trying to finish. In return, Simon rekindles his dream of being a conductor thanks to the cheerleading of Iris' dad Avrum (David Studwell), who credits music as something he and his late wife both loved. Avrum had been reluctant to speak of her before, but Simon's inquiries allows him an opportunity to finally express his feelings, much to Iris' visible discomfort.
And lonely Dina finds a kinship with old soul Tewfiq. After discovering a mutual love of Omar Sharif movies, she continues to be enamored by him, a person she perhaps recognizes as someone that is wrestling with a deep hurt, something she herself lives with everyday. Is romance developing or is it two kindred spirits finding each other in the desert, ready for a bit of intense interaction and revelation?
This motif of searching for deep meaning in one's seemingly stilted life becomes a running theme throughout the musical as explored by the behaviors and interactions of the different characters we encounter throughout, including a character known simply as "Telephone Guy" (played by Joshua Grosso, blessed with a top notch voice) who, quite literally, waits perpetually by the one pay phone in town hoping for a call from his girlfriend whom he hasn't spoken to in months.
Deceitfully charming despite feeling mostly like a musical where no real obstacles or evils take place or where "nothing" really happens, A LOT does happen in THE BAND'S VISIT, if you peer between the lines and get lost in its hypnotic machinations. There is a quiet beauty at work here, from the simple but lovely musical interludes that transition from scenes and locales to the aching vocal delivery of its characters. The musical posits that even the most seemingly insignificant events in our lives make a lasting effect in our way of thinking or behaving.
THE BAND'S VISIT achieves resonance without hitting the audience with loud bangs and shiny objects. From Sarah Laux's subdued costumes to Scott Pask's minimalist-but-moody turntable set (except for a roller rink disco sequence that adds pops of color among the beige), everything about this production is a subtle bubble of air to complement its soft storytelling. Even the show's terrific ensemble cast portrays this vibe engagingly.
Part of me, however, wonders if such a purposely intimate musical would fare even better in smaller venues that allows its audience to feel much closer to, and, therefore, much more intimately ensconced in the stories being told. While I feel its emotional resonance wasn't too affected by Segerstrom's large stage, I have to wonder, too, if more audience members would benefit from smaller stage that would more mimic the small-ness of the show.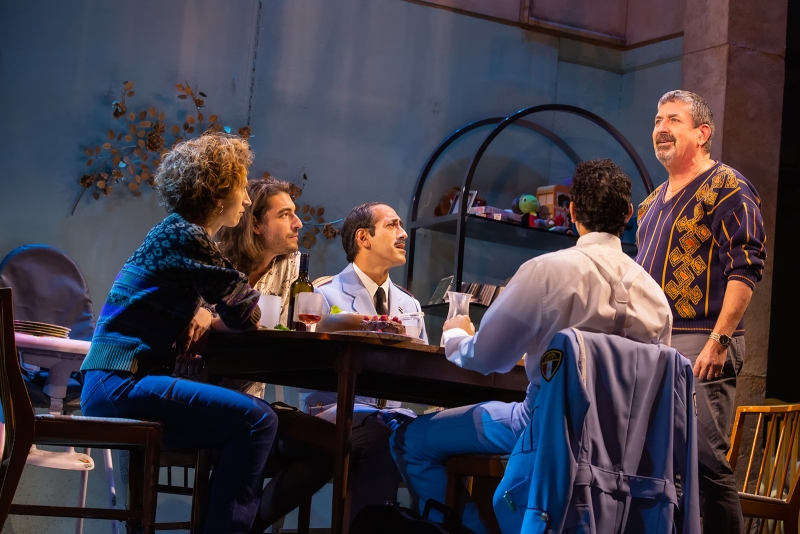 With that said, towards the end of the musical, something magical and gigantic occurs in the form of a full company song outburst that signals a long awaited awakening. It is gorgeous and, frankly, very impactful in contrast to the rest of the show.
By the time THE BAND'S VISIT reaches its climax, the same words that were projected overhead so matter-of-factly in the beginning are repeated to emphasize its rather now humorous sarcastic set-up: "Once not long ago a group of musicians came to Israel from Egypt. You probably didn't hear about it. It wasn't very important." But in actuality, it may not have been important to the extended world at large, but for these individuals---for this one brief night---the importance proves astronomical.
In other words, don't sweat the small stuff. You never know what emotional impact they may have in your life and the lives of those that shared these moments with you.
* Follow this reviewer on Twitter: @cre8iveMLQ *
-----
Photos by Evan Zimmerman, courtesy of Segerstrom Center for the Arts.
Performances of THE BAND'S VISIT continue at Segerstrom Center for the Arts in Costa Mesa, CA through April 3, 2022. Tickets can be purchased online at www.SCFTA.org, by phone at 714-556-2787 or in person at the SCFTA box office (open daily at 10 am). Segerstrom Center for the Arts is located at 600 Town Center Drive in Costa Mesa. For tickets or more information, visit SCFTA.org.