BWW Review: BROADWAY BOUND Shares Truthful Tales from the Simon Brothers Early Break Into Show Business
BROADWAY BOUND won the 1987 Pulitzer Prize for Drama, making part three the most serious of the Eugene trilogy plays by Neil Simon in which we find Eugene and his older brother Stanley trying to break into the world of show business in 1949 as professional comedy writers while coping with their parents break-up and eventual divorce. Along the way, their material is broadcast on the radio for the first time, making the family upset to hear a thinly-veiled portrait of themselves played for laughs. Of course, everyone else in their Brighton Beach neighborhood sees themselves in the characters, but that does not lessen the hurt felt by their grandfather and parents when the show airs.
Directed by Howard Teichman for the West Coast Jewish Theatre at the Miles Memorial Playhouse in Santa Monica on a beautifully detailed
split-level set designed by Kurtis Bedford and lit by Ellen Monocroussos, Neil Simon's classic took on a more emotional dedication from the cast with Simon's passing on August 26, 2018 during the show's rehearsal process. But even though Teichman keeps the pace moving along at a steady pace, running at almost 3 hours with very little laughter, the play, though extremely well written and performed, does seem a bit long and drawn-out as there certainly were moments when it could have ended much sooner and still been as effective.
That aside, all the actors did a marvelous job of presenting their characters, especially brothers
Eugene (Josh Reiter) and Stanley (Matthew Nye). Breaking the third wall to speak directly to the audience gave Reiter many chances to share Eugene's inner thoughts while other characters he was speaking about froze in place. This technique was very effective during scenes with his grandfather Ben (Shelly Kurtz) as Eugene explains what makes his grandfather's humor so effective for the brothers' comedy skits. Kurtz proves to be the perfect "straight" man, not realizing how funny his off-the-cuff remarks truly are.
Nye portrays Stanley as the more efficient businessman,
willing to go out on a limb to go after the broadcasting career he wishes to obtain, getting into NBC Studios and cunningly introducing himself to announcer Abe Burrows as they ride in the office elevator together. That meeting leads to the brothers' first comedy sketch assignment which they must complete within 24 hours in order to be hired.
The person holding the family together through all their trials and tribulations is family matriarch Kate, played to perfection by Jill Remez who allows us to see a woman whose entire life revolves around keeping her husband happy and family well fed.
Her pride and joy is her grandmother's dining room table, which she lovingly polishes throughout the production. Kate is a woman with no other apparent interests in life, most likely causing her husband Jack (Mark Sande) to get involved with a woman who really needs him. While it's not a good reason to stray, his girlfriend's need for his support due to health problems makes him feel needed, something the self-sufficient Kate and soon-to-move-out sons fail to give him in his marriage.
And what dedication to her craft was on display by Dana Weisman
(understudy for Maria Spassoff), taking the stage with a broken leg in a boot and walking on crutches as Kate's sister Blanche Morton. But as soon as the initial surprise wore off in a matter of seconds, this lovely scene with Blanche visiting the family home, dressed to the nines by Shon Le Blanc in a lovely dressy suit and fur coat to reflect how well she has done for herself, totally aggravates her Socialist-leaning father.
When Ben alerts her of Kate's upcoming split with Jack, Blanche is shocked but does not offer much in the way of help, preferring to let her sister work it out on her own. This seemed like a strange turn of events given how much Blanche relied on Kate and Jack for a place to live during the depression when she and her two daughters moved into their home where all three were housed and well fed for years.
But then all families have their quirky tales to tell, and Neil Simon certainly lets us see inside much of his own life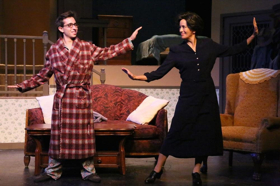 when attempting to break into show business with his older brother Danny, who went on to write for television shows including Your Show of Shows, The Colgate Comedy Hour, The Phil Silvers Show, Make Room for Daddy, My Three Sons, The Carol Burnett Show, Kraft Music Hall, Diff'rent Strokes, and The Facts of Life, while Neil went on to write more than 30 plays and nearly the same number of movie screenplays, mostly adaptations of his plays. And those will keep garnering accolades every time an audience sits down to enjoy them in a darkened theater.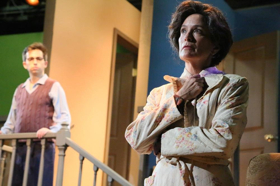 BROADWAY BOUND continues through Sunday, October 28, 2018 on Fridays and Saturdays at 8:00 p.m., Sundays at 2:00 p.m. Also, Thursdays at 8:00 p.m. on October 11, 18 and 25, at the Miles Memorial Playhouse, 1130 Lincoln Blvd., Santa Monica, CA 90402. Tickets are available at http://www.wcjt.org, by calling (323) 821-2449.

Photo credit: Michael Lamont
Set photo by Shari Barrett