Review: OUR VERY OWN CARLIN McCULLOUGH Looks at Whose Dream a Parent Should be Pursuing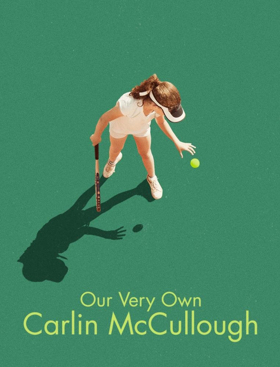 Amanda Peet may be best known as an actress, having appeared in films such as "The Whole Nine Yards" and "Syriana" and in TV shows, including the Duplass brothers' family dramedy, "Togetherness." But she's also a serious writer, with her second play, OUR VERY OWN CARLIN McCULLOUGH, now making its world premiere at The Geffen Playhouse. Peet says that for the Geffen production, with a cast that includes Mamie Gummer, Abigail Dylan Harrison, Caroline Heffernan, Tyee Tilghman and Joe Tippett, she was most interested in examining the mother-daughter relationship and "the idea of how to parent and to what degree you can keep your narcissism in check."
Peet's script, directed by Tyne Rafaeli, examines the relationship between 10-year-old tennis phenom Carlin McCullough (Abigail Dylan Harrison), her overbearing mother Cyn (Mamie Gummer),
and Jay, the young coach (Joe Tippett) who has devoted himself to the girl's success. As the action moves from tennis court to the McCullough's kitchen, decisions are made on the potential tennis wonder kid's future, with her mother and coach determining the best route to lead her to fame and fortune, while Carlin just wants to keep the two people who believe so strongly in her abilities, even more so than she does, happy.
Things seem to be going along great, until Cyn's job is threatened due to the amount of time spent
travelling to tennis tournaments with her daughter takes its toll. So how can she possibly support her budding star daughter in the style to which they both would like to become accustomed? And if she cannot let her daughter just travel with her coach so she can stay home and work, just how long will Jay be willing to continue coaching without a paycheck? "Just give me her Grand Slam check," he laughs, with great intent on making that dream happen.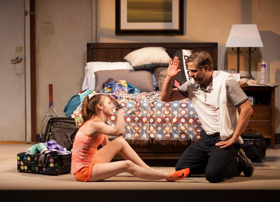 Act 2 begins seven years later, with the teenage Carlin (Caroline Heffernan) in one of the many motel rooms in which the three stay while on the road for tournaments. But unfortunately, Carlin is injured running springs on concrete and is laying down icing her ankle word reaches them that Salif (Tyee Tilghman), a scout from a second-rate university, wants to meet with Carlin about the possibility of a tennis scholarship. Initially everyone seems to be filled with excitement!
But when Jay, who has only returned to coaching Carlin for the past two months,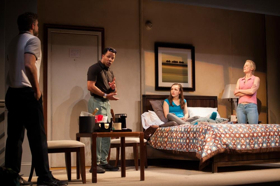 asks Cyn to leave him with Carlin to take the meeting on their own, Cyn's inability to take a back seat to anyone else promoting her daughter's abilities soon causes a rift between mother and daughter from which they may never recover. It is in this scene that Gummer's talent takes center stage as she slowly and so expertly builds and finally boils over emotionally as the reality that her daughter is finally able to make
The two actresses portraying Carlin make it easy to believe we are really seeing the same girl as a playful kid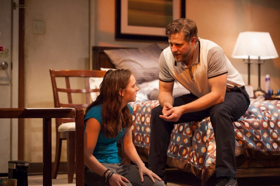 who grows into a young woman finally able to speak up for what she really wants in her own life. But what happens when the 17-year old decides what she really wants is her coach and not to pursue a tennis career? Thanks to Peet's expert character development and Rafaeli's inherent understanding of how a hormonal teen might choose to pursue her first crush on a man she believes really loves her for who she is, this coming-of-age tale ends in a positive, not shocking, way.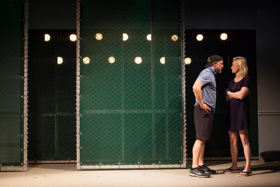 Technical credits soar thanks to the flowing and ever-changing scenic design by Tim Mackabee on which Rafaeli beautifully incorporates character exits as set pieces move into place, everyday and tennis-themed costumes designed by Elizabeth Caitlin Ward, lighting design by Lap Chi Chu, with original music and sound design by Lindsay Jones who will have you really believing tennis balls are being whacked from side to side on the court set.
The world premiere of OUR VERY OWN CARLIN McCULLOUCH by Amanda Peet continues through July 29, 2018 nightly (except Mondays)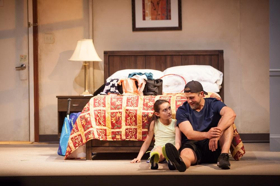 with weekend matinees at The Geffen Playhouse, 10886 Le Conte Ave., L.A. 90024. Tickets: $60-$85, available in person at the Geffen Box Office, by calling (310) 208-2028 or online at geffenplayhouse.org. Rush tickets for each day's performance are made available to the general public 30 minutes before showtime at the box office at $35 General / $10 Student. The run features the Geffen's popular Talk Back Tuesdays, giving theater lovers a chance to engage in a deeper conversation about the play and the process.
Photo credit: Chris Whitaker