Review: MINNIE'S BOYS Returns to the Stage Celebrating the Early Years of the Mischievous Marx Brothers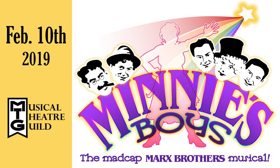 MINNIE'S BOYS, the legendary Broadway musical flop about the early days of the Marx Brothers and their mother/manager Minnie, was first conceived by Groucho Marx's son, writer Arthur Marx, who proposed the idea to producer Arthur Whitelaw in 1969. The idea seemed to be a good one, especially since The Marx Brothers has become counter-culture figures to a new generation of young fans thanks to their early movies being screened on college campuses and movie revival houses. So what went wrong?
Since Whitelaw was friends with Groucho, he signed the then 79-year old comedian on a "production consultant,"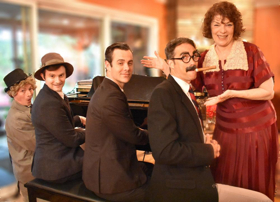 most likely to avoid any possible Marx family lawsuits. But as soon as production began, problems surfaced due to Groucho insisting that two-time Oscar winner Shelley Winters, who resembled his mother, play the starring role of Minnie Marx. But it was soon noted that Winters was "vocally challenged" and could not handle what should have been the show-stopping songs written by Larry Grossman and Hal Hackady in their tuneful and infectious score performed by the ultimate stage mother, a variation on Mama Rose in GYPSY. And even worse, Winters could not remember her lines.
Any director can tell you that 90% of any play's success begins with its casting,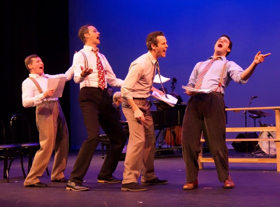 so it is easy to understand why the original production failed due to Winters' miscasting along with five unknown actors portraying the young Marx Brothers. But as a fan of comedians and having heard about this musical for years with no opportunity to see it, I was happy to be in the audience when Musical Theatre Guild, the winner of the Los Angeles Drama Critics Circle Margaret Harford Award for sustained excellence in the theatre, presented a concert version of MINNIE'S BOYS for one performance only at Glendale's historic Alex Theatre on Sunday, February 10, 2019 at 7:00 PM.
For those too young to remember The Marx Brothers,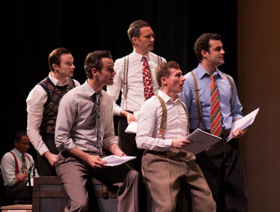 they were Julius, Leonard, Adolph, Herbert, and Milton, who eventually became known to the world as Groucho, Chico, Harpo, Zeppo, and Gummo. Their mother Minnie was determined to pass on her love of vaudeville to her sons, and MINNIE'S BOYS allows us in to those early days when the boys were struggling to break into show business, often on the road and always broke. In fact, it's not until the very end of the musical that The Marx Brothers as we know them now appear on stage after raiding a trunk and donning bits and pieces of character costumes which went on to define them.
Musical Theatre Guild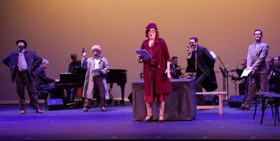 was founded 21 years ago by a dedicated group of professional musical artists who were interested in exploring and preserving works from the musical theater repertoire that were either forgotten, neglected or unfairly dismissed. Working under a special Actors' Equity Concert Staged Reading code, the entire MINNIE'S BOYS production was put together in 25 hours, focusing on the script and score with actors holding book during the performance, including while singing and dancing their way through the 14 numbers in the show, with a wonderfully talented 6-piece band backing them up.
Susan Edwards Martin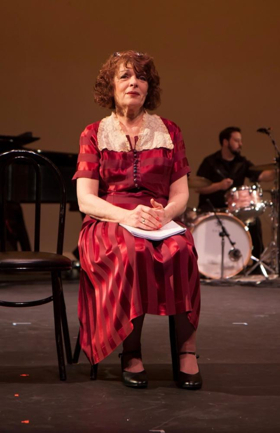 portrayed a formidable Minnie Marx, with her style and personality shining through each of her songs, as did her love for the boys. Always dressed in red, this powerhouse actress exemplified the style and flair with which Minnie was able to secure bookings for her boys. But it was the actors portraying the brothers that made the story come alive as we watched their more well-known characters gradually evolve as time passed, leading to film stardom. I especially enjoyed their comic turn singing "Where Was I When They Passed Out Luck?" which closed Act I.
Julie Marx (Groucho) was portrayed by 6'8' Matthew Patrick Davis who excelled at duplicating Groucho's snappy one-liners. In reality, all The Marx Brothers were very short, with Groucho measuring in at just 5'7". But given Davis' talent, that discrepancy was easily put aside while enjoying his stage presence, especially during Act II's opening number "You Remind Me of You," performed with the
brilliantly hilarious Pamela Hamill as his landlady, Mrs. McNish.
The rest of the brothers were portrayed by Matt Braver (Milton/Gummo), Chad Doreck (Herbie/Zeppo), Scott McLean Harrison (Adolph/Harpo) who used his 5'6" frame with great athletic abandon whenever possible, and Travis Leland (Leonard/Chico). All of their musical numbers, while perhaps lacking the kind of polish you would expect to see in a fully-staged production, certainly were entertaining and reality-revealing. There was never a moment you could question their dedication to respecting their mother's advice, or the need each had to make it as a star.
Also featured in the cast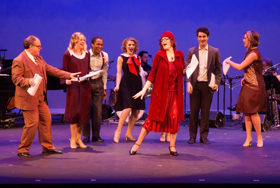 were Eydie Alyson, Eric B. Anthony, Thomas Ashworth, Bailey Blaise, Bryan Chesters as the boys' father Sam (Frenchie) Marx, Jennifer Knox, John Massey, Kevin Matsumoto, Monica Ricketts, Glenn Rosenblum, and Faye Turner. Kudos to costumer Jeffrey Schoenberg, owner and designer for AJS Costumes and M. Alan Jeffries Fine Gentlemen's Apparel.
MINNIE'S BOYS
was directed by J. Scott Lapp with musical direction by Thomas Griep, and choreography by Kevin Jenkins. Musical Theatre Guild wsa honored to have composer Larry Grossman in the room during the entire process of mounting the concert, from auditions through rehearsals to the performances itself. Kudos to Production Manager Leesa Freed, along with coordinators Melissa Lyons Caldretti and Tal Fox, for their dedication to bringing this long-lost and often maligned Broadway musical back to the stage.
Next up for MTG is Stephen Sondheim's masterpiece SUNDAY IN THE PARK WITH GEORGE on May 5, 2019. For more information, please visit www.alextheatre.org or call 818-243-ALEX. The Alex Theatre is located at 216 N. Brand Blvd. in Glendale, CA.
Photo Credit: Stan Chandler and Brad Kluger