Review: MILLION DOLLAR QUARTET STRIKES IT RICH!!! at Laguna Playhouse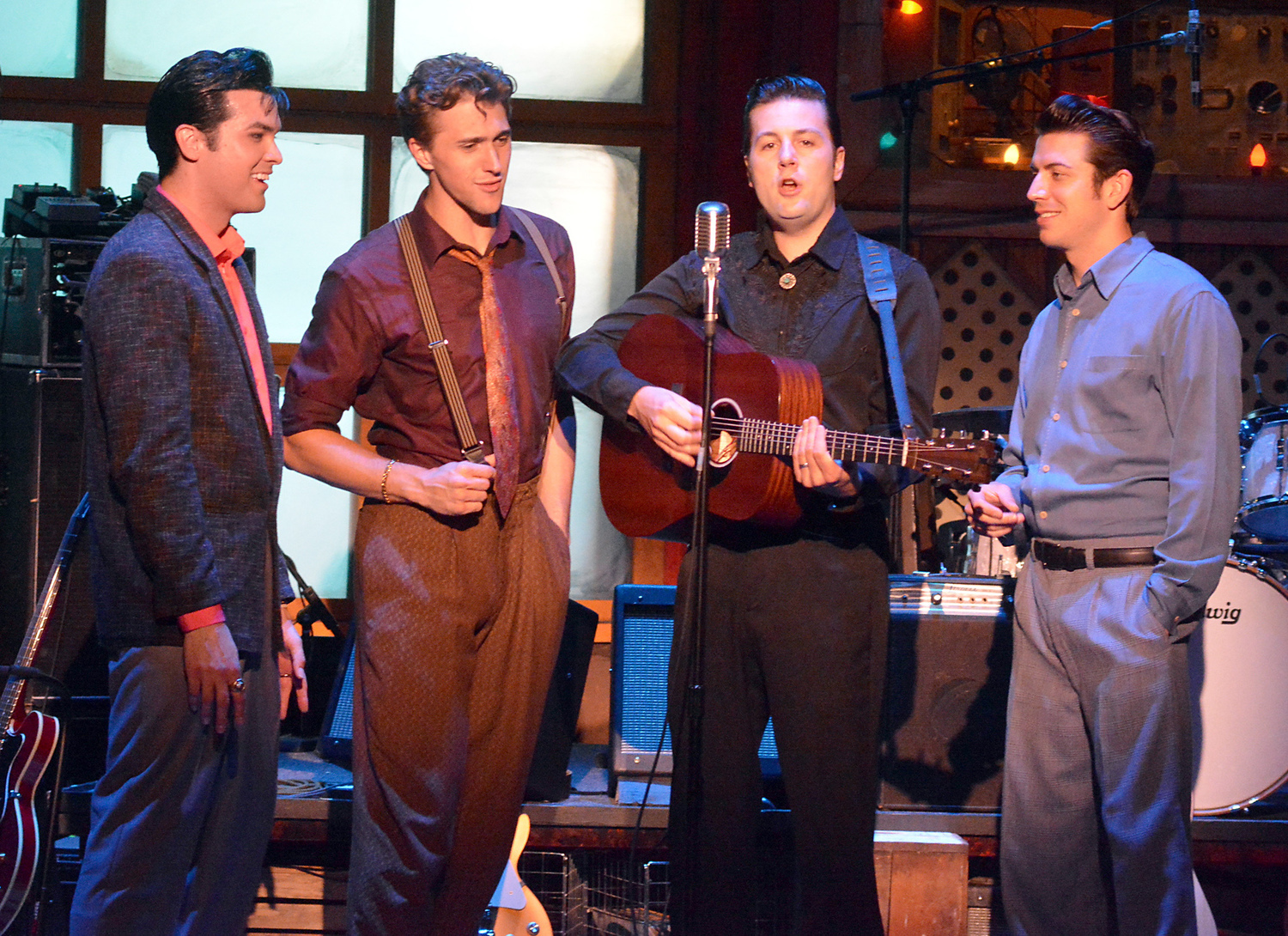 There are few shows of this genre, i.e., cover bands, tributes to, impersonators and artists embodying a legendary character... or three or four... that have the triple-threat talent needed for these portrayals of Johnny Cash, Carl Perkins, Jerry Lee Lewis and Elvis Presley.
Produced by Gershwin Entertainment, with Book by Colin Escott and Floyd Mutrux, who also Conceived and first Directed, this time around Directed by Tim Seib, with excellent Sound Design by Ben Selke, Lighting by Kirk Bookman and Costumes by Jeffrey Meek, this production is rich in talent, energy and delivery.
Casting appropriate talent for this show, is in itself an art. There are six amazing musicians on the stage, four of them playing the parts of four musical legends from the Rock 'N Roll Days. Ones that if you were a teen at that time, you would know, had heard of, or you may have heard tell.
Million Dollar Quartet takes place at Sun Records, in Memphis, Tennessee, an original self-made recording studio on the exact date of December 4, 1956. The innovative set recreates a genuinely self-assembled recording studio in vivid detail and meticulously put together. The Scenic design is attributed to Adam Koch, and doesn't miss a thing.
The physical agility needed to do any of these roles is rigorous; the musical dexterous specificity, the visual likeness, and the distinct vocal quality that are crucial to believability, and as parts of a whole, make this show just a delight!
Excellent musicianship and vocal quality for every member of this historic miracle meeting of musical minds is the only way this re-creation works so perfectly! Each character's identity is solidly embedded in their portrayals of Jerry Lee Lewis (Billy Rude), Elvis Presley (Daniel Durston) Carl Perkins (Austen Hohnke) and Johnny Cash (Peter Oyloe). The additional musicians and vocalists are equally as gifted: Tiffan Borelli (portraying Elvis Presley's date,
Dyanne, for the evening) singing the living heck out of Peggy Lee's "Fever," and belting out "I Hear You Knockin';" Bill Morey, playing the stand-up bass like it was an appendage of his own body, who was Carl Perkins' real-life brother, Jay, and Jon Rossi, as the drummer, W.S. "Fluke" Howard, who gave the backbone and rhythm needed to authenticise these classic rock-and-roll hits.
Hugh Hysell plays Sam Phillips with a lot of heart and soul as the owner of Sun Records, which he built with his own hands and craftsmanship, and on this date, is in danger of losing it all together. He is faced with either selling out to RCA Records, or taking a gamble on the talent he has nurtured and believes in, getting to hold on to the recording studio he built from scratch.
Through flashbacks intertwined with the events of that jam session, we learn the history each performer had with Sam Phillips, leading up to this eventful night.
The sheer number of bonafide hits that were performed during that session is amazing. "Blue Suede Shoes," which opens the show, was actually first recorded by Carl Perkins, and later released again by Elvis Presley, which becomes a bone of contention between the two icons, because Elvis's version put him on the map. As each of the characters enter, they perform one of their many hits.
Jerry Lee Lewis, (Billy Rude) the most agile and constantly entertaining of the four, plays and sings "Real Wild Child" with wild abandon, exactly as we remember his electric performances back in the day. He has come to Sun Records to seek his fortune and fame, hoping to sign with the label and record his "future" #1s. He is arrogant, self-assured, very green to the business, and can't hold back from letting it all hang out, overplaying whenever the rest of the band joins in on any of the other three characters' hits, much to all the other's annoyance, causing some rifts. His two other "future" hits performed are "Great Balls of Fire" in which he blazingly lights the stage on fire, and "Whole Lotta Shakin' Goin' On," one of the encores after the initial end of the show that sent the audience into a tizzy. His physicalization of Jerry Lee's style is something to behold. He never stops moving, with all the crazy gyrations and acrobatic stunts he was known for, from sitting on the ground playing with his feet, sitting atop the upright piano and playing the keys beneath and behind him, his ever-stomping rhythm with his right leg accompanying his infamous glissandos and slamming on a bunch of keys, either at the top of the 88s, or the very bottom, producing a loud bass, crashing sound. His brash, allegro style, somehow fitting notes in between notes, while constantly changing positions is a real focus-puller, making it hard to look away, lest you should miss anything!
Johnny Cash, according to his autobiography, was the first to arrive at the studio that day, and among his many hits, performed "Folsom Prison Blues," "Sixteen Tons," "I Walk The Line," and "(Ghost) Riders in the Sky." Handsome Peter Oyloe has a most incredible vocal ability that is so on the money singing these beloved hits, that if you closed your eyes, you would picture Mr. Cash, hands down. He had had some initial success with Sun Records, but had just secretly already signed with another label, Columbia, which he reveals on a break to Carl, who is also wanting to move on, unbeknownst to Sam Phillips, who is hoping to renew both their contracts and get things moving again, to save his recording studio from turning back into an auto parts shop.
Carl Perkins, (Austin Hohnke) has come back to record new material that he hopes will then solidify his place among the others as a name worthy of being a headliner in Vegas, something Elvis Presley had already achieved. Through the course of the session, he begins to change his mind about sticking with Sam Phillips, and starts leaning toward going with Johnny Cash to Columbia. There are many barbs tossed around within the group, and Carl is the object of many of them. He has a chip on his shoulder about Elvis recording the song he first put out, "Blue Suede Shoes" that didn't go anywhere, but when Elvis's version came out, it landed him his first appearance on the Ed Sullivan show, just as Carl was to appear on the Perry Como show with the same song. He first performs "Matchbox," which did well in the charts, and then a kick-ass version of "Who Do You Love." Most of the songs sung were accompanied by all the other musicians, at a dizzying pace, sometimes adding in back-up vocals and harmonizing that is literally melodic music to the ears. Another hit he was famous for, "My Babe," as well as "Party" and "See You Later, Alligator," really highlighted his musical ability playing some mean guitar, which Austin Hohnke pulled off without a hitch, and at breakneck speed, no less.
Elvis Presley is the last to show up, bringing his date, who is identified in the program as his dancer/singer girlfriend at the time, Marilyn Evans (Tiffan Borelli) who is called "Dyanne," during the show. He had recently left Sun Records, and signed with RCA, which led to Sam Phillips being offered money to let Elvis out of his contract that would save him from going bankrupt, pay off his debts, and letting him keep his recording studio, buy a radio station and invest in stock in the Holiday Inn franchise.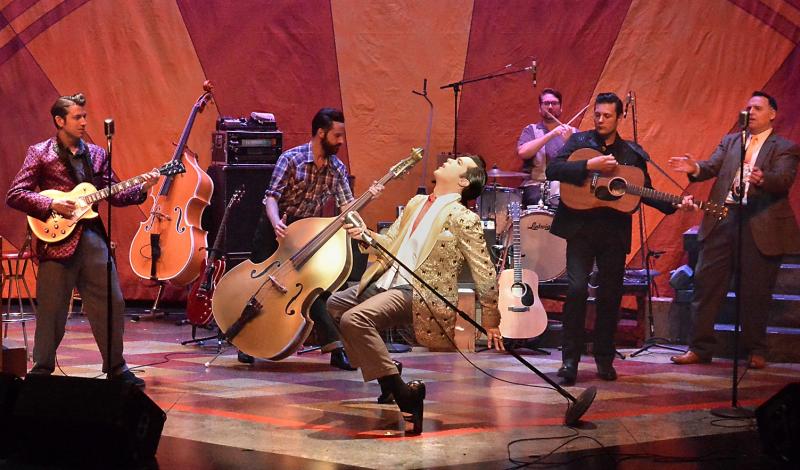 Daniel Durston, portraying Elvis, has all the famous moves down pat and a voice to match. He also exudes that sex appeal that girls went crazy for. His first song, "Memories Are Made of This," was very impressive, followed by "That's All Right," "Long Tall Sally," and of course "Hound Dog," which brought down the house, with all the musicians playing their hearts out, performing with raucous energy that had the audience on their feet, never to sit down again, until after all the lead characters took their first bows, left the stage, then one by one, re-entered, and performed their last song with an all-out jam session, feeding off of each others' artistry and genuine respect for one another.
As I mentioned before, each musician is brilliant and gets to shine in several solo spots throughout, but special mention is to be made of Bill Morey's performance as Carl Perkin's brother Jay. He literally rides that stand-up bass, physically, while pounding out some great licks, "walkin'" up and down those strings and plucking to beat the band. He's standing atop the upside down instrument, he's laying on his back, holding the bass sideways with his legs up in the air and never missing a note. He is a show unto himself, and alone, would be worth catching this performance!
Ultimately, the secrets are revealed, the truths are stated and discussed, and with Elvis's girlfriend tactfully smoothing things out with Sam Phillips, fences are mended and all's well that ends well.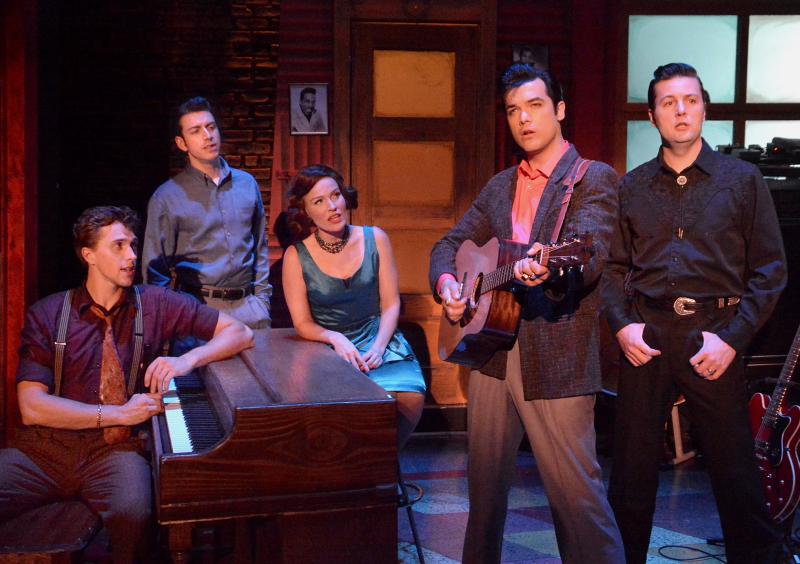 As they celebrate their mutual solution, Sam Phillips decides to preserve for posterity this historic meeting of Rock 'n Roll Giants by taking a flash photo while they are gathered 'round the piano singing "Down by The Riverside," which is then verified by flashing on a screen above them, the actual black-and-white photograph taken that day.
I also spoke with one of the multi-talented understudies, Marek Sapieyevski, right after the show... he understudies both Jerry Lee and Johnny Cash, about what it's like to be a member of this incredible show and travel on tour, doing so many shows a week, month after month, and the discipline it takes to be a part of it. You've got to be dedicated and really love what you are doing!
If you want to enjoy a rollicking good time at the Theatre, be sure to see "Million Dollar Quartet," at the beautiful Laguna Playhouse-by-the sea, from now through July 29th! Wear comfortable shoes, as you will be on your feet through most of the show!
You can purchase tickets on line at www.lagunaplayhouse.com or by calling 949.497.ARTS. Group rates available. Performances are Tuesday - Saturday @ 7:30 p.m. ; Thursdays and Saturdays @ 2pm, Sundays @ 1pm & 5:30pm., with a few exceptions on specific dates.
PHOTO CREDIT: Ed Krieger