Review: Love is Everywhere in LOVE ACTUALLY LIVE at The Wallis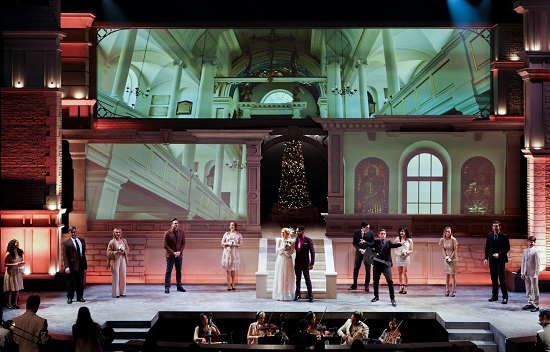 The countdown to Christmas begins and ends with an all-out love blitz this year in For the Record's latest world premiere, LOVE ACTUALLY LIVE, a hybrid entertainment that blends scenes from Richard Curtis' 2003 film Love Actually with live performances of the movie's soundtrack. Co-produced by the Wallis Annenberg Center for the Performing Arts, it is a celebration of love in all its messy, complicated, wonderful glory in a Las Vegas-style vision designed to impress.
Multiple screens are incorporated into an enormous breakaway set (scenic design by Matt Steinbrenner, lighting by Michael Berger, video design by Aaron Rhyne) that opens up in a number of exciting ways to create the many interiors and exteriors, intimate moments, large production numbers, and quirky configurations needed for the performance. An exceptional 15-piece orchestra frames the stage with most of its members positioned on a raised landing on either side of a twinkling Christmas tree. Strings, and conductor Jesse Vargas (who is also responsible for the musical supervision and terrific arrangements and orchestrations), are located downstage in their own box. The effect is overwhelmingly beautiful.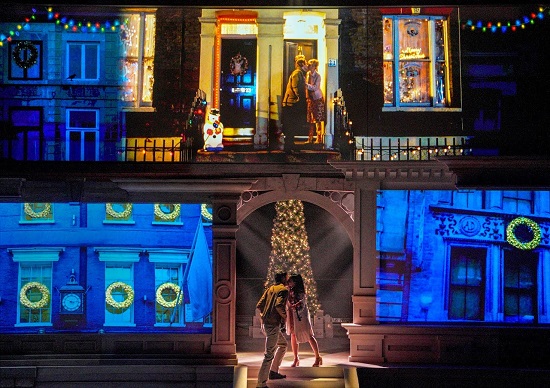 Add 17 singers whose American Idol-ized vocals drew catcalls and much applause on opening night and the result is a fusion of elements that embodies what For the Record does best - create uncommon theatrical entertainment that begins and ends with a film and its music.
This is a continuously moving performance, which doesn't often stop for a breath, as film sequences cut to snippets of live singing, or overlap in a layered set of simultaneous scenes and songs. The downside is a tendency for ensemble singers to overdo their facial expressions and push their vocals in a desire to make the most out of their short stage time.
On the plus side, you get an Aurelia (Olivia Kuper Harris) whose smoky, indie sound is a luscious surprise as Jamie's (Steve Kazee) Portuguese housekeeper, and a jazzy "White Christmas" sung by B. Slade (Peter) that will take your breath away. Rumer Willis disappears into her dual roles of Peter's fiancée Juliet (played by Keira Knightly in the film) and office vixen Mia with chameleon-like skill (and an assist from two great wigs by Cassie Russek). Zak Resnick will break your heart as Daniel (Liam Neeson's role), the stepdad navigating fatherhood on his own. Carrie Manolakos power belts her way to the end of Act I on Kelly Clarkson's "The Trouble With Love Is" leaving the audience on a blistering high.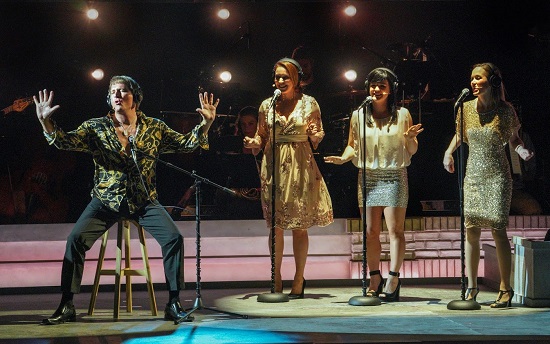 But the character who wraps the audience around his little finger every time he steps on stage is lovable Rex Smith as aging rock star, Billy Mack (played by Bill Nighy in the film). Smith pulls out all his star power and comic gusto for a show stopping opening number and final scene you'll be talking about all the way out to the parking lot. All of the characters are represented - yes, even the porn couple - so if you've only watched the film on cable recently rest assured they don't get edited out here.

Director Anderson Davis has an elegant solution for their scenes which makes the production appropriate for ages 13 and over but note that there is still brief nudity on screen. Davis also incorporates some of the film's most charming surprises into his direction and the results live are equally as lovely on stage. Even if you know they're coming, in the moment they will delight you.
As entertainment goes, For the Record's LOVE ACTUALLY LIVE is a dazzling spectacle of celluloid and sound, music and magic, brightly packaged for the romantic in us all and best shared with someone you love.

LOVE ACTUALLY LIVE
December 4 - 31, 2018
Wallis Annenberg Center for the Performing Arts
9390 N. Santa Monica Blvd
Beverly Hills, CA 90210
Tickets: www.thewallis.org
Photos above by Lawrence K. Ho

Photos below by Kevin Parry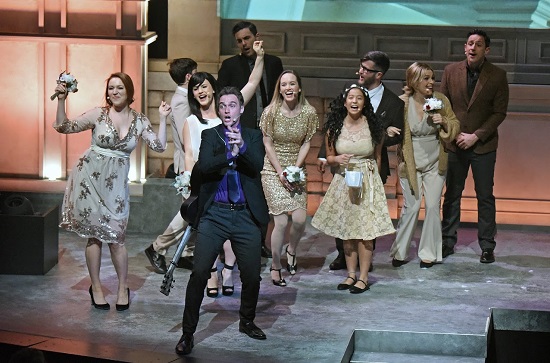 Ellen Dostal is currently the Senior Editor for BroadwayWorld/Los Angeles and a member of the prestigious Los Angeles Drama Critics Circle. She has covered the performing arts community, jazz, and ... (read more about this author)
LISTEN: Podcaster Ashton Marcus and Roberto Williams Discuss George Orwell's 1984

November 23, 2022

Roberto Williams stars as the 'Courage is Cowardice' Winston in George Orwell's 1984 at the Grand Annex, San Pedro. Enjoy!
---
LISTEN: Podcaster Ashton Marcus and A.J. Holmes Discuss YOUNG FRANKENSTEIN

September 29, 2022

A.J. Holmes stars as the hilariously eccentric Dr. Frederick Frankenstein in Young Frankenstein at La Mirada Theatre for the Performing Arts.
---
Listen: Podcaster Ashton Marcus and Jared Machado Discuss AMERICAN IDIOT

August 3, 2022

Jared Machado discusses his portrayal of Johnny in the musical American Idiot at Chance Theater.
---
Listen: Podcaster Ashton Marcus and Troy Whitaker Discuss BLOOD PIG

June 29, 2022

Director Troy Whitaker discusses the play Blood Pig at the Actors Company @ LA Comedy Festival (Other Space Theater).
---
Listen: BWW Podcaster Ashton Marcus and Benjamin Perez Discuss IN THE HEIGHTS at La Mirada Theatre for the Performing Arts

June 8, 2022

Director Benjamin Perez (as Kevin Rosario - whether it's shoe polish or his daughter's education, he knows the right investment) discusses the character he plays in IN THE HEIGHTS at La Mirada Theatre for the Performing Arts.
---