BWW Review: JACQUES BREL IS ALIVE AND WELL AND LIVING IN PARIS Is Revived & Well At The Odyssey
JACQUES BREL IS ALIVE AND WELL AND LIVING IN PARIS/by Eric Blau & Mort Shuman/directed by Dan Fishbach/Odyssey Theatre/thru August 27, 2017
JACQUES BREL IS ALIVE AND WELL AND LIVING IN PARIS receives a first-rate mounting with a cast of powerful singer/actors, backed by a nimble four-piece musical ensemble, and directed and staged with ingenuity of movement that complement the Jacques Brel tales being performed. Although JACQUES BREL IS ALIVE AND WELL AND LIVING IN PARIS has no plotline, and the songs have no logical progression in their order, these 24 songs can each provide an entire show's worth of storyline in themselves. These Jacques Brel songs serve as little nuggets, little gems of short stories. Dan Fishbach ably directs this revival of Eric Blau and Mort Shuman, stringing these 24 gems so nicely together. In the most heart-wrenching nugget "No, Love, You're Not Alone," Fishbach has Susan Kohler singing, not to the audience, but to the silent Marc Francoeur. Amazing number with Kohler's sung emotions of worried comfort and pleading apology, and Francoeur wordless hurt, sadness and forgiveness (maybe)!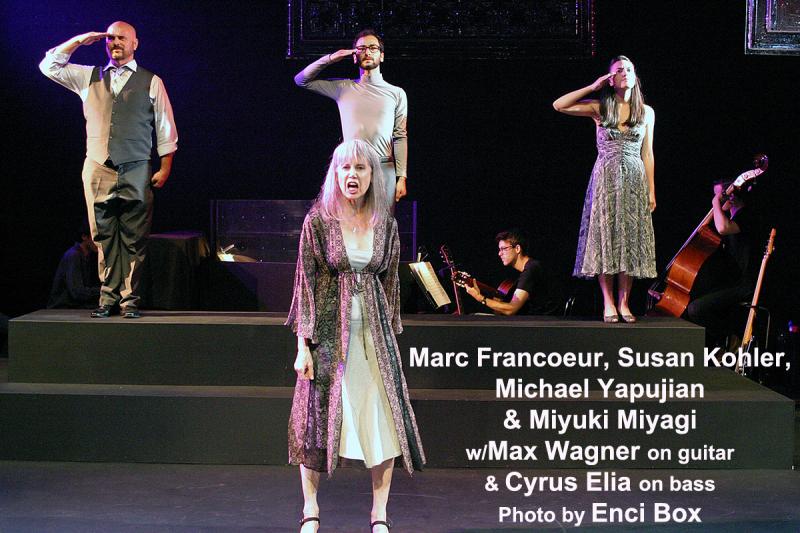 Of course, all four can Sing (capital 'S' intentional), each with their individual solos to shine and chorally in harmonious back-up. Koehler does wonders with the multi-languaged "Marieke." Her emotions easily communicated through the un-translated foreign lyrics.
Francoeur's comedic flair receives full-on exhibition in "Funeral Tango." (Funniest funeral I ever attended!) In "Amsterdam," (the first act closer) and "Next," Francoeur's passion's more than matched by his vibrant baritone vocals.
Michael Yapujian works his farcical skills most successfully in "Bachelor's Dance" and the second act opener "The Bulls." His sturdy vocals shine in the more serious "Alone."
Miyuki Miyagi's crystal vocals sparkle, especially in "The Desperate Ones," with the simplest of musical back-up from musical director Anthony Lucca's single-note piano runs and Cyrus Elia's bass strums. So beautiful in all its simplicity!
Also under Lucca's baton, Conor Malloy on drums and Max Wagner on guitar. This melodious band never once took focus from the vocals (which, by the way, were not individually miked). Huge kudos to the un-credited sound designer!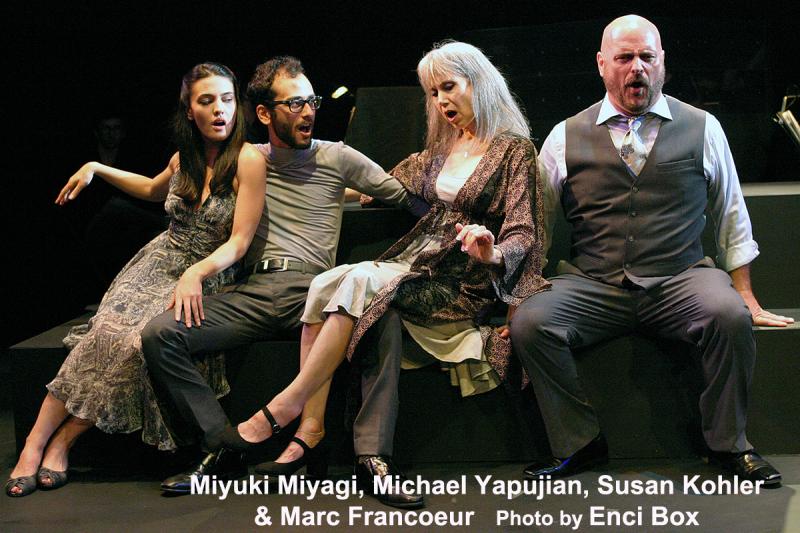 Imani Alexander and Dara Weinberg's clever choreography greatly complements the songs, also never taking away focus from the Jacques Brel sometimes darkly satirical, sometimes simply dark lyrics.
Not sure what period JACQUES BREL IS ALIVE AND WELL AND LIVING IN PARIS takes place in, with the non-specificity of Denise Blasor's costuming. But must have been back a few decades ago, with the sprinkling of un-PC racial and homophobic slurs still included. Also, wisely not taking any focus from work of Jacques Brel; scenic designer Alex Kolmanovsky has a stripped-down center platform in front of the band, with patterned plexi panels hung overhead for lighting designer William Adashek to aim his mood lighting at.
THE stand-out group number has to be "Carousel," led by the speed-vocals of Kohler. Stunning number!
The show closes with the cast beautifully crooning Jacques Brel's probably most popular song "If We Only Have Love." Soooo timely for this moment in time. Be prepared to dab your teary eyes.