Review: Ingersoll's Garland Reincarnated in An Excruciatingly Raw END OF THE RAINBOW
END OF THE RAINBOW/by Peter Quilter/directed by Michael Matthews/Laguna Playhouse/thru September 2, 2018
Playwright Peter Quilter's END OF THE RAINBOW packs a powerful punch in the gut under director Michael Matthews sure-handed guidance of his talented cast.
RAINBOW centers on the events of Judy Garland's 1968 comeback concert in London surrounded by the only two persons closest to her remaining - her formerly estranged accompanist/adoring fan Anthony and her recently engaged boytoy/manager Mickey Deans.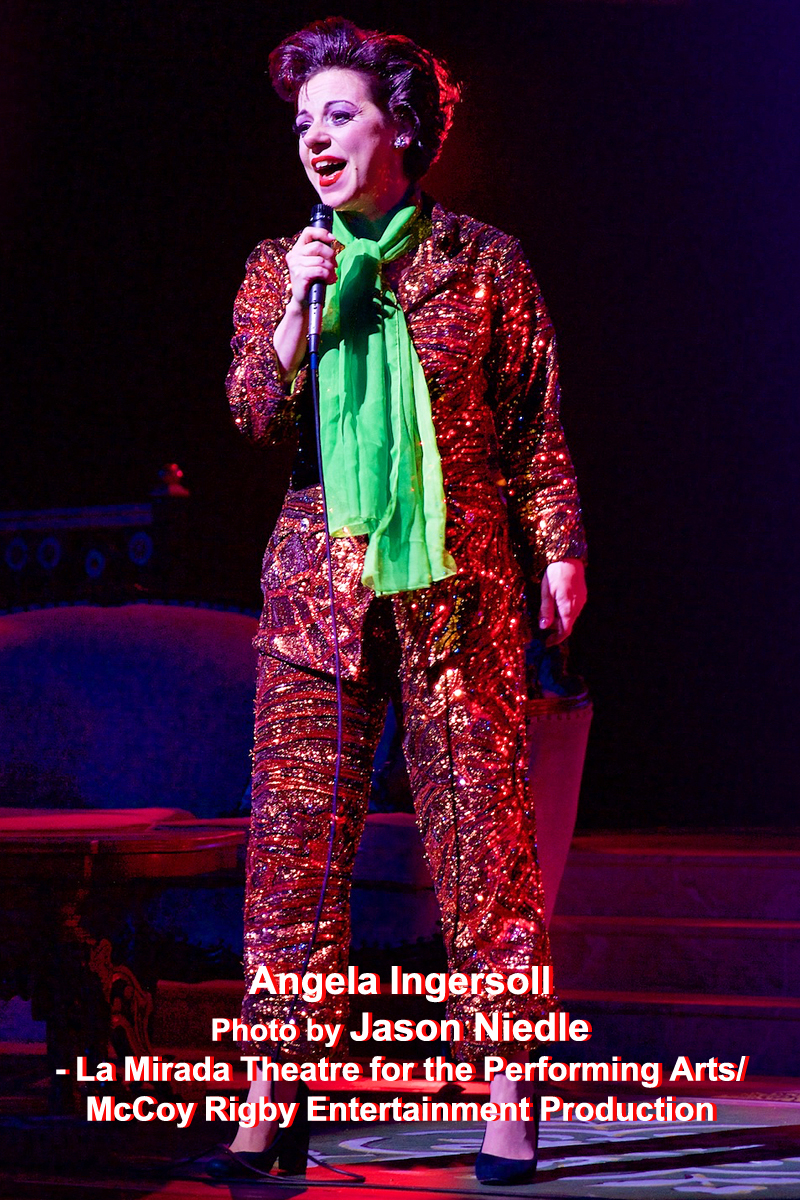 Two moments of RAINBOW rate as the must, MUST-see moments for any Judy Garland aficionados - when the astonishing Angela Ingersoll totally morphs into Judy Garland singing "The Man That Got Away" (the first act closer) and, when Ingersoll channels Judy Garland in "Over the Rainbow" (the second act closer). Ingersoll has Judy Garland's breath control, her phrasing, her hand gestures and her posture down pat. With the perfect Judy Garland hairdo and costumer Bill Morey's Judy Garland-esque outfits, what you see and what you hear is Judy Garland concert-performing at her best (and, sadly, at her worst). Ingersoll's STRONG vocal pipes suggest Judy Garland's vocal prowess at her peak as she hits and holds her ending high notes in "The Trolley Song," "You Made Me Love You," and "Come Rain or Come Shine." Ingersoll's heartbreaking acting chops in combination with her stunning vocals will bring tears to your eyes and rip your heart out in her tormented despair in "The Man That Got A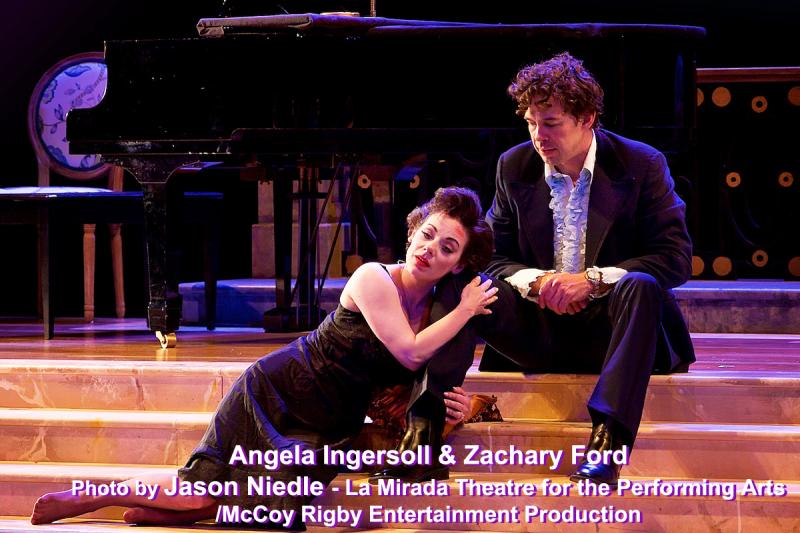 way" and in the most un-optimistic rendition of "Over the Rainbow" you'll ever have the incredible opportunity to experience. Definitely not the wide-eyed Dorothy's version or the more cheery contemporary takes on "Rainbow" you're more accustomed to hearing. Brava, Ms. Ingersoll!
The incidents leading up to and in between the concert present Judy Garland in her excruciating fragile and tragic downward trajectory. Judy Garland has been brought to London by Mickey Deans. Part of his job description as her manager seems to be him keeping pills and alcohol away from her. Zachary Ford, as Mickey Deans, transparently exhibits Mickey's
genuine concern over Judy's mental clarity to perform without the aid of drugs or booze. Ford most assured interpretation of Mickey leaves no doubt that Mickey would stay by Judy's side in her inevitable descending spiral, ever-so-tenderly wrapping his protective arms around her.
Jon Steinhagen provides the grounding heart to RAINBOW as Anthony. Even though they hadn't spoken in years, Anthony agrees to re-unite for Judy's London gig. In the strongest (and quietest), non-sung scene in RAINBOW, Anthony does Judy's make-up. The usually witty and droll Anthony turns serious and reflective in his loving pep-talk to Judy, for once not 'on,' and just being her real self with Anthony. So much of both character's personalities reveal themselves in this
concise five-minute scene. Very nice, Steinhagen and Ingersoll.
Steinhagen does double duty, not only actually playing piano as Anthony (a most nimble-fingering of the opening overture "Over the Rainbow"), but musical directing his band of fine sounding musicians (Omar D. Brancato on bass, David Catalan on reeds, R. Drew Hemwall on drums, Daniel Lawlor on trombone and Aaron Smith on trumpet). Bravo to original sound designer Josh Bessom for the well-miked instruments, and the distinctively nightclub miking of Ingersoll's Judy Garland vocals.
Nicholas Mongiardo-Cooper rounds out this talented cast in his various supporting roles. Mongiardo-Cooper's commanding voice makes him perfectly cast as the Radio Interviewer.
Kudos to scenic designer Stephen Gifford for his lush art nouveau hotel suite set with painted inlaid, marbleized flooring and lattice work panels suspended overhead, easily morphing into the concert venue with the band revealed up centerstage. No scene changes necessary with just the well-timed lighting (and concert spotlighting) of lighting designer Steven Young.
Before Amy Winehouse, even before Janis Joplin; there was Judy Garland, the patron saint of self-destruction. The raw vitriol flinging back and forth between Judy and Mickey, coupled with the withdraw twitchings of Judy may be too uncomfortable and disturbing for the more staid of audience, but Ingersoll's singing's totally worth.
Ingersoll! Singing! Judy! Oh, my!