BWW Review: Geffen Searches for That SIGNIFICANT OTHER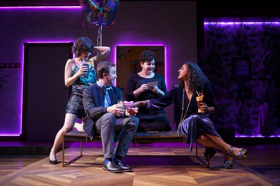 Significant Other/by Joshua Harmon/directed by Stephen Brackett/Geffen Playhouse, Gil Cates Theatre/through May 6
One thing for sure about Joshua Harmon's Significant Other is that all of the characters like to talk, nonstop, and while talking about the mundane, like dating, possible mates and themselves, they manage to be funny and serious simultaneously.
Jordan Berman (Will Von Vogt) is gay and desperately seeking a partner. He has his eyes set on Will (John Garet Stoker), with whom he works, and is nothing short of obsessive in his approach to asking him out. Will is distant, and it takes Jordan a lot of effort to get him to go to a movie with him, a documentary about the Franco Prussian War. He chose that, as Will is a history buff. Does anything happen? No, but that doesn't stop Jordan's pursuit. His three female friends include Kiki (Keilly McQuail), Vanessa (Vella Lovelli) and best "bud" Laura (Melanie Field). Laura and Jordan are very close. She is pretty, but overweight and both resign themselves to the possibility of not finding someone compatible. Perhaps they will marry each other! It's only talk as pure bestfriends will do. Kiki and Vanessa both marry and Jordan attends bachelorette parties, allowing the gals to sort of dominate his life. In fact, after the movie date with Will, alone at home he calls their voicemails in desperate frustration and leaves tremendously long messages, as if he were talking with them in person. When Jordan asks if he should send Will an email proclaiming his love for him, all three girls declare, "No!" Jordan also "hangs out" with his grandmother Helene (Concetta Tomei), who is slowly losing it, fearing death and herself facing loneliness, the loneliness that comes with old age. But she has wisdom and does offer Jordan good advice about his own predicament, "It's a long book. You're in a bad chapter."
Unfortunately, that bad chapter becomes worse for Jordan, who, when Laura becomes engaged, strikes out at his best friend for not making him a bridesmaid. Blaming his own miserable loneliness on her, they strike out at one another in one of the best scenes in the play. As time goes on, things change. Friends change. But...they still should respect one another,...and be happy for one another's future happiness. There's a life lesson for Jordan to learn. We can all relate to Jordan's obsessive behavior and self-pity. If we haven't been there, we will at one point of time or other. Harmon does not hold back in writing explicitly realistic dialogue and keeping it riveting...and humorous.
One of the most descriptive and alluring scenes is one where Jordan describes in great detail Will's body as he emerges from the water of the gym's pool. We watch Will standing there water dripping all over him and eat up every one of Jordan's words. Harmon treats us to his visual, almost lyrical mind. Some of the women's talk about cock size and orgasms, however, left me asking why? Is it to appeal to today's younger female audience who giggle for no reason?
Under Stephen Brackett's finely paced direction, the actors are sublime. McQuail keeps Kiki self absorbed and very funny. Field is just marvelous as Laura. Every one of us has a sincere friend like Laura. Stoker plays three roles exceedingly well, differentiating between them as does Preston Martin who plays both straight and gay, having great fun with the queenish office mate. Von Vogt steals the play as Jordan with so many highs and lows to play. He creates a terrific balance and wins our hearts. Sybil Wickersheimer has created a lovely set design that inlcudes multiple changes from locale to locale with a minimum of transformation.
See Significant Other! It's definitely a play for the young generation with its sexual references and glib style of expression. Beneath the humor, there is a nice warm coming of age. As in Jordan's case at 29, it's never too late.
http://www.geffenplayhouse.org/
(photo credit: Chris Whitaker)
Related Articles View More Los Angeles

Stories

Shows