BWW Review: FREUD'S LAST SESSION - Verbal Sparring At Its Apex
FREUD'S LAST SESSION/by Mark St. Germain/directed by Robert Mandel/Odyssey Theatre/thru March 4, 2018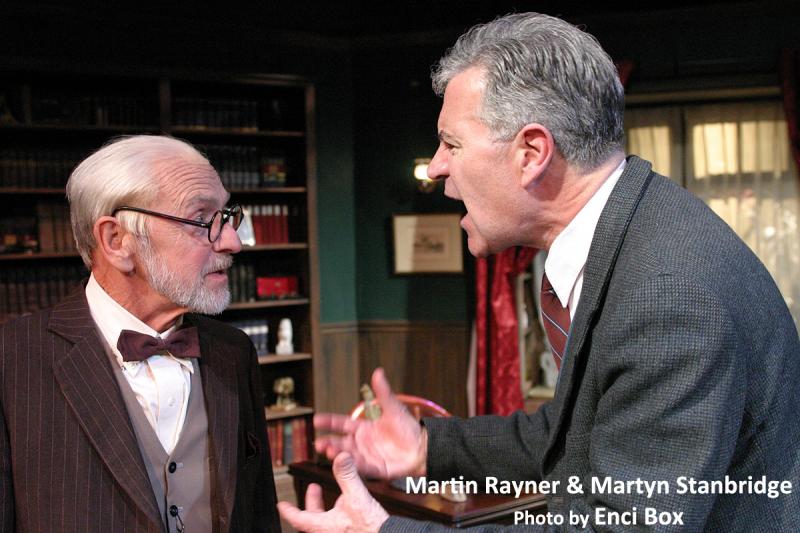 In FREUD'S LAST SESSION, playwright Mark St. Germain has written an intricate, very detailed script of what he imagines as a chance meeting between Dr. Sigmund Freud and C. S. Lewis. Set in 1939 London the day England entered World War II, the two very well-read men debate on the existence of God. Watching Martin Rayner as Freud and Martyn Stanbridge as Lewis butt heads in their reasonings of the existence/non-existence of God is much like watching a Wimbleton Tennis Final. Rayner and Stanbridge's so brilliantly, so evenly matched in their constant egging each other on, in making their "most reasonable" arguments, and then, in a total 360, scoring a strong point for the other side.
As Rayner embodies his role (that he created in 2009), Freud as a most irascible, volatile, charming curmudgeon backed by much intelligence and touches of wit. Who ever thought of Freud as a charmer? Or one with a sense of humor?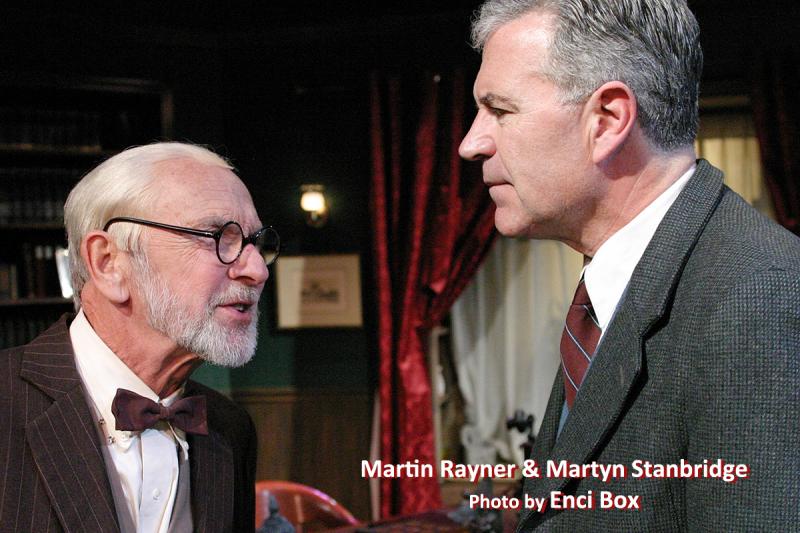 Stanbridge, as Lewis, volleys and returns everyone of Freud's accusations and arguments with equal dexterity.
Director Robert Mandel deftly breaks up the ping pong of atheistic and Biblical facts with a stunning air raid attack, frequent phonecalls to Freud's daughter Anna (Rayner's distinctive "Hello" answering the phone just adds to Freud's charm), and then there's the incidents of Freud suffering through his oral cancer and the ill-fitting apparatus stuck in his mouth to keep him alive. The tension and the playful challenging of the two great minds never waiver.
Kudos to all the technical designers greatly complementing this production. Pete Hickok handsomely designed Freud's dark wooded office set dressed with tons of books and deity figurines by prop designer Josh La Cour. Lighting designer Derrick McDaniel made effective use of a large backlit upstage window and projected gobo
for a downstage one. Sound designer Christopher Moscatiello nailed his scary air raid sirens, his old-time telephone rings, his staticky radio broadcasts, and his very smooth transition from broadcast music to ending full theatre speaker sound. Costume designer Kim DeShazo outfitted the two gents in appropriate suits for the 1930s, in the appropriate wrinkly conditions for men with more important concerns than on their appearance.
Book an SESSION with FREUD. The musical couches the two of them play will keep you chuckling amidst all the well-done seriousness.