BWW Review: AINT TOO PROUD Audience Grabber at Ahmanson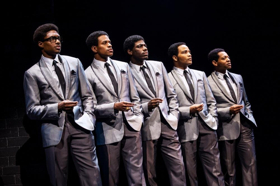 Ain't Too Proud/The Life and Times of the Temptations/book by Dominique Morisseau/music and lyrics from The Legendary Motown Catalog/choreographed by Sergio Trujillo/directed by Des McAnuff/Ahmanson Theatre/through September 30
The jukebox musical is currently the rage with Tony nominated Summer: The Donna Summer Musical on Broadway and On Your Feet! on a sell-out national tour. Des McAnuff directed and conceived Summer and Sergio Trujillo choreographed both shows. The two men join forces once more with the tour of Ain't Too Proud, The Life and Times of the Temptations currently onstage at the Ahmanson Theatre through Septembret 30.
Ain't Too Proud will remind audiences of Jersey Boys. Although much more in depth for a jukebox musical, it presented the life and career of Frankie Valli and The Four Seasons, Italians who started their lives as juvenile delinquents serving prison terms. The Temptations are African American but had similar beginnings.Otis Williams (Derrick Baskin) also spent time in jail and left behind a life of crime for a chance to sing professionally. Ain't Too Proud like Jersey Boys utilizes the group's bonified hit songs. For the Seasons, they were pop/rock; for The Temptations, soul and R&B. Those of us who grew up in the 60s instantly recognize "My Girl", "Just My Imagination" or "What Becomes of the Brokenhearted". We heard these tunes on the radio and bought 45s, feverishly adding them to our record collections. Motown was hot and no group was hotter than The Temptations, except maybe The Supremes with Diana Ross... and both groups often performed together or on the same bill.
The story begins in 1960 in Detroit. Original members of the group that was initially named The Elgins were the aforementioned Otis, Al Bryant (Jarvis B. Manning, Jr), Melvin Franklin (Jawan M. Jackson), Eddie Kendricks (Jeremy Pope) and Paul Williams (James Harkness). Bryant was replaced by David Ruffin (Ephraim Sykes) in 1964 and Ruffin with his incredible voice turned the group into a number one sensation. However, Ruffin was on drugs, had a humongous ego and was abusive in his relationship with young Tammi Terrell (Nasia Thomas). In 68 he was replaced by Dennis Edwards (Saint Aubyn). Otis fell in love with Josephine (Rashidra Scott) who became pregnant with son Lamont (older played by Shawn Bowers). Within the storyline issues arise with drugs, alcohol, egomaniacal acts of stealing the spotlight, marital and dating relationship problems and of course, the racism of the decade that became full blown with the assassination of Martin Luther King. On road tours the boys were violently attacked and shot at by Southern white rednecks who refused to let them crossover into their music world in spite of the fact that they were engaged by their music.
As far as the record business was concerned Motown founder/record producer Berry Gordy (Jahi Kearse) kept a tight rein on his leading male singing group and brought in Shelly Berger (Joshua Morgan), the sole white member of the cast, to help with their pursuit of crossing over into mainstream music. They were ordered to stay out of the political arena at all costs and because of it, lost hits to other artists, proving Gordy's fallibility. Unpredictably when they composed "Papa Was a Rollin' Stone", no one, including The Temptations themselves, expected it to become a number one, three-time Grammy winning hit in 1973. Go figure!
From 1963 to the present there were more than 20 replacements in the group, but The Temps short for The Temptations live on with Otis recalling,
"... new generations of Temptations forming their own brotherhood will still have our foundation. A little bit of funk. A lotta love. A well of soul. And some of the smoothest moves ever known to five men and a mic."
Indeed, choreographer Sergio Trujillo's dance moves contribute so much to the enjoyment of Ain't Too Proud. Under McAnuff's circular staging and dizzying pace, all the performers give electric performances. But if I had to mention one standout, it is Sykes as David Ruffin who steals the show with his dynamic voice, over.the.top dancing and unrelenting attitude. It's a terrifically riveting performance. Other creative team dynamite includes: scenic design by Robert Brill, costumes by Paul Tazewell, lighting by Howell Binkley, sound by Steve Canyon Kennedy and projection design by Peter Nigrini. They all add vibrant touches to the stellar production. And who can forget musical director Kenny Seymour at the keyboard and his wonderful live orchestra!
The main weakness of the show is its book by Dominique Morisseau, who inserts plot elements as brief scenarios that are reduced to mere snippets because of the dominance of the music. I would have liked to see a longer scene between Otis and his grown up son Lamont or more between Otis and Josephine who felt the deep strain of being a single mom while Otis was on the road. Nevertheless, the songs and dancing win out, and for that audiences will exult.
Go see Ain't Too Proud! It is an entertaining evening of theatre. I leave you with two thoughts. You can never go back, so move forward. "Don't nothing rewind but a song." And along with that "...the only thing that really lives forever is the music."
(photo credit: Matthew Murphy)
Related Articles View More Los Angeles

Stories

Shows