BWW Interview: DEAR EVAN HANSEN's Ben Levi Ross & Jessica Phillips Connecting Truthfully
DEAR EVAN HANSEN, the winner of six Tony Awards (including Best Musical) makes its second stop of its 23-city national tour at the Ahmanson Theatre with opening night set for October 19, 2018. Evan Hansen, a keep-to-himself high school senior allows a white lie to balloon without correcting it. He then goes through the process of dealing with its domino effect on schoolmates, families and countless virtual connections.
I had the opportunity to sit down with two of the leads of DEAR EVAN HANSEN. I joined Ben Levi Ross (Evan Hansen) and Jessica Phillips (Heidi Hansen) in the expansive Founders' Room of the Ahmanson Theatre for a private interview.
You just finished your first stop of this national tour in Denver. Did they just love you?
Ben Levi Ross: I think so!
Jessica Phillips: We played to sold-out houses. That was spectacular. Nearly 3,000 seats in that house. It was like a rock concert. Pretty amazing!
BLR: And there were standing ovations pretty much every night. A good start I would say.
Ben, you understudied three roles in this show in your Broadway debut. Any audience responses at the Buell Theatre different from Broadway that surprised you?
BLR: When you're playing to 3,000 people vs. 998 people, it's going to feel very different. But what's interesting is that the reactions were much the same across the board, just on a bigger scale. When there was laughter, it was booming, instead of feeling like a studio audience. When there was crying, there's much more sniffling. It really does feel like a different energy. And I think it will feel that way in every city that we go to.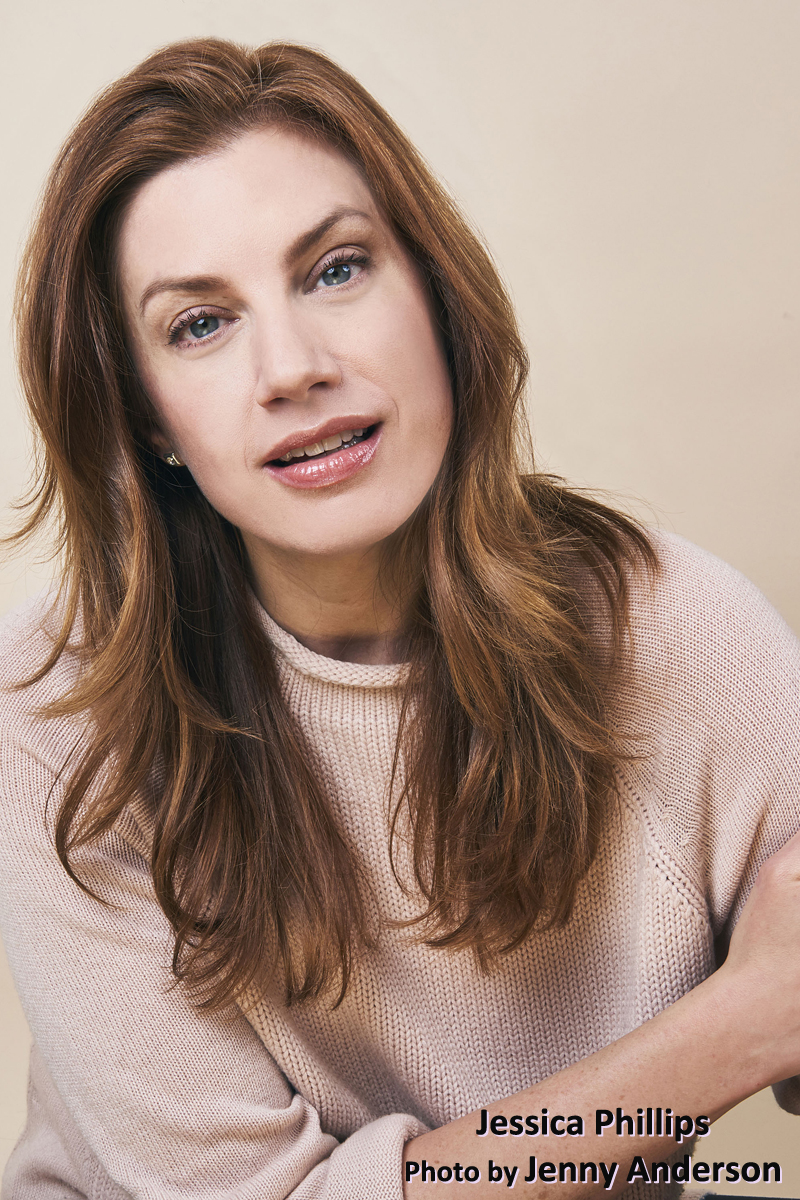 JP: The stage door, that was pretty similar, too.
BLR: There were big crowds of people at the stage door every night waiting for us to come out and sign things, which is very similar to what happens in New York.
I hear fans flock to the stage door after every show, not just for autographs, but to share their personal stories. All of the cast has been coached by mental health professionals. Your performance doesn't end with your curtain call, does it?
JP: We had some instruction by professionals, so that we know where our job ends, and where somebody else needs to pick up the baton. Certainly, there are a lot of people who see the show that are incredibly moved, and find a lot of themselves in these characters. It's a moving experience to know how people are connecting with these characters, seeing themselves up there.
Jessica, Michael Greif directed you before in NEXT TO NORMAL. How cool is it to work with him again?
JP: Amazing! I find him to be such an incredible director because he is both very specific and detail-oriented; also really generous in the way he allows people to walk into the room and bring their own instincts and impulses to the piece. He's not asking us to slot into what anybody else had done or anybody else's version of the character. He trusted us and, of course, he trusted this incredible material to stand on its own.
Do you think he have any input in casting you in this show?
JP: Yes. We had a conversation about a year before I was cast in this about my interest in it.
BLR: That's sometimes how things work. I met Michael while auditioning for a play he was doing at The Public Theatre, that I didn't end up getting cast in. But he remembered me and wanted me to come in for the understudy job. Because he knew me from the Broadway company, he (and some of the other Broadway creatives) said, 'Come in and we want to place you in this touring company as Evan now.' That's what's so great about making these connections with people. They will remember you, and they will look out for you. Place you where they think you will shine.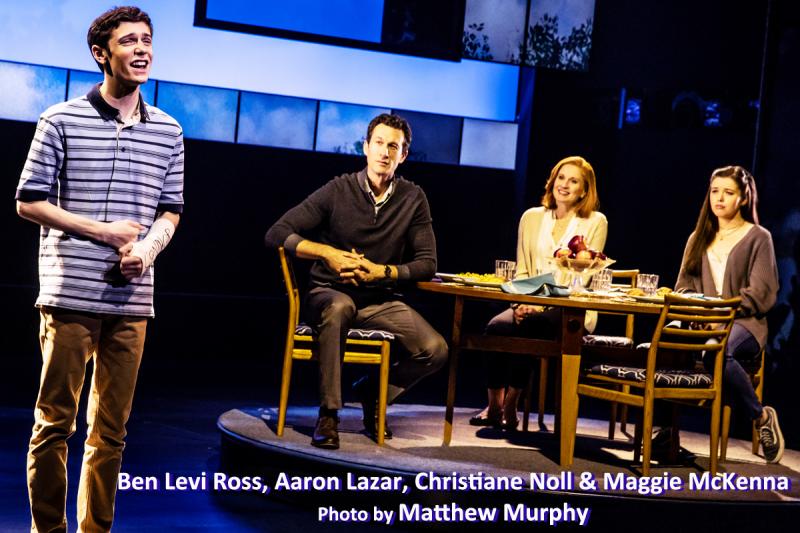 JP: Michael is a very loyal and incredibly thoughtful person in terms of how he sees people.
Ben, what was your initial reaction to being told you were Evan Hansen for this tour?
BLR: Well, just crying. First, I thought the meeting that our producer and Michael Greif set up for me - in person - was to fire me. Of course, because that's the first thing that I go to. 'Am I'm getting fired? What did I do wrong?' I came in and sat down. And Stacey (Mindich) said, 'I want to cut to - that we want you to be Evan on the tour.' And I burst into tears. And then, of course, just calling my parents and being so excited.
JP: To have people have that kind of faith in you is a beautiful thing.
BLR: I knew that the tour was coming to L.A. and I'm from L.A. So I was just so excited to be able to come home and perform at the Ahmanson theater, which was my theater growing up. I saw theatre here all the time. I saw theatre at the Mark Taper. I would go to L.A. Opera when I was in high school. I was part of the Spotlight competition in the Music Center. This is really where I fell in love with theatre.
JP: So excited to live in your teenage bedroom.
BLR: Yes, living at home. Living in my bedroom. Saving those coins.
Jessica, what cities are you excited to go to?
JP: I have a lot of family in North Carolina, so Raleigh I'm excited about that. But I think I'm most excited to go to Boston because I did my undergrad in Boston. I played the Majestic Theatre downtown. That was our school's theatre. It will be an exciting full-circle moment for me to go back there.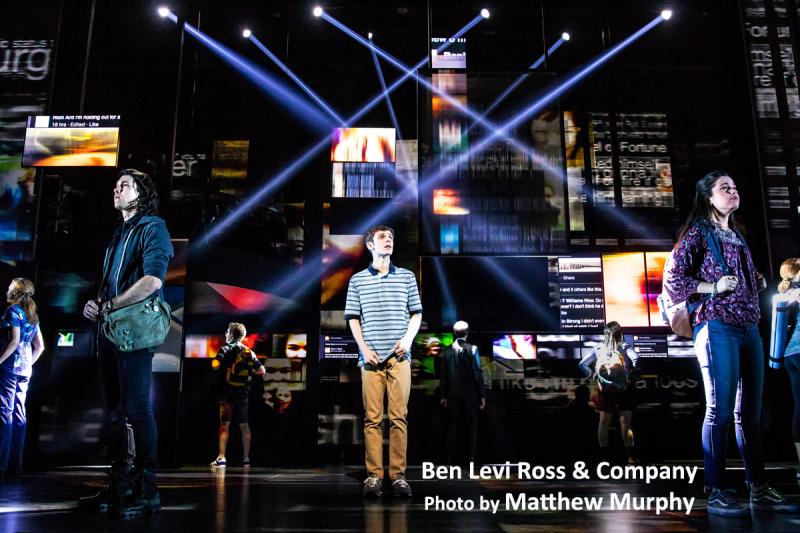 Jessica, you're playing Evan's mother on stage. Are you finding that you act maternal to Ben offstage?
BLR: (nodding) 100%!
JP: That relationship started before we even came into our first day of rehearsal .
BLR: It started over text.
JP: We started communicating and one of the first things I remember is you saying, 'I'm going to need some help with my meal planning. Like, how am I going to eat on tour? Can you help me with this?' It's very natural for me because I have my own teenage boys. It's a role I fall into very easily in life. I have an 18-year-old and an about-to-be 15-year-old. It's a very comfy role for me offstage and on.
Jessica, you've played a mom in at least three shows - Diana in NORMAL, Marion in PRISCILLA and now Heidi Hansen. Which mom would u nominate for 'Mother of the Year'?
JP: (laughs) I have such an attachment to Heidi. She lives with me every day. I have a tremendous respect for how hard she works. She is just burning the candle at both ends, trying to make a good life (I'm going to cry even talking about it) for her family. I think we're hard on ourselves as parents. In some cases, we do fail spectacularly as she does most days. You have to cringe sometimes. I love watching her pick herself up and try again. I love watching her come to the end of the play and actually line herself up with 'How to be a Great Parent' when she sits Evan down and she says, 'You're going to be ok. I know this because I've been through it and I'll here for you. I love you no matter what happens and I've got your back.'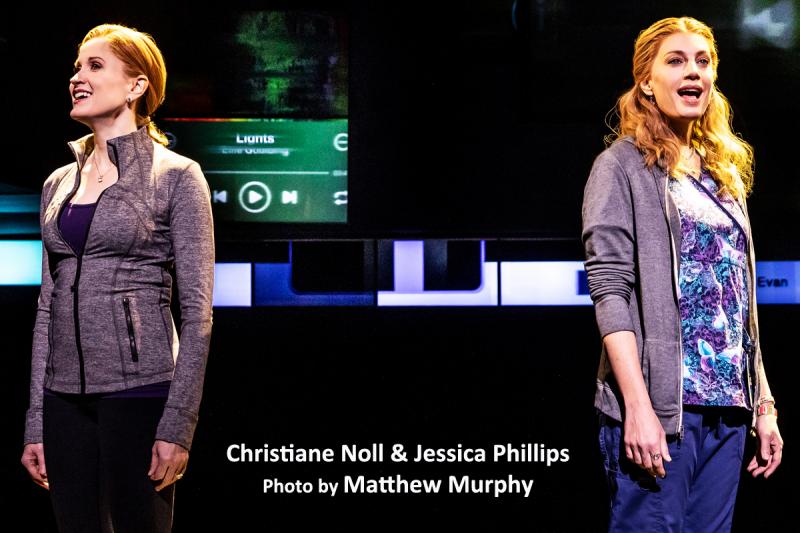 BLR: I think Heidi's a great mom, I really do. She's faced with so many challenges that so many single mothers in this world face. I think she could so easily give up, but her conviction and her love for her son brings her through it.
Ben, do you and the current Evan on Broadway (your significant other Taylor Trensch) compare notes on your Evans?
BLR: No, we don't compare notes. We try to talk about the show as little as possible. Actually just living our lives. We'll text sometimes at intermission and say, 'How's yours going?' It's really nice is to have someone who understands exactly what we're doing as a performer vocally, because this show is such a demanding part vocally. The sheer amount of singing that Evan does in this show is a challenge. It's a marathon. To be able to talk about tips or tricks that he has offstage is really helpful. I learned what a laryngeal massage is recently, which I got yesterday. It's when you get your throat massaged for an hour. She'll put on gloves and go in your throat to move things around. It's really actually incredible. Here's a little insider tip and trick. When your voice is feeling tired, it's not actually your vocal cords. It's the muscles around the vocal cords. I only know that because Taylor got that done in New York.
Do you do any vocal exercises or warm-ups for your vocal marathon?
BLR: I work with the incredible Liz Caplan in New York, who has many little tips and tricks to do. I like warming up physically, like rolling out on a roller. I like doing my tongue stretches, which is really nice. Some nights I'll only warm up for five minutes, and that is enough. I would never warm up for some than fifteen minutes ever.
Do you ever not talk for periods of time?
BLR: Vocal rests. We talked about this.
JP: I think vocal rests are crucial. I do a full day of vocal rest every opportunity I can, every couple of weeks.
BLR: You can have perfect technique and be singing on your breath support and be supported, but the sheer amount of singing will just lead to fatigue. You got to save yourself.
Can either of you name an incident you were involved in which a little white lie took on a life of its own?
BLR: Not to this degree.
JP: Look at how we've seen it played out in politics, of course, recently; but also going back to Clinton's. I think what is fascinating is that we don't always see our politicians handle themselves well, or the way that we would like them to. But I think what we see in this story, we see our characters have to grapple with the way to resolve this for themselves. How do I handle myself in this situation? It's Evan for sure, but it's all the characters. What is the best way for me to take responsibility, for me to have to manage my moral compass here? We allow the audience to see that played out and get on board with this.
BLR: The important thing about this white lie, and this story being told right now, is that we are seeing in politics, so many white lies from people that don't end up taking responsibility for the lies. When kids come to see EVAN HANSEN, they see this story of a kid who told the white lie and how it did hurt people. But he takes responsibility for it, and he faces the repercussions (granted that a lot of repercussions that he faces are self-inflicted). He's ashamed of himself. But just seeing someone being ashamed of the fact that they did something to hurt someone is something in 2018 we're not seeing a lot of.
JP: And it's so human. We can't expect of anyone (politicians included) that they get it all right. But we can and do have the expectation that people learn from their mistakes, and take responsibility for their failures. We have to fail as humans to grow and to live.
Ben, what groups did you belong to in high school?
BLR: I belonged to student leadership. I was a journalist. I was the arts and entertainment editor of The SAMO High newspaper. I did theater and I was in choir. And choir was a big thing for me in high school. Loved choir, Loved classical music. We sang Stravinsky. We sang Handel. We went to Europe. There's actually a documentary made about my choir teacher that is on Netflix Big Voice. You can go watch it.
What qualities of Evan hits home for you? It doesn't sound like you were a loner like him at all.
BLR: I have struggled with anxiety all my life in a very different way than the way Evan struggles with anxiety. There are different forms of anxiety that manifest. Evan's form is more of a social anxiety that is constant. That's how I perceive it. My anxiety has always lived in performance, and it takes spikes, and I'll be completely fine. Big spikes. Knowing how that fits and where it lives in me, that's where I can make Evan the most truthful. I'm pretty hard on myself as a person. I hold myself to these standards that sometimes are unachievable. I think Evan does that too. I think that sometimes he's not ok with just being who he is. He's constantly searching to become this person that he can't be. We can all relate to that in a sense. We all want to be something better. Your nirvana is actually just coming to terms with who you are as a person.
JP: Can I add something to what I observe? And this is specific to the scene you have with Zoe. Evan tends to find the good in others. Every time Zoe says something self-deprecating or negative about her family, you find something positive in that and you feed it back to her. That's what you do as Ben. That's what Ben does.
BLR: Really? I'm trying. That's sweet.
Is there a specific scene or song you look forward to each show?
BLR: We are actually talking about this earlier. It changes.
JP: I love "Sincerely Me." I just love the three voices together. I love the beat. I love the style of how it's choreographed. It's a favorite moment for me. But in terms of my own material, it always changes, depending on what kind of audience, where we are in our scene work that day.
BLR: At the moment, what has been my favorite thing (which feels a little self-centered, but it actually isn't at all) is the final monologue that Evan gives in this show. It's so beautifully written in a sense that it's not preachy, it's not sappy, it's not telling you what you should feel at the end of this. It's a truthful, honest end to this show, portraying the message of this show so truthfully. This message is that 'At least today you're you and that's enough.' Being able to say those words to 3,000 people every night and just stand there and know that these words may or may not affect these people in the way that they are affecting me at least is really special. I love being able to say that message to these audiences. I'm excited to say this message to audiences all over this country every single night.
JP: I get weepy in the finale.
BLR: Oh, yeah, It kills me.
Thank you both!
For ticket availability at the Ahmanson and schedule through November 25, 2018; log onto www.centertheatregroup.org
For ticket availability and national tour schedule, log onto www.dearevanhansen.com