BWW Interview: CHICO'S ANGELS Turn The Heat Up At Oscars Cafe And Bar In Palm Springs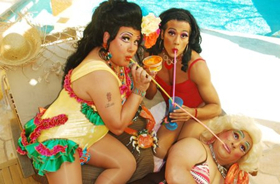 The south of the border hotties, Chico's Angels, will make their Palm Springs debut with their hour-long variety show VIVA LAS CHICAS!: Chico's Angels Variety Hour. The show stars the heavenly trio Kay Sedia, Frieda Laye, Chita Parol & Bossman. VIVA LAS CHICAS opens tonight, June 12, and runs for three very special performances only (through the 14th) at Oscar's Cafe & Bar in downtown Palm Springs. VIVA LAS CHICAS is a flashback and flashforward variety show, featuring the Angels performing sketches and beloved musical numbers. "The combined talents of these three Angels will capture the audience and take them on a tour across the border they will not soon forget!" I had the chance to chat with the ANGELS on their road trip to the desert as they were winging their way toward tonight's important desert debut. Here are a few excerpts from the conversation:
DG: How did three such divergent talents come together as one dynamic girl group?
Kay: Well, I was performing my solo show one time and thought, 'it sure would be nice to have someones on stage with me to do back up and hold things for me or fill in during my costume changes.' These two pendejas were the first to answer the ad. Even though I've knowed them for years.
Chita:. It's like some real smart guy say: " everything that rises must converge". Well, that's what happened here with us and our talents. But going down.
Frieda: No, it's 'cause I were told we were gonna have hot man groupies, so I answer the ad and tripped down the stairs to the basement and have been there ever since.
DG: In the case of most famous trios, there is one standout who deserves solo billing. For example, Diana Ross stepped out of The Supremes and Beyonce stepped out of Destiny's Child. Modesty aside, which of you Angels is the breakout star of the group?
Kay: Obvifully, it's me. I don't like to flaunt it in their face, but it's kind of unspeaked, just know?
Chita: Kay. Definitely Kay, she needs to be solo... So low I can't hear her!
Frieda: Kay, jeah. She needs to be alone. ...a lot.
DG:What is your biggest professional career accomplishment so far?
Kay: Well, not to barge, but I have been the number one Tupperware seller in the Junited Estates and Canada for a few years in a row. At the same time, I were voted by my peers as Top Penny Saver Girdle Model!
Chita: I solved a couple of cases despite the other two pendejas angels AND Debbie Allen came to see me in my one chola show,
KICK OF THE SPIDER WOMAN. and though she didn't stay after, she left a personalised coupon for dance lessons for me!
Frieda: I have maintained the same corner on Santa Monica Boulevard for 7 months in a row, whish es very unheard of en my industry.
DG: What is your biggest career aspiration, either as a group or as as solo act?
Kay: To be as rish and famous as Charo and to play a show at the Carne Aqui Hall.
Chita: To get top billing. JUST ONCE!
Frieda: To have Vikki Carr acknowledge my talents... And to get a tip that isn't wet.
DG: Tell me something about yourself that I wouldn't know by reading your professional resume?
Kay: I'm a mother, I love Hawaii and I like chort walks to taco trucks.
Chita: I have outlived all the guys who have had restraining order out on me.
Frieda: I am a member of el smart group, TONTA.
DG: What can Palm Springs audiences expect from your show and what do you bring to the desert that nobody else can?
Kay: They can expect song, dance and hot Latina espice!
Chita: They can expect to be entertained by the cha-cha, kick butt show, that only Chico's Angels can deliver.
Frieda:. They can expect Kay to be late.
Performances begin tonight and run through June 14 at 8pm at Oscars Cafe and Bar, 125 E. Tahquitz Canyon Way in Palm Springs.Tickets are priced at $25.00 and can be purchased at
www.chicosangels.com
.
Related Articles View More Los Angeles

Stories

Shows