Award-Winning Play About Diabetes Epidemic Comes To Los Angeles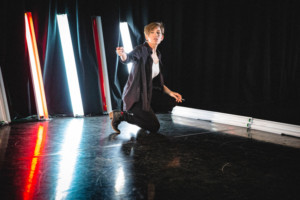 Plain Wood Productions announces its limited Los Angeles engagement for Blood/Sugar, a new solo performance about the growing diabetes epidemic created and performed by Los Angeles-based theater director and Type 1 diabetic Diana Wyenn. Using the skills she's honed directing and choreographing productions for the LA Phil, Grand Performances, and REDCAT, Wyenn now jumps back onstage herself to explore the realities of this growing epidemic and make her own invisible disability visible. Performances of Blood/Sugar will be held on Wednesday, March 27, Thursday, March 28, and Friday, March 29 at 7:30 pm at Bootleg Theater, an ADA accessible venue.
Richly researched, Blood/Sugar mixes historical perspectives and staggering statistics with personal narrative, live-feed video, Shakespeare, and original movement to give embodied expression to the complexities of living with a chronic illness. Creator Diana Wyenn, who has Type 1 diabetes, places her story and body at the center of the work, as both a carrier of disease and a vehicle for theatrical transmission. Co-written by Wyenn and Guy Zimmerman, Blood/Sugar challenges the binary of health and illness to create a vivid account of the life-sustaining self-care that diabetes demands of more than 422 million people worldwide.
Each performance is followed by a conversation between Wyenn, the audience, and local diabetes educators who serve as resources that can be accessed by the audience for future support. "Statistically speaking, 25% of any audience is living with some form of diabetes, so this conversation is never abstract," shares Wyenn. "This open discussion provides a rare and powerful opportunity for what is commonly an unnecessarily private experience for patients, friends, and family."
Diagnosed in London at the age of 20 while studying at the Royval Academy of Dramatic Arts, Wyenn's first response was to resist immediate treatment in order to make it to the theater on time. Now, after 15 years of grappling with diabetes, her relationship to her illness has progressed from denial to a powerful authority over her own well-being. "My life as a theater artist began before my diagnosis, and the capacity of performance to connect, to engage empathetic response, is exactly what is at play in Blood/Sugar," states Wyenn.
"Most people living with diabetes work to conceal their chronic condition. I did myself for nearly a decade. This means that despite the incredible number of people who are coping with chronic illness and disability, the impact is often not understood, even by loved ones. Medical professionals and advocacy organizations work tirelessly to raise awareness and understanding, but information and statistics are not enough. I set out to create Blood/Sugar in order to share what the numbers don't-and can't-show: what it feels like to live with the set of circumstances brought on by diabetes."
Blood/Sugar has been in development for the last two years with work-in-progress showings and excerpts being performed along the way at Highways Performance Space, Cornerstone's former rehearsal space, American Diabetes Association Events, Sorority, the REDCAT Studio Series, New York University's Frederick Loewe Theater, and most recently at New York's Planet Connections Theater Festivity. At the festival, Blood/Sugar was nominated for Outstanding Performance, Outstanding Director, Outstanding Projection Design and awarded Outstanding Production, Outstanding Playwriting, and The Planet Activist Award.
This April, Blood/Sugar is headed back to NYU to be the key note performance at their Educational Theater Forum on Theatre & Health.
The team behind Blood/Sugar is Diana Wyenn (creator/performer/co-writer), Guy Zimmerman (co-writer), John Zalewski (sound designer), Jason H. Thompson (projection designer), Joey Guthman (lighting designer), Rebecca Carr (costume designer), Lauren Campedelli (voiceover artist), Laban Pheidias (stage manager), and Aaron Saldaña (assistant stage manager).
Tickets for Blood/Sugar are $25 general admission and available at www.dianawyenn.com/blood-sugar. Bootleg Theater is located at 2220 Beverly Blvd., Los Angeles, CA 90057. Bootleg Theater is ADA accessible and there is a free parking lot at the church across the street with an entrance off Roselake Avenue.
For more information about Blood/Sugar and to request photos, interviews, and press accommodations, contact Diana Wyenn at 310-702-5280 or diana.wyenn@gmail.com