Announcing The Cast For OLIVERIO MainStreet's First Show Of The 2019/20 Season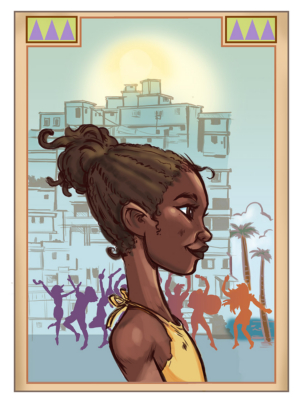 MainStreet Theatre Company, the resident professional company at the Lewis Family Playhouse, is excited to open their 19/20 season with the West Coast premiere of OLIVERio: A Brazilian Twist, running October 12 - 27, 2019.
OLIVERio is a joyful musical retelling of Oliver Twist set in modern-day Rio de Janeiro, with book and lyrics by Karen Zacarías and music by Deborah Wicks La Puma. In this version Oliver is now "Oli", an innocent but smart girl who changes all the lives around her. The show's score will be performed by a live Brazilian band.
"We couldn't be happier to be producing the second-ever production of this wonderful musical", says Mireya "Murry" Hepner, MainStreet's Artistic Producer. "It really encompasses all of the elements that our audiences have come to expect from a MainStreet show. Our cast and creative team is top-notch, and the story tackles deep issues in a way that's easy for young people to understand. Most people are familiar with Dickens' Oliver Twist, and this version uses a clever "play within a play" framework, which allows the characters to question some of Dickens' original story while making it relevant to today. I'm also happy to continue our relationship with composer Debbie Wicks La Puma, whose many shows have been so well received by our audiences, and who has been such an integral part of the team for our production."
The cast includes Ella Saldana North as "Oli", the innocent orphan girl at the heart of the story, with Janet Greaves as Falcao, a con-artist who takes her in, Max Torrez as Falcao's thieving protege Zé Esquiva, Anthea Neri as Nancí, a wash maid with dreams of her own, and Reuben Uy as Sykes, an unscrupulous policeman. Rounding out the stellar cast are Gigi Bermingham as the rich widow Rosa Maria, and Patricia Jewel as Iemanja, the goddess of the sea.
Director Robert Castro, whose productions of theatre and opera have been seen across the U.S and Internationally, is known for his use of stunning visual images and imaginative theatrical storytelling. His previous work for MainStreet includes the Ovation nominated A Wrinkle in Time and Frederick, as well as Aesop in Rancho Cucamonga, Aladdin's Luck, Treasure Island, Ferdinand the Bull, and Dreams of Anne Frank.
Choreographer Tamica Washington-Miller is the Associate Director of the Lula Washington Dance Theatre, the acclaimed Los Angeles Contemporary Dance Company. Her movement style is an organic blend of traditional, modern, and jazz dance, with hip-hop and vernacular flavors mixed with the traditional dance styles of the African Diaspora.
Born and raised in Rio de Janeiro, Brazil, Musical Director Richard Miller is an educator and guitarist who maintains a busy performance schedule around the country and internationally. His repertoire includes Brazilian styles (choro, samba, bossa nova, forró, etc.), American jazz, Latin American styles (salsa, bolero, tangos, etc.), and Classical guitar.
Adding to the show's authenticity, MainStreet's creative team also includes Brazilian natives Raquel Barreto (Costume Design) and John Zalewski (Sound Design). Scenic Designer Victoria Petrovich will imaginatively transform the Lewis Family Playhouse stage into various locations in Rio de Janeiro, from a favela to a Copacabana Penthouse.
In addition to the public performances, the production will include weekday morning performances for school field-trip audiences from across the region. Each weekend performance will include a fun lobby activity prior to the performance, and there'll be a public "talk-back" on Sunday, October 21st. Most weekday school shows will include Q & A sessions as well.
MainStreet Theatre Company, included in American Theatre Magazine's 2016 list of "20 Theatres you should take your kids to," has been the resident Equity Company at the Lewis Family Playhouse since 2006, and is known for producing high quality and innovative productions of plays and musicals for the whole family. An intimate, 536-seat venue, the Lewis Family Playhouse is the crown jewel of the three-acre, 89,000-square-foot Victoria Gardens Cultural Center. The complex at 12505 Cultural Center Drive and is conveniently located off the I-15 at Foothill Boulevard, as a major anchor of Victoria Gardens. The Box Office is open Monday through Friday from noon to 6:00 p.m. and Saturday from 10:00 a.m. to 6:00 p.m., with free parking available.
Join us for our 2019/2020 season!
OLIVERio: A Brazilian Twist (October 12 - 27, 2019)
AND THEN THEY CAME FOR ME: Remembering the World of Anne Frank (Feb.1-9, 2020)
THE MIRACULOUS JOURNEY OF EDWARD TULANE (April 25 - May 9, 2020)
Follow us on Facebook for all the latest! www.facebook.com/MainStreetTheatreCompany
More Hot Stories For You