'America Salutes You' Concert Announces Anthony Kearns Among All-Star Lineup Of Performers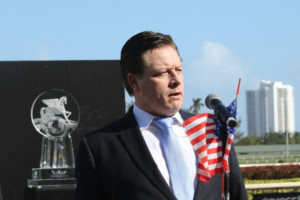 World-renowned tenor Anthony Kearns of the double-platinum, PBS super-group, The Irish Tenors, will be a part of a legendary lineup of performers during the "America Salutes You - Guitar Legends II" concert at the Novo Theater in Los Angeles on Sunday, December 2, it was announced.
The concert is the third in a serious of nationally-broadcast concerts benefiting brain and mental awareness charities.
Kearns, who performed during the America Salutes You inaugural concert in 2016 at the Rosemont Theater in Chicago, will join an impressive array of music legends, including Billy Gibbons, Laurence Juber, Joe Bonamassa, Don Felder, Sammy Hagar, Robby Krieger, Dave Navarro, Orianthi, Emily Estefan, and others.
"I'm very pleased that Anthony Kearns will again be a part of our third concert special with other top performers in Los Angeles. We anticipate an amazing show, committed to raising awareness about and funds for brain and mental wellness charities, particularly for veterans and first responders," said Bob Okun, executive producer of America Salutes You.
America Salutes You, an organization that honors and raises awareness of U.S. veterans, service members and their loved ones will host nationally broadcast concerts to bring domestic and foreign awareness to mental health issues. The series of streamed benefit concerts will be raising funds for mental wellness charities with an emphasis on veterans and first responder nonprofits.
"I appreciate Bob Okun's invitation to participate in this concert to benefit the veteran community, including those suffering from brain injuries and war trauma. I extend my heartfelt thanks to all who protect us and I'm glad to support causes associated with them when I am able," said Mr. Kearns.
Kearns frequently performs at major sporting events, high-level charity concerts, on television, in operas, and with world's most prominent symphony orchestras. Mr. Kearns lends his voice to non-profit organizations supporting equine health and wellness and charities with a focus on soldiers suffering from war trauma and many others. He has had the honor to sing for four U.S. Presidents, the chairman of the Joint Chiefs of Staff and Medal of Honor recipients, and at the Pre-Mass concert in Philadelphia for Pope Francis. He opened the National Memorial Day Parade in Washington, D.C. - the largest in the nation -- before a national television audience -- and headlined the Memorial Day Concert on PBS.
The "America Salutes You - Guitar Legends II" will be streamed globally via social media platforms that are Facebook, Youtube and Instagram. AXS is the production partner that will be nationally-broadcasting the concert featuring the amazing performers.
A round-table with experts in the field of brain wellness and mental health to discuss the latest advances in treatments and challenges to find solutions for a range of problems from PTSD for veterans and first responders to those facing depression and Alzheimer's will also be featured at the event on December 2.
Current sponsors include K Love, United Airlines, Walgreens, Tribune Media and AXS-TV. The Elizabeth Dole Foundation, Headstrong, Entertainment Industries Council, G.I.F.T. and several other charities will receiving the funds raised through this year's America Salutes You concert.
For more information on tickets for the event, please visit the America Salutes You website and the AEG Novo box office, as they become available on November 1 for $75.
Mr. Kearns' appearance was arranged by Kirsten Fedewa and Associates, L.L.C.