BWW Review: MEMPHIS at The Gateway
It's Memphis, Tennessee and disc jockey Huey Calhoun is showcasing a bright new singer and musical style on his radio show. The hip new sound of Felicia Farrell becomes a hit over the airwaves and the amateur is ultimately headed for stardom. Huey and Felicia's relationship goes from professional to personal and trouble ensues. Romance, racism, and rock and roll all serve as the backdrop for the Gateway Theater's magnificent production of "Memphis."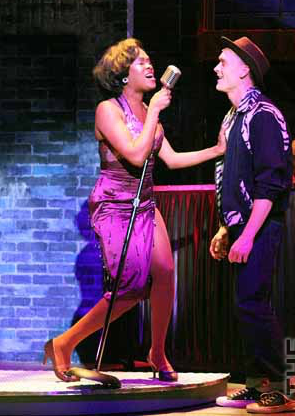 The Broadway production of "Memphis" opened in 2009 and won four Tony Awards including best musical. David Bryan, of Bon Jovi fame, wrote the award-winning score along with book writer Joe DiPietro. The successful show ran for years and a long line of touring and regional productions soon followed. The song and dance spectacle has delighted audiences all over the world and the Gateway certainly pulled out all the stops for this one.
Josh Canfield, who delighted audiences in Gateway's "Anything Goes," is a charming Huey. Huey has a passion for music and an ear for good old rock and roll. Mr. Canfield delights the audience with his southern boy charisma and wins us over with his compassionate performance. He practically stumbles upon the talented Felicia, played by knockout Moeisha McGill, who dreams of her big break as a singer. Huey manages to get Felicia heard by the public and despite numerous naysayers and unsupportive bullies, the rest is history. Both performers are triple threats who dazzle us with every ounce of talent in their bones.
Supporting characters include Felicia's devoted brother Delray who owns an underground rock and roll bar while watching over his sister. Delray is played by the outstanding Melvin Abston who turns every musical number into a major event. Bartender Gator, played by Horace V. Rogers, keeps silent yet comes to life at the end of act one. Mr. Rogers delivers a powerful punch with his fine vocals and determination. Demone plays Bobby, a friend of Delray who happens to be the janitor at Huey's radio station. Demone is another gifted performer in the deep "Memphis" talent pool.
Scene stealing Leslie Alexander is fantastic as Huey's mother. Ms. Alexander showed us a great transformation from closed minded pessimist to supportive parent. Kevin Bernard is also terrific as radio station owner Mr. Simmons who gives Huey his big break. Cast members Chris Persichetti, Rashad Naylor, Steve Brady, John Simpson, Marianne Schmidt, and Chelsea P. Freeman play multiple parts and keep the show spinning with their impressive vocals and fearless footwork.
"Memphis" also features an energetic ensemble who rumble the Gateway stage. This wild bunch of prancing performers love to dance and keep things shaking, rattling and rolling throughout the entire show. Choreographers Gerry McIntyre and Debbie Roshe created such memorable elaborate dance numbers that you never want them to end. Director David Ruttura magically recreated the Broadway hit with glorious actors and retro rhythms while maintaining the musical's heart.
Music mavens Huey and Felicia inspire all to follow our dreams despite the obstacles. This swinging production of "Memphis" motivates us to believe in ourselves, achieve our fantasies, and honor all of the marvelous music makers both on and off the Gateway stage. Hockadoo!
Book and Lyrics by Joe DiPietro, Music and Lyrics by David Bryan, Orchestrations by Daryl Waters and David Bryan, Executive Artistic Director Paul Allan, Production Manager Brian Loesch, Production Stage Manager Nikki Lint, Scenic Designer Edward T. Morris, Director of Business Operations Jeff Bellante, Company Manager Aubrey Kyler, Costume Design is based on original cost design by Paul Tazewell, Casting Director Michael Baker, Director of Development Scot Allan, Lighting Director Marcia Madeira, Musical Director Jeffrey Hoffman, Choreographed by Gerry McIntyre and Debbie Roshe, and Directed by David Ruttura
Starring: Josh Canfield, Moeisha McGill, Melvin Abston, Leslie Alexander, Kevin Bernard, Steve Brady, Demone, Horace V. Rogers, Rashad Naylor, Chris Persichetti, Zach Eisenberg, Veronica Fiaoni, Chelsea P. Freeman, Cedric Greene, Deundre C. James, Alexa Jane Lowis, Tiffany Mellard, Caitlin Mesiano, Andrew Metzger, Harper Miles, Porsha Putney, Justin William Schaffner, Marianne Schmidt, John Simpson, Shaun-Avery Williams and Anthony Wright
For more information please visit: www.thegateway.org or call 631-286-1133