Review: A GENTLEMAN'S GUIDE TO LOVE & MURDER at The Engeman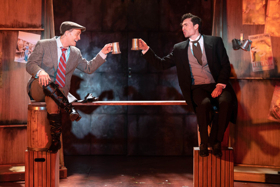 It is a real treat that The John W. Engeman Theatre is currently mounting A Gentleman's Guide To Love & Murder. The top-notch cast is remarkable leaving the audience in stitches. The hit show plays the beautiful Northport venue through April 28th, and it is sure to be a must-see this season.
The two-act farce, wonderfully directed by Trey Compton, tells the tale of Monty who has learned that he is an heir in the famed D'Ysquith family. When he realizes he's ninth in line, Monty shrugs off his findings thinking the family wouldn't even know who he is. However, he wonders if he could make it to the top of the family tree by bumping off those who stand in his way. Don't worry about the murders; this is an all-out comedy.
Indeed collecting the most laughs is Engeman vet Danny Gardner portraying each member of the D'Ysquith family who is before him in the heritance. Mr. Gardner does a tremendous job giving each family member a very distinctive personality and his top-notch comedic delivery. Mr. Gardner makes a great team with Sean Yves Lessard who charmingly portrays Monty. Of course, the women of the cast are stellar. Katherine McLaughlin is adorable as the pious and witty Phoebe D'Ysquith. Moreover, Kate Loprest is superb as sassy Sibella. In truth, I really could go on and on about the entire company as they all extraordinary.
On the talented creative team, Nate Bertone's set is well-done. Portraits of Mr. Gardner as each of the D'Ysquith's hang along the outside of the stage. On the stage, it is mostly a stationary set bringing in rolling pieces for each of the locales. The wigs, perhaps, could have been more to the Engeman's high standards, but I digress. This is enhanced masterfully by Matthew Solomon's relevant costumes from 1900's London; corsets and suit tails abound. Also, it is always thrilling to see a live band this one excellently headed up by James Olmstead. They deliver the Steven Lutvak/Robert L. Freedman score splendidly.
As you can probably tell, A Gentleman's Guide To Love & Murder is another hit for Northport's John W. Engeman Theatre. A remarkable cast and entertaining story make for an enjoyable night of theatre.
---
---
Music by Steven Lutvak, Lyrics by Robert L. Freedman & Steven Lutvak, Book by Robert L. Freedman, Based on Israel Rank: The Autobiography of a Criminal by Roy Horniman, Directed by Trey Compton (Engeman Theater: Director - Once; Assoc. Director - Newsies, Gypsy, Oklahoma!, South Pacific, Twelve Angry Men, The Music Man, Evita, The Producers, West Side Story; Off-Broadway: YANK!, White's Lies), Choreography by Vincent Ortega (Engeman Theater performer credits: The Full Monty, Annie, and In the Heights; Film/TV Choreography: Netflix, WeTV, Disney Channel ("Shake it Up!"), Sobe Life Water; Regional Theater: Flashdance - Gateway, Sister Act - Arts Center, Spamalot - Saint Michael Playhouse, The Addams Family - Ogunquit.), Musical Direction by James Olmstead (Engeman Theater: Once, Mamma Mia!, Thoroughly Modern Millie, Memphis, West Side Story, The Producers, A Chorus Line, Evita; Broadway: Mean Girls, Anastasia, Gettin' the Band Back Together, Charlie and the Chocolate Factory, On Your Feet, Beautiful: The Carole King Story, Radio City's New York Spectacular and the upcoming My Very Own British Invasion; Off-Broadway conductor credits: Smokey Joe's Cafe, A Letter to Harvey Milk, Gary Goldfarb: Master Escapist), Scenic & Prop Design by Nate Bertone, Costume Design by Matthew Solomon, Lighting Design by John Burkland, Sound Design by Laura Shubert, Wig Design by Kurt Alger, Casting by Wojcik/Seay Casting, Stage Management by Matthew William Shiner and Leila Scandar (Assistant Stage Manager)
Starring Danny Gardner (Engeman Theater: Don Lockwood in Singin' in the Rain, Ali Hakim in Oklahoma!; Broadway: Lucky in Dames at Sea; National Tours: Irving Berlin's White Christmas and 42nd Street), Sean Yves Lessard as Monty Navarro (Regional: The Prime Minister in Love Actually Live, Gatsby in Baz: Star Crossed Love, Prince Charles in Princess Diana: the Musical; Film: 116, Abraham's Desert, Misfits), Kate Loprest as Sibella (Broadway: Allison/Google in First Date, Amber Von Tussle in Hairspray, Xanadu, The Drowsy Chaperone, Wonderland; National Tours: Little House on the Prairie, Wicked; Regional: Sheila in A Chorus Line - Gateway, Betty Haynes in White Christmas - Ogunquit, Vivienne in Legally Blonde - North Shore Music Theatre, Nellie Olsen in Little House on the Prairie and Joanie in Happy Days: The Musical - Paper Mill Playhouse), and Katherine McLaughlin as Phoebe (Broadway: Rosalie Mullins in School of Rock; Regional: Miss Dorothy in Thoroughly Modern Millie, Bianca/Lois in Kiss Me, Kate, Ulla in The Producers, Johanna in Sweeney Todd, Sister James in Doubt and Gretchen in Boeing, Boeing)
With Brianna Barnes, Mimi Bessette, Taylor Galvin, Cody Gerszewski, Lara Hayhurst, Eric Jon Mahlum, Bobby Montaniz and Matthew Patrick Quinn
For more information and to purchase tickets, please call 631-261-2900 or visit www.engemantheater.com
Photo by Michael DeCristofaro