The Smith Center Becomes The First Ever Selected By Disney To Partner With Rural Arts Organization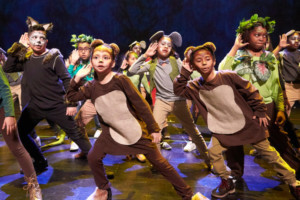 Building on five successful years as a regional affiliate with the national Disney Musicals in Schools program, The Smith Center for the Performing Arts announced today that Disney has selected it as the first performing arts center in the nation to help expand this outreach initiative to rural communities through a unique collaboration with a community arts organization. Developed by Disney Theatrical Productions, the Disney Musicals in Schools initiative is used to create sustainable theater programs in under-resourced elementary schools.
Under its new role, The Smith Center, a nonprofit, recently received a grant from to expand the Disney Musicals in Schools program to rural communities over multiple years.
For the program's pilot year, The Smith Center will re-grant a portion of these funds to Kingman Center for the Arts in Kingman, Arizona, which will apply the dollars toward creating sustainable musical theater programs at its community's schools.
The Smith Center will oversee all of Kingman Center's efforts with launching these schools' new musical theater programs over multiple years, all under the Disney Musicals in Schools initiative.
"The Smith Center has seen Disney Musicals in Schools transform students across Southern Nevada, so we're honored that Disney chose us to take on this expanded role," said Myron Martin, president and CEO of The Smith Center. "Education is in our DNA at The Smith Center, and helping bring musical theater programs to rural schools falls right into what we're all about."
Through this expansion of Disney Musicals in Schools, two selected schools in Kingman will each participate in a 17-week musical theater residency, at no cost to the schools. These residencies will be led by a team of Kingman teaching artists, all trained by The Smith Center's teaching artists. Each school will receive performance rights, education support materials and weekly guidance from these teaching artists.
The Disney Musicals in Schools program features a professional development focus, through which participating school teachers partner with their teaching artists to learn how to produce, direct, choreograph, music direct, and stage manage, culminating in their schools performing their first 30-minute Disney KIDS musical.
As a capstone to the experience, the participating schools in Kingman will perform in The Smith Center's annual Student Share Celebration, during which schools in their inaugural year with Disney Musicals in Schools perform one number from their productions on The Smith Center stage for an audience of students, teachers, family and community members.
"Kingman Center for the Arts couldn't be more excited to join with The Smith Center in introducing our community's children to the joy of performing," said Kristina Michelson, executive director with Kingman Center for the Arts. "Without this support from Disney and The Smith Center, our local schools might never have an opportunity to give students a musical theater experience. We can't wait to see the long-term impact this program has on students' confidence and education."
Disney Theatrical Group selected The Smith Center in April 2013 as the second regional partner in the nation for the Disney Musicals in Schools program. Since then, The Smith Center has helped over 30 schools in Southern Nevada create their own sustainable musical theater programs.
Disney Musicals in Schools was launched in 2010 in response to Disney Theatrical Production's concern that under-resourced public elementary schools were not afforded equitable access to the arts. After successfully offering the program in New York City schools, Disney Theatrical Productions began partnering with organizations in other communities across the United States.
Using the unique world of musical theater, Disney Musicals in Schools helps to foster positive relationships between students, faculty, staff, parents and the community. Students and teachers work in teams, developing the wide spectrum of skills needed when producing a piece of musical theater, including: critical thinking, problem solving, ensemble building, communication, self-confidence and interpersonal skills.
Disney KIDS musicals, created in partnership with Music Theater International (MTI), are 30-minute musicals designed for elementary school performers and have been adapted from the classic Disney films "101 Dalmatians," "Aladdin," "The Aristocats," "Cinderella," "The Jungle Book," "The Lion King" and "Winnie the Pooh."
More Hot Stories For You