Bruce Davidson, Charles Mandracchia, and More to Appear at ACTION ON FILM FESTIVAL
Bruce Davidson, Charles Mandracchia, Antonio 'Huggy Bear' Fargas & Kathrina Miccio Nominated and to Appear at ACTION ON FILM FESTIVAL in Las Vegas August 16th thru August 26th 2018
Megafest is fifteen festivals, competitions, screening events, multiple parties, seminars, mixers, international awards and more all taking place during the live Ten Day AOF Event August 16th thru August 26th 2018 at the Palms in Las Vegas.
Festival director Theresa Coscarelli-Weston said, 'This is definitely our biggest year ever. We are representing Broadway Actors turned Film Directors and films from all over the world and filmmakers from every continent. It is a truly an international event for not just us but for the city of Las Vegas.'
The Award Nominations which include over 100 Categories in all genres and lengths, 'This was definitely the most difficult year of the festival to judge as it seems that films range from large Studio Productions to micro-budget shorts created by people who have a calling to create cinematic art.'
Amongst the nominees are Broadway actor turned Film Director Charles Mandracchia, from the original cast of Tommy Tune's Grand Hotel the Musical. Grand Hotel also featured Tony Nominee/Director Walter Willison who just directed a Reading of New Musical Impossibly George: A Soirée with Madame George Sand. Mandracchia takes five Nominations, two for Best Animation in both AOF & Hollywood Dreamz Film Festivals and the others for Best Children's Film/Best Soundtrack for We Are Friends & Best Production Art Design for his film Big Pasta - The Jazzy, Cigar Chomping, Honky-Tonk Musical. (Link to Movie: https://www.actiononfilmfest.com/product-page/big-pasta-8-21-18-6pm-block.) Mandracchia also has You Got a Problem showing. Also featured in Big Pasta are the Mitch Marcus Band and Seth Blum Actor/Singer from Friends the Musical. Mr. Blum is featured singing & playing Albert I. N. Stein. Mandracchia is also Media Arts NYC Public School Teacher at P.S. 42 Robert Vernam School in Far Rockaway Beach, NY. Mandracchia's Website: https://www.charlesmandracchia.com
Special Guests to the event include veteran Broadway actor Bruce Davison. Mr. Davison. Born on June 28, 1946, in Philadelphia, Pennsylvanis, the son of Clair, an architect and musician, and Marian (Holman) Davison, a secretary, Bruce's parents divorced when he was just three. He developed a burgeoning interest in acting while majoring in art at Penn State and after accompanying a friend to a college theater audition. Making his professional stage debut in 1966 as Jonathan in "Oh Dad, Poor Dad, Mama's Hung You in the Closet and I'm Feelin' So Bad" at the Pennsylvania Festival Theatre, he had made it to Broadway within just a couple of years (1968) in the role of Troilus in "Tiger at the Gates" at the Vivian Beaumont Theatre. The year after that he was seen off-Broadway in "A Home Away from Home" and appeared at the Lincoln Center in the cast of "King Lear".
A Conversation with Antonio 'Huggy Bear' Fargas. Antonio Fargas - A tall, lanky and twinkle-eyed African-American actor with wonderful onscreen charisma, Antonio Fargas has been appearing on stage and screen for nearly 40 years. His film debut was in Shirley Clarke's The Cool World (1963), a gritty, uncompromising tale about African-American youth growing up in Harlem, New York. The golden-hearted street informant was "Huggy Bear" on Starsky and Hutch (1975), and Fargas scored the role with which he is most closely identified. His career continued to flourish after "Starsky and Hutch" wrapped up after four years, and he has appeared in over 50 movies to date, many TV shows and numerous stage productions.
How To Have Total Creative Control Over Your Film Project. Kathrina Miccio - is an actress, writer, director, renowned artist from NYC., and also holds a BA in Fine Arts and Theater. She believes her extensive creative background has played a significant part in the structure of a script while writing, composing a scene while directing, and studying human emotion and form in acting. Her career spans over 20 years in the film, and television industry, behind, as well as in front of the camera. Some film credit's include, St. Joseph, which she wrote, directed and starred in and currently has won 11 Film Festivals, and also a 2018 American Movie Award. I Am, When the music dies, BIRR, The Fifth Borough, Saturday in the Park, The Bill, Make Me Blush, and The Sopranos are amongst some of her credits as well. She recently starred in an off broadway play, Imagine, at The Theater for The New City, NYC. http://miccioact.com/actor/
More Special Guests to the event include Courtney Hope (The Bold and The Beautiful, Quantum Break, Gimme Shelter, Bones, NCIS), Alexander Nevsky ( Maximum Impact, Black Rose, Moscow Heat, Red Serpent, Magic Man) as well hundreds of next generation stars.
Other notables who will be in attendance and receiving awards include Heavyweight Champ Ray Mercer, Actor Chuck Zito, veteran Actor Mathias Hues, Ms. Olympia Corey Everson, veteran filmmaker Mike Hamil and UFC Champ Randy Couture who will receive the 2018 Icon Awards from presenters Michael DePasquale jr and Dr. Robert Goldman. Action On Film website: https://www.actiononfilmfest.com
More Hot Stories For You
December First Friday Features 'Believe' Theme, December 2

November 22, 2022

First Friday Foundation, a 501(c)3 non-profit organization, is asking everyone to "Believe" this December 2nd. The art walk area on Boulder Avenue and First Street will feature an estimated sixty First Friday artists and craftspeople. The food garden and bar area remain in the Art Square parking lot, along with entertainment.
---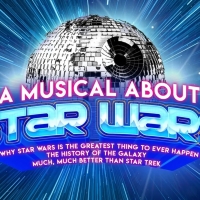 A MUSICAL ABOUT STAR WARS Starts Performances at V Theatre

November 20, 2022

Tom D'Angora and Michael D'Angora's Off-Broadway hit A Musical About Star Wars began performances at The V Theatre on November 19th, located at The Miracle Mile Shops in Planet Hollywood. 
---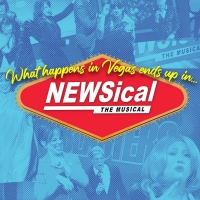 NEWSICAL THE MUSICAL Begins Performances at Planet Hollywood Las Vegas

November 17, 2022

The Las Vegas strip can expect a whole lot of laughs this fall, courtesy of one of biggest hits in Off-Broadway history. NEWSical The Musical is coming to The V Theatre, located at The Miracle Mile Shops in Planet Hollywood. 
---
SIX to Play Limited Engagement at The Venetian Resort Las Vegas in March 2023

November 16, 2022

The Tony Award-winning global sensation SIX will debut at The Palazzo Theatre inside The Venetian Resort Las Vegas on March 21, 2023, for a strictly limited seven-week engagement.
---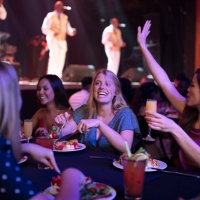 House of Blues Las Vegas Extends GOSPEL BRUNCH into 2023

November 15, 2022

Spiritual sounds and heavenly hashbrowns…this is "churrrch on the Strip!" as emcee Patti Pennington describes it. House of Blues Las Vegas inside Mandalay Bay Resort & Casino has announced the extension of the world-famous House of Blues Gospel Brunch after sold-out shows during 2022.
---