Photo Flash: Kansas City Rep's VENICE in Rehearsal
Rehearsals began March 16 at Kansas City Repertory Theatre for the world premiere production of Venice, an explosive new musical written by Rep artistic director Eric Rosen and Matt Sax, creators of the hit hip hop musical Clay. Rosen will direct; choreography is by John Carrafa (Urinetown, Into the Woods) and Tanisha Scott (video choreography for Sean Paul, Alicia Keys, Beyoncé). Below are photos from the company's rehearsal, courtesy of Kansas City Rep Theatre.
Venice is an operatic tale of war, love and the ultimate quest for peace, told through a dynamic mix of musical genres including hip-hop, R&B and traditional theatre music. Brothers Venice and Markos are in conflict over how to save their city from a terrorist war; one brother seeks peace while the other is mired in treachery and destruction. Given a contemporary setting, Venice brings the theatricality of hip-hop to a large-cast musical.
The Venice cast of twelve performers includes: Uzo Aduba as Anna (Coram Boy, 365 Plays/365 Days); Clifton Duncan as Captain Markos Monroe (Twelfth Night); Anna Eilinsfeld, ensemble (I Come for Love, In the Bubble); Jay Garcia, ensemble; J.D. Goldblatt as Theodore Westbrook (revival Les Miserables); Andrea Kiyo Goss as Willow (Rent); Colin Hanlon as Michael Victor (I Love You Because, How Now, Dow Jones); Javier Muñoz as General Venice Monroe (In the Heights); Angela Polk as Hailey Daisy (Crowns, Permanent Collection, Bat Boy, the Musical-Unicorn Theatre/Kansas City); Matt Sax as Clown/MC (Clay); Brandon Sollenberger, ensemble (Moisés Kaufman's Into the Woods, KC Rep); Jasmin Walker as Emilia Monroe (Avenue Q, 365 Days/365 Plays).
The creative team includes musical director Curtis Moore (Into the Woods at KC Rep, The Bridge Project, The Coast of Utopia, Sam Mendes' The Cherry Orchard), choreography by John Carrafa (Urinetown, Into the Woods) and Tanisha Scott (Sean Paul, Alicia Keys, Beyoncé), set and costume design by Meghan Raham (Clay), lighting design by David Weiner (Steven Cosson's Bus Stop at KC Rep, Equivocation, Reasons to be Pretty), projection design by Jason Thompson (assistant design, Jersey Boys) and sound design by Joshua Horvath (Clay).
The Rep's co-producing partner for Venice is Center Theatre Group of Los Angeles, which commissioned Rosen and Sax in 2008 to write another musical following the success of their critically acclaimed show Clay, which premiered in Los Angeles and had subsequent sold-out runs at Kansas City Rep and in New York where it kicked off Lincoln Center Theatre's new programming initiative LCT3, devoted to producing the work of emerging playwrights, directors and designers.
Venice runs April 9-May 9 at Kansas City Rep's Copaken Stage located at 14th and Main streets, Kansas City, Missouri. Tickets are $15-$50 and go on sale to the public on March 19. For more information about ticketing and show specifics, please call the Rep's box office, 816-235-2700, or visit www.kcrep.org.
Photos by Don Ipock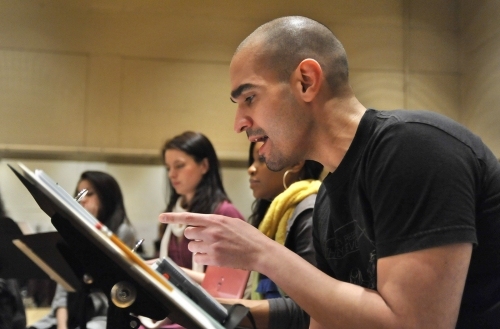 Foreground: Javier Munoz. Background: Angela Wildflower Polk, Anna Eilinsfeld and Andrea Goss

Eric Rosen (co-creator and director), Andrea Goss and Jasmin Walker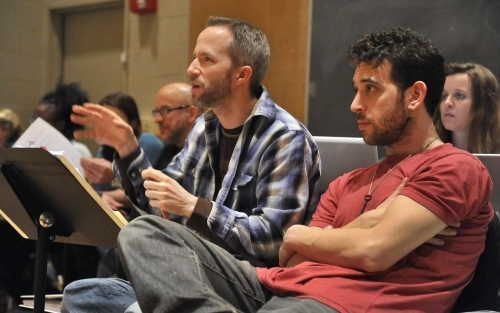 Eric Rosen (co-creator and director); foreground: Curtis Moore (music director) and Matt Sax (co-creator and cast member); and Anjee Nero (production stage manager)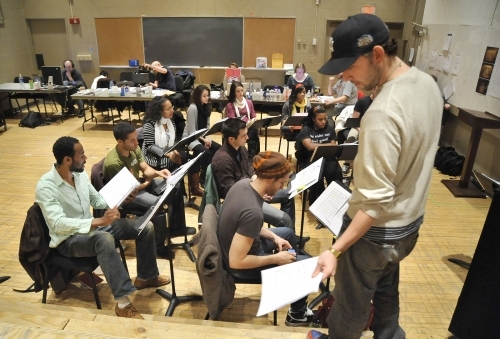 Cast

Matt Sax (co-creator and cast member), Eric Rosen (co-creator and director) and Tanisha Scott (choreographer)

Matt Sax (co-creator and cast member) and Colin Hanlon

Jay Garcia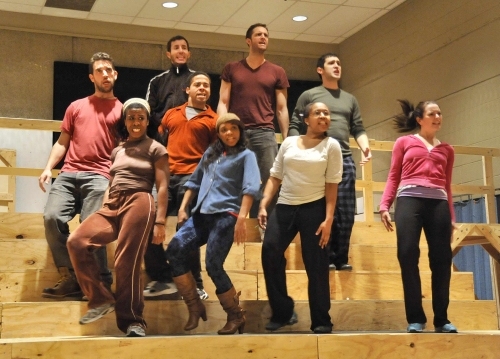 Cast

Cast