BWW Review: I'VE GOT A CRUSH ON YOU at Quality Hill Playhouse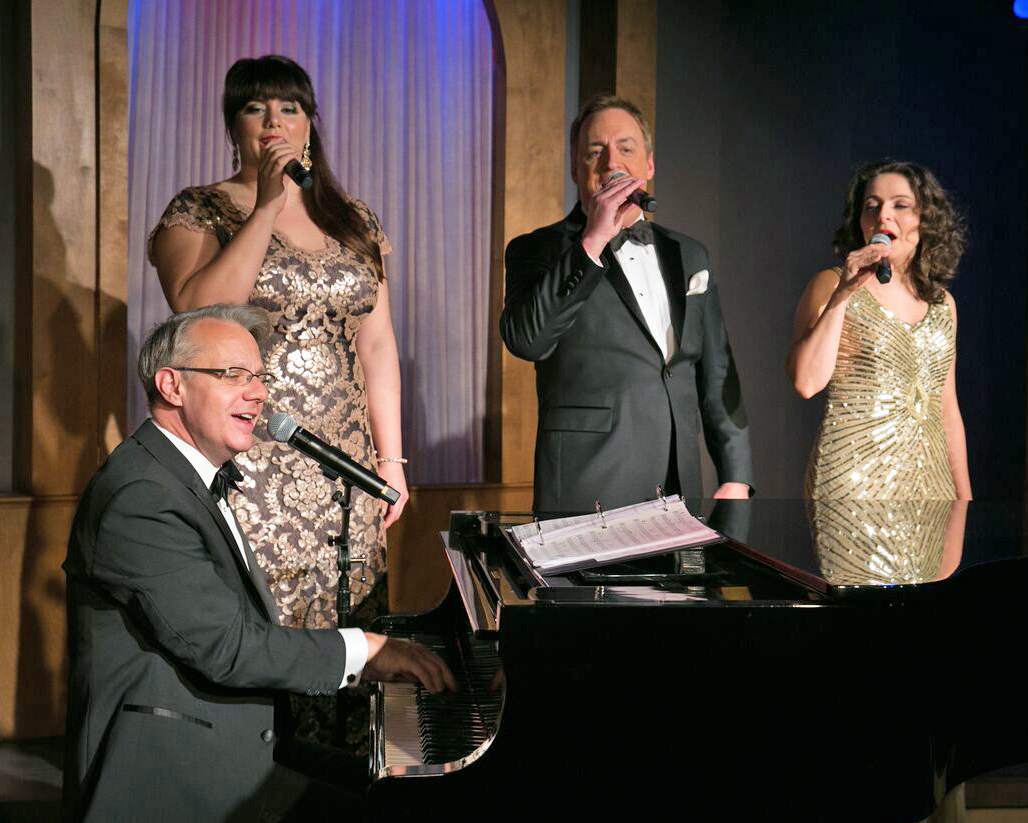 If you are a lover of the "Great America Songbook," Kent Barnhart's latest amalgamation of familiar tunes, "I've Got A Crush On You," with their origins in the musical theater of the last century is for you. Barnhart, with his trademark, droll sense of humor, leads a devoted audience at Quality Hill Playhouse through a century of music that has long outlived the shows that first gave them birth.
Armed with Barnhart's grand piano, excellent bassist BrIan Wilson, the reliable drummer Ken Remmert, Quality Hill's trademark technical stagecraft, and three additional very good singers, the Broadway illusion is complete. The continuous smiles on the faces of the audience members during the performance says that the Barnhart magic has succeeded once again.
Now in this 23rd season, Quality Hill kicks off its 2017-18 season with a menu of anthems, love songs, and torch songs by song writers as distant in time from each other as George M. Cohan, Elton John, Andrew Lloyd Weber and Stephen Sondheim. Singing along with Barnhart's familiar baritone are Quality Hill veterans Christina Burton, Tim Noland, and operatic soprano Victoria Botero. Burton and Noland are vocally familiar Broadway babies. Victoria Botero is a singer of a slightly different color.
Christina Burton is a bold, brassy, and sexy Broadway style second soprano who has mastered the art of making audience members believe she is singing just to them. She is always right on point in a variety of genres.
Tim Noland is a comfortable and believable song salesman. His warm lead tenor could belong to Music Man's Harold Hill (a character he once portrayed) or Bobby's Darrin's "Mack The Knife." Tim is equally at home on the QHP cabaret stage or in a fully mounted stage production.
Victoria Botero's rich soprano blends seamlessly into the ensemble, but presents her songs in much the way they were originally heard in Broadway theaters before amplification. The warmth of her sound comes from her operatic training, how she supports the sound through posture, breath control, and how the sound is made to resonate through the facial mask. It is a treat to hear this pure opera singer back down a bit to sing the popular songbook.
Highlights of the evening evolve from 1904's George M. Cohan's "Give My Regards To Broadway" through mid-century's Schmidt and Jones with "Try to Remember" from the penultimate off Broadway show, 1960's "The Fantasticks" (still running at the Jerry Orbach Theater) and to Elton John's "Circle of Life" from 1997s "Disney's The Lion King" still running today on Broadway.
Barnhart adds his familiar baritone, his dry sense of humor, and his extensive knowledge into the origins of songbook entries to round out a very pleasant evening for an appreciative audience.
Quality Hill Playhouse is in the midst of an expansion / remodel of its lobby area. Construction will be completed around Thanksgiving 2017. It will offer a permanent bar area and private event area. The expansion along with a new lease arrangement assure audiences of Quality Hill's continued presence for at least twelve more years and as much as twenty-two years into the future.
"I've got A Crush On you... From Stage to Songbook" runs at Quality Hill Playhouse through October 29. Tickets are available online at www.qualityhillplayhouse.com/ or by telephone at 816-421-1700.
Photo provided by Quality Hill Playhouse

Related Articles View More Kansas City

Stories

Shows