Mid-Life...The Crisis Musical Opens Feb 20 at Alhambra Theatre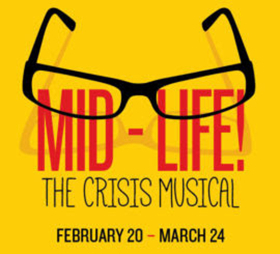 No matter how one defines their mid-life crisis or what kind of havoc it wreaks, the Alhambra Theatre & Dining is turning it into a laugh-out-loud celebration. With a balanced look at the 'joys' of growing older, through a cast of three men and three women, Mid-Life...The Crisis Musical strikes a chord with anyone regardless of age, but also touch on the sentimental wisdom that the later years afford us. The Alhambra's second theatrical title of 2019 open February 20 through March 24, 2019.
MID-LIFE! The Crisis Musical is a series of small sketches - think Saturday Night Live! - that describe the archetypical trials and tribulations of middle age. Everything from reading glasses to children who fail to leave the nest to mammograms, if it happens in your 40s and 50s then the show touches upon it.
It is no small coincidence the Alhambra chose MID-LIFE!. Offered Alhambra Managing Partner, Craig Smith, "I think I had my first mid-life crisis about ten years ago. Some people go out and buy a sports car or travel the world or get a new job or start a new hobby (or dozens of other things that I won't mention). I decided to buy a dinner theater. Perhaps having recently turned 50, running this show is a sub-conscious reminder of my on-going journey through mid-life."
Unique to the Alhambra for MID-LIFE! will be a live music score - Anthony J. Felton and one piano on stage at all times, backing up the hilarity for what is a reunion of sorts for some of the Alhambra's funniest actors. Said director Todd Booth, "I brought in the six funniest actors I could find - who can happen to sing and keep time." Starring in equal parts are Patti Eyler, Michael Strauss, Becky Baxter, Lisa Valdini, Mark Poppleton and Brian Simmons. Said Booth, "I don't have to mention that all of these cast members have experience in the midlife crisis genre, so this will come from the heart as much as the funny bone."
About DeJuan Roy's Menu
The menu is also a star of the show with it's own popular item returning, Executive Chef DeJuan Roy's prime rib. The menu features: First Course (choice of one) Mixed Grain Salad with iceberg lettuce, apples, farro, raisins, red onion, tomatoes, and a sweet onion vinaigrette dressing. or White Bean & Country Ham Soup. Second Course (choice of one): Chef DeJuan's Famous Slow Roasted Prime Rib natural jus with garlic roasted potatoes and asparagus, or Pan Seared Chicken with super grain pilaf, creamed kale, tomatoes and avocado chutney, or Fried Seafood Platter with shrimp, catfish, scallops, fries, slaw, hushpuppies, with a citrus tartar sauce, or the vegetarian dish of Lemon Fettuccine with pesto, artichokes, peas, tomatoes and mushrooms. The Dessert Course features a choice of Old Fashioned Pecan Pie or German Chocolate Cake.
Mid-life...the Crisis Musical will run at the Alhambra for a limited engagement February 20-March 24, 2019. Show time is 8:00 PM for evening shows. Doors open at 5:30 PM and dinner will be served until 7:30 PM. Matinees on Saturday are at 1:15 PM. Doors open at 11:00 AM and brunch starts at 11:15 AM. Sunday matinee is at 2:00. Doors open at noon and the meal starts at 12:15 PM. Ticket prices start at $38, and includes dinner, show and parking. Call the box office at 904.641.1212 or www.alhambrajax.com.