BWW Review: THE FULL MONTY - IL MUSICAL al TEATRO SISTINA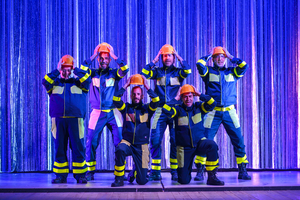 THE FULL MONTY, il nuovo adattamento del celebre film degli anni '90 torna in grande stile al Teatro Sistina fino all'8 marzo dopo un lungo tour che lo ha visto in scena in ben 16 teatri di tutta Italia e che proseguirà con altre quattro tappe concludendo il 29 marzo a Catania.
A prendere le redini di questo revival è stato nuovamente Massimo Romeo Piparo che ne ha curato produzione e regia riproponendo la versione del 2013 ma con un nuovo cast. Rispetto alla precedente edizione ci sono alcune variazioni nella messa in scena, le scenografie e le coreografie che riprendono però in gran parte quanto già fatto: ci si sarebbe invece aspettato un necessario improvement visto che sono passati sette anni e già allora si percepiva il bisogno di miglioramenti.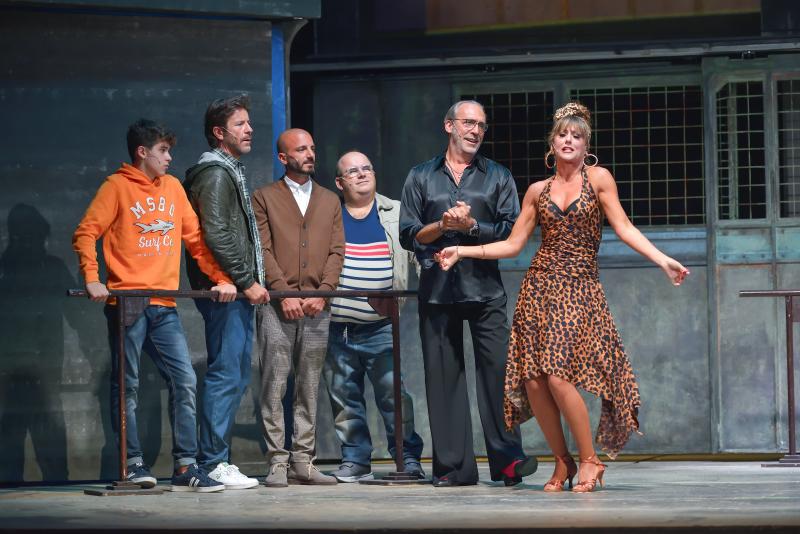 The Full Monty debuttò a Broadway nel 2001 con un libretto di Terence McNally e le canzoni e testi originali di David Yazbeck, autore avvezzo a scrivere musical tratti da film come Dirty Little Scounders, Women on the verge of a Nervous Breakdown, e più recentemente The Band's Visit e Tootsie. L'adattamento italiano curato da Massimo Romeo Piparo con Francesca Nicotra per le liriche, pur seguendo in maniera fedele la versione originale ha italianizzato la vicenda spostandola nel mondo della disoccupazione torinese toccando situazioni purtroppo ancora molto attuali, trattandole con classe e sensibilità.
Ci si rende subito conto che l'idea di riprendere dopo molti anni questa produzione nasce dalla peraltro comprensibile voglia di continuare un'onda di grande successo ottenuta dal cast di MAMMA MIA! una delle più popolari produzioni della PeepArrow degli ultimi anni. Ritroviamo infatti ben quattro interpreti di quel cast in questa produzione: Paolo Conticini, Luca Ward, Elisabetta Tulli e Laura Di Mauro. A loro si aggiungono Gianni Fantoni, unico "superstite" dell'edizione del 2013, Jonis Bascir, Nicolas Vaporidis e Sebastiano Vinci a formare il gruppo degli improvvisati spogliarellisti. Completano il cast Valentina Gullace, il giovane Christian Roberto valida promessa dell'Accademia del Sistina e la simpaticissima Paila Pavese. Per questa produzione si è puntato su attori molto noti e capaci di portare a teatro un pubblico numeroso: niente di male a questo riguardo, visto che è molto importante in questo periodo sostenere produzioni teatrali che vivono sul filo del rasoio per gli alti costi di gestione dei teatri e degli spettacoli (si pensi alla recente vicenda della cancellazione delle previste 50 repliche di Mary Poppins a Milano). Tuttavia questo sestetto di bravi e simpatici attori, fisicamente adatti per questi ruoli, sarebbero stati perfetti se fosse stata una commedia in prosa, non come cantanti in un musical. E il pubblico se ne è accorto: a parte la canzone finale in cui ovviamente l'eccitazione è sapientemente portata alle stelle, il momento che ha conquistato l'applauso più caloroso, è stato il duetto tra Elisabetta Tulli e Laura Di Mauro che dal nulla hanno improvvisamente invaso la sala con le loro belle e potenti voci. È anche vero che i sei protagonisti devono interpretare personaggi impacciati, timidi, improvvisati, ma questo non vuol dire che si debba far fatica a sentire le loro voci. Il trio Tulli-Di Mauro-Gullace pur con meno interventi cantati, li ha ripetutamente eclissati.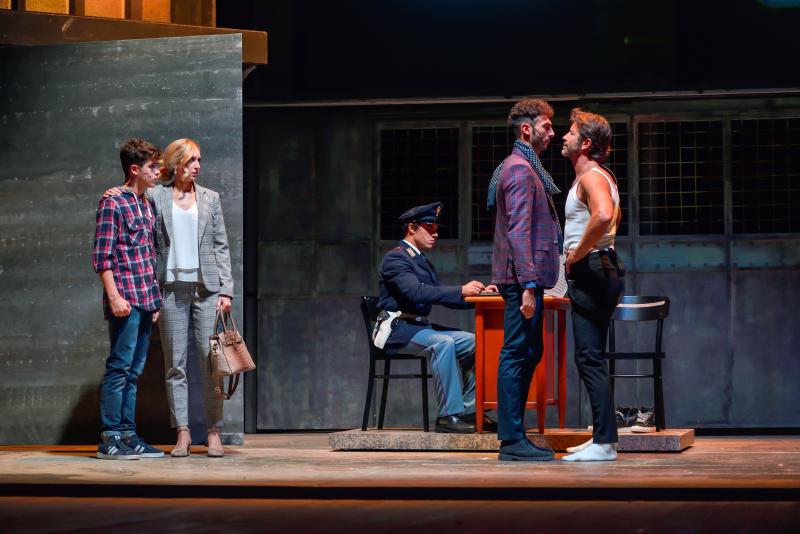 Di grande impatto l'orchestra dal vivo diretta dal Maestro Emanuele Friello, presente, per motivi logistici solo nelle date milanesi e romane.
The Full Monty è comunque uno spettacolo divertente: fa sorridere e fa riflettere. Va visto e consigliato per quello che è, un musical di grande intrattenimento non banale e capace di riempire le platee: in questo bisogna dire che Massimo Romeo Piparo sa muoversi con grande professionalità. Ci si augura che in futuro la stessa Accademia del Sistina possa produrre artisti in grado di eccellere in tutte e tre le necessarie discipline del musical.
Peep Arrow Entertainment su licenza esclusiva MTI Europe
presenta
THE FULL MONTY - IL MUSICAL
Regia e adattamento italiano di Massimo Romeo Piparo
Libretto di Terence McNally
Musica e Liriche DAVID YAZBECK
Tratto dal film della Fox Searchlight Pictures e scritto da Simon Beaufoy, prodotto da Uberto Pasolini e diretto da Peter Cattaneo
adattamento liriche Francesca Nicotra - Massimo Romeo Piparo
Teresa Caruso - Scene
Cecilia Betona - Costumi
Roberto Croce - Coreografie
Emanuele Friello - Direzione Musicale
Umile Vainieri - Luci
Davide Zezza - Suono
IL CAST
Paolo Conticini
nel ruolo di Giorgio Lucariello (Jerry)
Luca Ward
nel ruolo di Aldo Parisi (Harold)
Gianni Fantoni
nel ruolo di Davide (Dave)
Jonis Bascir
nel ruolo di Cavallo (Horse)
Nicolas Vaporidis
nel ruolo di Marcello (Malcom)
Sebastiano Vinci
nel ruolo di Daniele (Ethan)
Laura Di Mauro
nel ruolo di Vittoria (Viky)
Elisabetta Tulli
nel ruolo di Giò (Georgie)
nel ruolo di Patti Maffei (Pam)
Tancredi Di Marco/Christian Roberto
nel ruolo di Gabriele (Nathan)
con la partecipazione di
Paila Pavese
nel ruolo di Jeanette
Ensemble
Andrea Bratta - Nicolò Castagna - Nico Colucci - Francesco Consiglio
Nico Di Crescenzo - Ilaria Fioravanti - Roberta Giampino - Lorenzo Gitto
Linda Gorini - Luca Paradiso - Emanuela Puleo - Fabrizia Scaccia
Orchestra dal Vivo - (nelle date di Roma e Milano)
Emanuele Friello direttore/tastiera
Fabrizio Siciliano Tastiera 1 / Assistente direttore
Bruno Marinucci Chitarra
Guerino Rondolone Basso
Valerio Lucantoni Batteria
Related Articles View More Italy

Stories

Shows
Nato a Roma nel 1959, ha frequentato con successo il liceo scientifico Amedeo Avogadro e si è poi diplomato in una scuola romana specializzata nel (read more...)