Rebecca L. Hargrove and Peterson Townsend Will Lead Industry Presentation of BIRDIE AND TIM
The reading will take place on Sunday, December 5th at 7:30 pm & 9:15 pm in New York City.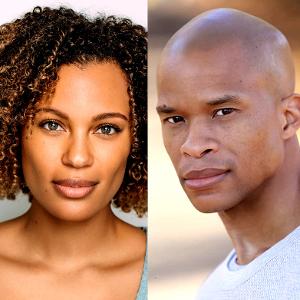 *Rebecca L. Hargrove, who recently appeared in Academy Award Nominee Terence Blanchard's Fire Shut Up in my Bones and in The Grammy Award Winning production (& will be performing in the upcoming 2021 revival) of The Gershwins' Porgy and Bess at The Metropolitan Opera and *Peterson Townsend who starred as Jeffery in the world premiere of America v. 2.1: The Sad Demise & Eventual Extinction of The American Negro at The Barrington Stage Company will play the title roles of Birdie and Tim, respectively, in the upcoming industry presentations of Birdie & Tim - a new play by KEVIN Ray Johnson on Sunday, December 5th at 7:30 pm & 9:15 pm in New York City.
* - Being seen courtesy of Actors Equity Association
Full casting will be announced at a later date.
Frank Ruiz and Playwright Johnson will co-direct the romantic holiday comedy with Grace Andrade Bowen serving as Executive Producer.The one-act follows Birdie & Tim, who meet in New York City one night at a house party. During their short time together, they discover that love at first sight doesn't stop the obstacles of life and responsibility that come your way.
a??KEVIN Ray Johnson (Playwright) is a member of The Dramatist Guild and American Guild of Musical Artist (AGMA). He is the author of The Unpredictable Times which recently made its regional premiere last summer at Rise Above Performing Arts in Florida, A (Funny) Imagination! - An unauthorized parody based on characters from the Cartoon Doug, and Una Noche En Tejas - When Beyonce met Selena! A 10 Minute Play (Upcoming: New York Theater Festival 2021 Winterfest). He is also a Staff Writer for OnStage Blog.
Seating is limited for both industry presentations. To reserve a seat please e-mail: kevinrayjohnsonproductions@gmail.com