EMOJILAND: THE MUSICAL Gets Manhattan Readings This Fall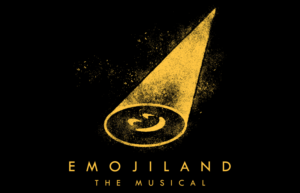 Invitation-only readings of Emojiland: The Musical will be presented at 1:30pm and 7:30pm on Thursday, September 28 in Manhattan.
Emojiland tells an original story inspired by and starring the ubiquitous pictorial text characters, featuring book, music and lyrics by husband-and-wife team Keith and Laura Harrison.
Directed by 2017 Roundabout Directing Fellow Whitney White, the ensemble cast includes Rheaume Crenshaw (Groundhog Day), Terance Reddick (Les Miserables), Morgan Weed (American Psycho), Caley Crawford (Holiday Inn), 2017 Drama Desk nominee Nora Schell (Spamilton), Anthony Alfaro (The View Upstairs), Jessie Cannizzaro (Puffs), Michael Thomas Grant (For The Record), Leah Lewis (The Voice), Payson Lewis (For The Record), Karl Skyler Urban (Hairspray Live!), Nate Lewellyn (October Sky), Claire Wilmoth (UCB), Brandon Louis Armstrong, Darrell T. Joe and Pablo Rossil. Narrated by Meg Chambers Steedle (Boardwalk Empire).
In Emojiland, the interconnected struggles of emojis living inside a smartphone escalate after a software update, threatening to wipe out Emojiland altogether.
This is the first NY reading after three years of development, supported in part by the Foundation for New American Musicals, ASCAP, and the USC School of Dramatic Arts.
Industry members interested in attending should email contact@emojiland.com.
Visit www.emojiland.com for more information.