Desi Oakley and Jay Armstrong Johnson to Lead Reading of 'TIL DEATH DO US PART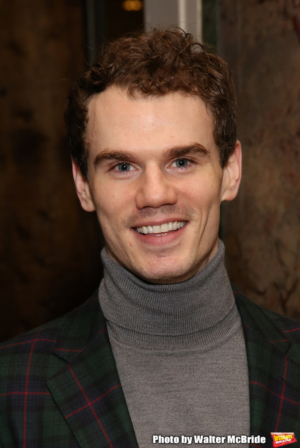 Winner of the SDSU New Musicals Initiative, 'TIL DEATH DO US PART tells the story of Gracie Jean, a spitfire from hardscrabble Tennessee, who is called to preach God's grace, and Matthew, heir apparent to small town Evangelical royalty, who struggles to rebel against his father while maintaining the privilege of his birth. When they meet, it's love at first sight. But what happens when a fairytale marriage becomes a battle of the sexes? This 11-person musical with a contemporary, country-gospel-influenced score investigates the trouble women's ambition poses to an institution that has subjugated them for centuries. Are there limits to the "all" love can conquer?
The cast for the exploratory reading features: Desi Oakley (Chicago, Waitress) as Gracie Jean Lewis/Grace Whitfield, Jay Armstrong Johnson (Phantom, On The Town) as Matthew Whitfield, Becky Baxter as Sarah Whitfield, Timothy John Smith (Blacklist, On a Stool at the End of the Bar) as Reverend Bart Whitfield, George Dvorsky (Scarlet Pimpernel, Gentlemen Prefer Blondes) as Sheriff Brown, Autumn Hurlbert (Legally Blonde, Something Rotten) as Lynne Lewis, Stephanie Gibson (Charlie and the Chocolate Factory) as Edna Brown, Lynn Craig (Lazarus) as Lorraine O'Connor, Greg Kamp (Saturday Night) as Aaron O'Connor, Ryan Morales (Flashdance) as Jim Franklin, and Neal Mayer (Les Miserables, Hunchback) as Charlie Waters.
'Til Death Do Us Part is honored to be the recipient of a National Alliance for Musical Theatre Writers Residency Grant having won the SDSU New Musical Initiative and will have its World Premiere Spring 2020 in San Diego directed and choreographed by Stephen Broteback with musical direction by Robert Meffe.
Bobby Cronin (music and lyrics) is the award-winning composer/lyricist of: Mary and Max (European Premiere Theatre Linz Austria 2019, World Premiere at Theatre Calgary fall 2018, Pace New Musicals winner 2017/2018, MUT Critic's Prize in Germany 2018, and 2017 finalist for SigWorks, DC); The Concrete Jungle (London, International Cast Recording on all digital platforms); 'Til Death Do Us Part with bookwriter Caroline Prugh (winner 2018 SDSU New Musicals Award); Daybreak (US & London); Psykidz (A Class Act NY commission and the music for Christine Toy Johnson's Till Soon, Anne (recent NYC reading starring Beautiful's Abby Mueller). Bobby wrote a few songs for Off-Broadway's Camp Morning Wood, and has written scores/songs for many award-winning short films and webseries. Graduate of Yale University where he won the Michael P. Manzella Award for Excellence in the Arts, Scholastics, and Character. As a side passion, Bobby is active in the animal rescue community where fosters and rescues dogs. www.BobbyCronin.com
Caroline Prugh (book) is a Brooklyn-based writer for the stage: plays, musicals, dance theater and opera. Recent New York productions include You Will Never Read This (co-written with Cat Miller as miller.prugh; LadyFest 2017 at The Tank), the musical Pinwheel! (2015 NYIT Outstanding Musical Nomination, random access theatre), and the plays: It's Only Kickball, Stupid (kef productions, The Advocate: NYC Lesbian Stage Highlights of 2014), No Provenance (written with Kate Holland & produced by Justin Cornell/FringeNYC 2014), and Clear Cold Place (vilde chaya collective & David Carpenter). As a songwriter, 54 Below/David Carpenter and New Georges have presented her work. Recent readings/workshops include: Frances Martin is Lily Worthington (co-written with Jessica Beth Reddish), Glorious Disaster (29th Street Playwrights Collective 2018 Series at The Bernie Wohl Center), Prudence (Miranda Theatre Company's 2018 Liz Smith Reading Series), Immerwahr (also by miller.prugh; Drama League First Stage Residency, 2017, reading at The Tank, March 2018), Gertrude Stein, You Are Mine, Gertrude Stein (2017 HERstory at IRT), Night at the Big Chief Motel (Holland New Voices Award, 2016 Great Plains Theatre Conference) and 'Til Death Do Us Part (with composer/lyricist Bobby Cronin) 2016 Overtures Series at The Gallery Players (directed by Kent Nicholson). Her dance/musical theater piece Decline & Fall; or A Guide to How the End Begins for Those Too Big to Fail (co-conceived and directed by Simón Hanauki; choreographed by Lisa Nevada) was initially developed during Mr. Hanauki's 2050 Residency at NYTW and received a workshop production at Tricklock Theater Company in Albuquerque, NM. She spent her first decade in NYC at Stuart Thompson Productions as part of the general management team for 25 Broadway productions including the Tony Award winning plays: Proof, Take Me Out, Doubt, and God of Carnage.
Amherst College (BA), Columbia (MFA).