So Long, Farewell: Indonesian Theatre Communities & Companies 2020 Wrap-Up
Eight Indonesian theaters shared their 2020 experience and what awaits in 2021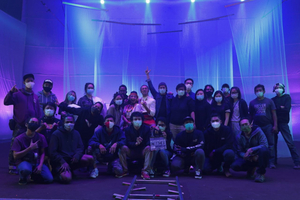 After what felt like a decade's worth of trials and tribulations packed into one eventful year, clocks finally chimed around the world, bringing 2020 to a close and ushering in 2021. Though the last year unquestionably affected everyone to some degree, actors and theatregoers were among the most affected, with countless productions postponed or outright canceled.
Theatres and communities sought to help their worst-struck members in various ways. After the initial damage and shock wore off, some thespians began to explore the virtual space, creating new shows made for the lockdown era. Some were also made fully remotely, while others opted for cautious on-site shoots with the final product being digitally distributed.
Indonesian contributor Rakaputra Paputungan got in touch with several Indonesian theatre communities and companies to learn about their 2020 experience in their own words, as well as any news (or, at least, teaser) about what's to come in 2021.
Note: These statements were written by each respective community's/company's representative, some translated from Indonesian as necessary. Additionally, some editing was done for brevity or clarity.
TEMAN (Teater Musikal Nusantara)
At the height of pandemic quarantine, TEMAN with Ciputra Artpreneur conducted a charity project called "Berbagi Untuk Sesama". In August 2020, TEMAN with BOOW LIVE produced "RARA J" - a short movie musical adapted from the Indonesian folklore of Rara Jonggrang. Some highlighted TEMAN projects in 2020 including; Wave of Cinema (Visinema Music), Panggung Musikal Indonesia (BOOW LIVE & Kemendikbud), Metro TV 20th Anniversary Musical (METRO TV). TEMAN Musical theatre workshops including; Composing for musical theatre, Acting in Singing for musical theatre, and ongoing Broadway classes, collaborating with GIGI Art of Dance.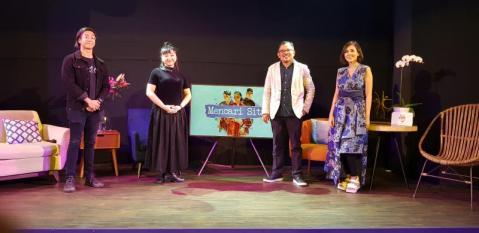 For 2021, TEMAN is collaborating with Djarum Foundation & Garin Nugroho for a musical series project, adapting the timeless story of "Sitti Nurbaya", a classic novel by Marah Roesli. TEMAN is also currently in the creative process of an upcoming original musical, collaborating with a prominent Indonesian film production company.
Be a friend of TEMAN by following them on Instagram.
Bandung Musical
Introducing musicals in Bandung is still a lengthy ordeal. People are not aware yet of what musicals are like. The existing infrastructure and facilities aren't as developed as Jakarta either.
However, there are a lot of talented performers in Bandung, and they are still raw. So it will be very interesting to develop these talents, although it would take more time, more energy, and extra commitment, but the future is bright.
In 2021, we plan to hold a road trip to various high schools to introduce musicals in Bandung while on the look for new talents. We also hope to eventually produce an original musical.
Follow their journey to spread musical awareness at @bdgmusical.
Jaksical
2020 has been a very unexpected year. Pandemic took its toll, especially in the performing arts industry. During these hard times, Jaksical tried to share positivity throughout the community.
Our first project in 2020 started with a virtual song cover of "Dreamgirls - Family". We hope to give reassurance that we'll come back stronger after the hardship is over. Not long after we did several live Instagram sessions with other musical enthusiasts, each with their own specialization in the industry, and also our most anticipated event: Jaksical Sing-in, a virtual open mic session.
Due to the pandemic situation, we held an online musical concert called JTT4: Rewind. The concert consisted of songs that had been sung throughout Jaksical's previous annual concerts. As 2020 has been a roller coaster ride, we can't wait to get back stronger in 2021 and see you in our next event!!!
Find out more about Jaksical community by following them on IG. They also made their own wrap up video!
Theatre Spotlight
This year, we held an online acting class and did a cover through virtual collaboration. We don't have any specific plans from next year due to the coronavirus situation that has no end in sight. However, we are working on something but we cannot talk more about it at this time.
Follow the spotlight and be illuminated on their future plans on Instagram.
Teater Koma
After delaying our Sampek Engtay performance at Ciputra Artpreneur from March 2020 to January 2021, we ran the program #DigitalisasiKoma, which broadcasted both our old and new productions though digital media.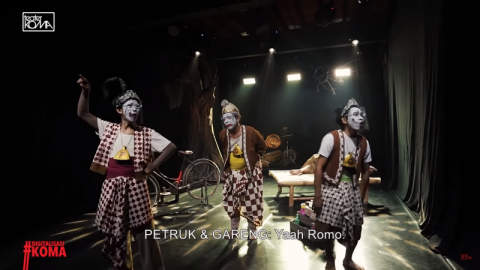 This year, the aforementioned program includes #NontonTeaterKomaDiRumah: paid streams of our old, documented productions through streaming platforms; #NyanyiLaguTeaterKoma: covers of songs originating in Teater Koma by our talented friends and uploaded to our YouTube; #PentasTeaterKomaDiSanggar: performances of short scripts recorded at our workshop during the pandemic; and #PentasAkhirTahunTeaterKoma: performance of a new script recorded at a physical theater during the pandemic, with the tickets being sold through a streaming platform.
Unfortunately, because of the volatile condition as is happening with Indonesia's theatre industry in general, we cannot yet confirm when our next year's performance will take place.
Keep updated about their online and offline performances through their Instagram.
Teater KataK
During the year dominated by the COVID-19 pandemic, Teater KataK successfully produced an online theatrical work inspired in the vein of people's theatrical show called "Ceritera: Hikayat Cinta Nurbaya". We also performed a show, "MERAH", at the night of our campus's main event. On our Instagram, @teaterkatak, we also performed a comedic radio drama titled "KunCi (Dukun Cinta).
In the year 2021, Teater KataK plans to adapt to the ongoing condition by designing an innovative online performance, while making an effort to keep the quality and essence of Indonesian theatrical arts by young creatives.
Hop on @teaterkatak to stay tuned to their future shows.
Jakarta Players
The pandemic and the absence of live performances in Jakarta have meant that 2020 has been a relatively quiet year for the Jakarta Players. Their last live performance was on 22 Feb at Por Que No restaurant in Jakarta as part of SABA do MINGO event, where they performed three One-Act plays: "The Chocolate Affair", "Bryan and Kim", and "About Us", an original play by actress Putri Ayudia.
During the pandemic, President Heriska Suthapa has collaborated with actors in Jakarta and internationally to make lockdown webcam dramas and a Zoom version of "Daniel on A Thursday", "The Parking Lot", and "I Don't Wanna Talk About It", an original play by Jakarta Players actors Indira Prana, Soraya Soemadiredja and Heriska Suthapa. Creative Director Andrew Trigg has written an additional Zoom drama/comedy, which he aims to produce early in 2021.
In 2021, the Jakarta Players aims to give its community the chance to collaborate on devising, writing, making and acting in short films. The goal is to gather a band of film enthusiasts to make a series of increasingly sophisticated short films, guided by experienced filmmaker Andrew Trigg.
If you're excited to collaborate with Jakarta Players, don't forget to follow them on IG or Facebook.
Teater Keliling
Teater Keliling was founded on February 13, 1974. We've performed more than 1600 shows in all provinces around Indonesia and 11 different countries. Our vision is to bring theatre to the people in the hope that more people can experience the benefits of theatre. We are producing theatrical works with cultural and historical values wrapped in modern concepts so millennials can learn about their cultural and historical heritage. As musicals are currently popular and can be enjoyed by millennials, we're doing them as well.
In 2020, we tried to stay productive amidst the pandemic, though we had to make adjustments by following a strict health protocol. On August 29th, we performed a virtual musical, "Putri Mandalika", in collaboration with Indonesian Folktales, which can be watched at their YouTube channel. We returned on November 29th with a virtual musical production called "Calon Arang", written by Dolfry Inda Suri and directed by Rudolf Puspa. On that occasion, we worked with Indonesia's Ministry of Education and Culture, and the resulting video can be seen on Budaya Maju YouTube channel.
Moving forward, we strive to routinely produce musicals based on the folktales of different regions in Indonesia. In January 2021, we plan to perform the Keong Mas musical with the same creative team as our previous production. And should the pandemic ends, we plan to hold a rerun of The Great Rahwana musical in April, which we hope can be performed offline at a major theater in Jakarta. We also have plans to tour several towns in Jawa and Bali and collaborate with local artists, a plan that has unfortunately been delayed since 2019. And to close 2021, we will run "Takdir Cinta Diponegoro" as a musical and hold an open audition. We hope Teater Keliing can be a platform for the new generation of art lovers to work together and spread our cultural and historical values. Because if not us, who will do it?
Join in on their upcoming roadtrip by following their Instagram, @teaterkelilingid