BWW Review: #MusikalDiRumah RARA J's Hip Story and Visuals Updates the Folktale for the Younger Generation
On August 6th, the new episode was screened to members of the media via a live YouTube session.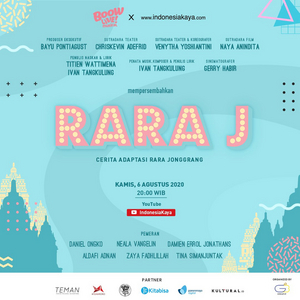 #MusikalDiRumahAja's third and latest entry, Rara J, is the first to transplant the source folktale into a current-day setting. However, the adaptation is not merely skin-deep, as the episode's presentation is as snazzy as its internet-savvy characters, resulting in a fun and accessible watch.
On August 6th, the new episode was screened to members of the media via a live YouTube session. The episode is available to watch on Indonesiakaya.com's YouTube until next Thursday.
This episode was headed by the creative minds behind TEMAN (Teater Musikal Nusantara), namely Chriskevin Adefrid (theatrical director), Venytha Yoshiantini (theatrical director, choreographer, and stage manager), and Ivan Tangkulung (music composer, arranger, and lyricist). Collaborating with them were Tittien Wattimena (scriptwriter and lyricist along with Ivan) and film director Naya Anindita (cinematic director). The latter of whom most recently directed the teen fantasy romcom Eggnoid.
Rara J (Neala Vangelin) is a popular internet celebrity. Her make-up tutorials easily get millions of views with just as many admirers. One of them is Bandung (Daniel Ongko), who lives in the same kosan (house rented to different tenants, like an apartment). He's completely smitten with Rara, spamming her with persistent comments asking to be her boyfriend.
Though rightfully annoyed, pressure from the netizens who sympathize with Bandung's pleas pushes her into declaring a challenge: make a YouTube stream and get 1,000 concurrent viewers.
After asking for pointers from his friends (Damien Errol Jonathans, Aldafi Adnan, and Zaya Fadhlillah), Bandung settles with singing his own song for the stream, accompanied only by his guitar. Just as the viewer count nearly reaches 1,000, Rara takes a drastic measure and cuts the power to Bandung's room.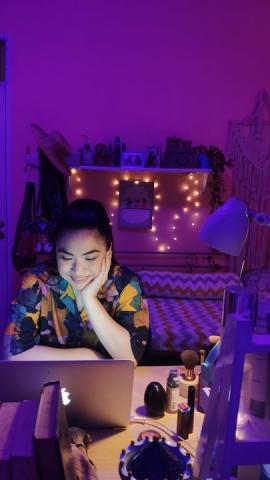 Unfortunate for Rara, her action is caught on camera. Yet among the scandal, Bandung has failed the bid all the same. Some time later, Bandung finishes his song on another stream with Rara as his 1000th viewer. Rara closes her laptop, ready to move out from her now-emptied kosan room.
From the three episodes so far, Rara J felt the most like a typical web series, in the best way possible. The cinematography stood out as very hip, incorporating UI elements through YouTube screens and chat balloons. It was also the first one to utilize real sets, chiefly with Rara's and Bandung's rooms, grounding it in reality and making it feel more contemporary.
Although the episode was recorded with mobile phones (as stated by director Naya), the pictures were crisp enough, with surprisingly varied angle and camerawork; furthermore, clever use of lighting and color grading made the episode feel very vibrant and fun to watch even for the scenes taking place inside the characters' rooms.
The story was simple and straightforward enough, mostly keeping the same beats as the source material. Some details were not clearly communicated, including Rara and Bandung living in the same house (only made apparent towards the end), or why Rara's mother (played by Tina Simanjuntak) would force her to move out if Bandung became his boyfriend. Though these were minute details, they were relevant to the plot and, being unclear, could disturb the audience's experience.
Interestingly, Rara and Bandung were both written as particularly flawed characters. Rara came across as a bit shallow and mean-spirited; Bandung's behavior was bordering on stalkerish and nearly veered into harassment.
Of course, morally grey protagonists could definitely work, even in a web musical. But for a show with severely limited duration, making it hard for the audience to root for either character was a risky decision. Why should I care if Bandung would succeed in his quest, and therefore putting Rara in trouble, if I didn't find him nor her likeable?
As a result, the main couple's romance did not land very well either. There was a truly beautiful scene where they sang in a dream duet atop a skyscraper at dusk. Yet, the emotional payoff was not as strong as the visual one, for we were barely shown any romantic development that could make us believe that these two were star-crossed lovers instead of near-strangers.
Nevertheless, the show was short enough that we need not dwell on these misgivings for too long. In fact, the show was well-paced enough that it never felt boring. Even the scene where Bandung consulted his three friends, one clearly meant to bring some more levity and showcase the talents involved, was enjoyable to watch, although it did not seem to bring anything to the story. Bandung went with his own thing, after all.
The presentation made up for these (admittedly minor) gripes with the story. Other than the aforementioned cinematography and editing, the showrunners also made sure the 'musical' part of web musical got the attention it deserved.
Interestingly enough, composer Ivan Tangkulung wrote a hip-hop and rap inspired number for Rara, contrasting her opening song with Bandung's minimalistic, acoustic ballad. The contrast in musical style helped characterize the two leads.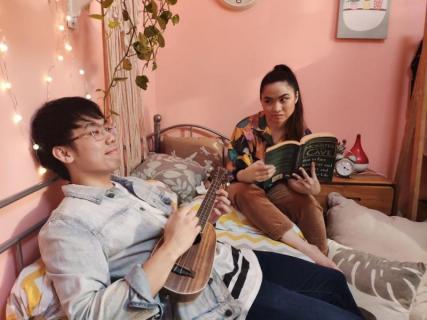 However, Rara's rap-like parts' flow was neither very impressive nor catchy. On the other hand, Bandung's ballads were delightful. Daniel Ongko's gentle voice was a good match for them. There was also one crowd song with an okay Melody But lackadaisical harmonization that left me cold.
Another stand out moment was a tap break with one of Bandung's friends (played by Aldafi Adnan), in which he bestowed the appeal of mukbang videos for his upcoming stream (mukbang is a genre of videos where the host eats a copious amount of food in one sitting). The tap break made use of a small cooking pot with instant noodles. It made for an unexpectedly funny sequence.
Beyond the spectacle, the cast did decently. Neala Vangeline was a convincing choice to play the popular Rara, though the script's few shortcomings did not give her room to leave a lasting mark. Daniel, meanwhile, played Bandung very gently, making him somewhat of an underdog. Though endearing, it did away with his questionable obsessive behavior in the opening scene and resulted in a murky characterization. As for the supporting actors, they got only very small parts, but brought the required excitement and energy.
Personally, I find Rara J as #MusikalDiRumahAja's most enjoyable entry so far, mostly due to its excellent presentation and well-planned pacing. The creators exhibited an understanding of what the younger generations expect out of a web musical (in one word, "kekinian", meaning trendy) and fulfilled those expectations with flying colors. Despite some minor narrative kinks, Rara J is a web musical one can rewatch over and over again.
Photo credit: Image Dynamics.