VIDEO: Get A First Look At BEAUTY AND THE BEAST at Zach Theatre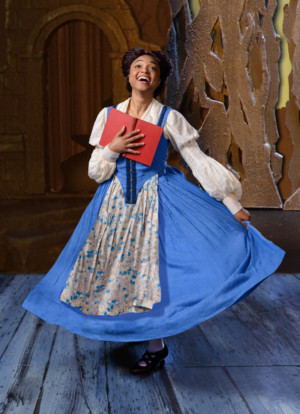 BroadwayWorld has a first look at ZACH Theatre's Beauty and the Beast! Check out the video below!
Be Our Guest! This "tale as old as time" follows Belle, a book-smart and adventurous young woman and the Beast, a formerly dashing young prince cursed by an enchantress. If the Beast cannot learn to love and be loved in return, he and his household including Lumiere, Cogsworth, Mrs. Potts, and Chip will be trapped forever under the spell. The Broadway smash hit showcases a merry, award-winning score with favorites such as "Beauty and the Beast," "Gaston," and "Be Our Guest." This delightful family musical enchants and transforms hearts of all generations.
With this timeless story, Director Abe Reybold expressed his enthusiasm on bringing Disney's Beauty and the Beast to the Topfer Stage this summer, "Sharing this story about the transformational power of love with a multi-generational audience fits beautifully within ZACH's mission to entertain, to inspire and to ignite the imagination. This may be the first stage show that many young people see, and I am creatively charged to make Beauty and the Beast magical, truthful and filled with laughter. The design team has done wonders and I am excited to work with the talented cast on this well-crafted Disney classic with its big melodic heart and so many wonderful lessons within."
The cast includes BRIANA BROOKS as Belle; Alexander Mendoza as Beast; MATTHEW REDDEN as Gaston; MARTIN BURKE as Lumiere; John Christopher as Cogsworth; MEREDITH McCALL as Mrs. Potts; JENNIFER BLAKENEY YOUNG as Babette; JUNE JULIAN as Madame de la Bouche; MICHAEL FERSTENFELD as Maurice; KEVIN PELLICONE as Lefou; WILKES GOODNER as Chip #1; LUCCA OSTROVICH as Chip #2; VICTORIA BROWN as Enchantress/Ensemble; ANTHONY VINCENT TOUDJAROV as Monsieur D'Arque/Ensemble; and SHANNON CONBOY, GRACE MUAWAD, and KHALI SYKES as Silly Girls/Ensemble.
Additional Ensemble includes MEGAN CHIZEK, CHRIS BARFIELD, LESLIE HETHCOX, ETHAN ROGERS and TY SHAMAR with Swings cast OWEN SCALES, CAMRYN LAMONTAGNE, JOHNATHAN MACEDO, and FRANCENE BAYOLA.
Directed and Musically Staged by Abe Reybold, the production team also includes ALLEN ROBERTSON as Musical Director, SARA BURKE as Choreographer, Court Watson as Scenic Designer, Susan Branch TOWNE as Costume Designer, SERRET JENSEN as Hair and Makeup Designer, Michelle Habeck as Lighting Designer with CRAIG BROCK as Sound Designer, SCOTT GROH as Properties Designer, TOBY MINOR as Fight Choreographer, AMANDA COOLEY DAVIS as Dialect Consultant, and CATHERINE ANNE TUCKER as Stage Manager.