Houston Grand Opera Presents Sensory-Friendly MONKEY AND FRANCINE IN THE CITY OF TIGERS Next Month
The performance is on Saturday, February 4.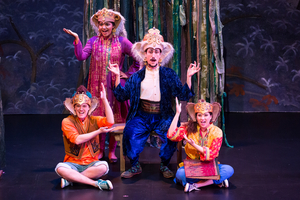 Houston Grand Opera (HGO) will present a sensory-friendly performance of Monkey and Francine in the City of Tigers, part of its Opera to Go! series specifically designed to create a welcoming and supportive environment for families with members on the autism spectrum and other sensory sensitivities, at the Evelyn Rubenstein JCC on Saturday, February 4. The event is free and open to the public.
HGO prides itself on offering inclusive, authentic, and enriching experiences to all. In collaboration with its partnerships throughout the Houston community, HGO works to develop new operatic works that explore the intersection between the art form and the needs of the people it serves to promote opera to new and diverse audiences.
The sensory-friendly performance allows for a more relaxed and welcoming experience. Accommodations include: the ability for patrons to be free to get up, move around or leave at any time; use of iPads and other electronics for therapeutic purposes; house lights on low level during performance; reduction of strobe lighting or lights focused on the audience; sudden loud sounds or startling moments to be signaled in advance; entering and exiting allowed throughout the performance; designated quiet and activity areas provided in the lobbies; trained volunteers to assist with patrons needs and requests; and story materials provided as preparation for a visit to the theatre.
Composer Kamala Sankaram and librettist David Johnston's Monkey and Francine in the City of Tigers opera was commissioned by HGO and made its world premiere in 2017. The work has gone on to have a life on other stages around the country. It may have been created for children, but it's a hit with grownups too!
Bringing together influences from India, China, and West Africa, the opera shares the tale of Monkey and his whip-smart sister Francine, who must figure out how to work together if they want to escape the clutches of the hungry Crocodile and the greedy Lord of the Tigers. Featuring a mix of musical styles from Bollywood, opera, and jazz combined with relatable, contemporary language and characters, the opera conveys a timely message of unity.
HGO's Opera to Go! program offers fully staged, high-energy, 45-minute operas, sung entirely in English and designed with students in mind. Opera to Go! is performed across countless schools and community venues all over the Greater Houston region, as well as to further regions throughout Texas. To learn more about the Opera to Go! program, please contact the HGO Community & Learning team at operatogo@hgo.org or visit houstongrandopera.com/community.