Hong Kong Phil. Presents Mahler's Symphonies Of Death And Resurrection With Jaap Van Zweden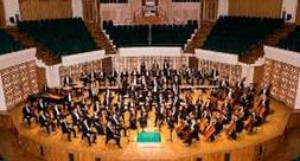 The Hong Kong Philharmonic Orchestra (HK Phil) continues its Mahler cycle with two mighty Symphonies - Symphony no. 9, a hymn to death on 26 & 27 April, and Symphony no. 2, Resurrection on 17 & 18 May. Both will be directed by the Great Mahler Interpreter , the orchestra's Music Director Jaap van Zweden, at the Hong Kong Cultural Centre Concert Hall. Single tickets for these last two Mahler programmes in the HK Phil's 2018/19 season are now available at URBTIX. Don't miss them!
Mahler $200: Symphony no. 9 (26 & 27 Apr) *
Mahler's last completed symphony, the Ninth, is a breath-taking piece depicting the composer's farewell to life.
The slow unconventional first movement echoes the gentle yet irregular Mahler's Heartbeat . The Symphony follows the ups and downs of existence, and dissolves into the last movement which signifies Mahler's goodbye to the world.
Rounding up the orchestra's 45th anniversary special project, Mahler $200, all seats for the Ninth are available at a uniform price of HK$200. Don't miss the opportunity to go on a journey with the HK Phil and Maestro Jaap van Zweden, revealing Mahler's earnest search for love, hope and the meaning of life in his most deeply personal Symphony.
Mahler $200: Symphony no. 9 will be held on 26 & 27 Apr (Fri & Sat), 8PM in the Hong Kong Cultural Centre Concert Hall. Tickets priced: HK$200 are available at URBTIX. For enquiries, please call +852 2721 2332 or visit hkphil.org.
*Note: Change of programme
At the request of the conductor, the repertoire of the concerts will be changed from Mahler Symphony no. 7 to Mahler Symphony no. 9. Ticket-holders may continue to use their tickets for admission according to the date printed on the tickets for the updated programme.
For ticketing assistance, please contact the HK Phil Ticketing Office at least TEN working days before the concert date(s) (i.e. on or before 10 April 2019) from Mon to Fri (10:00am-12:30pm, 2:00pm-6:00pm), excluding Saturday, Sunday and Public Holidays, at 2721 0132 / 2721 2332 or ticketing@hkphil.org.
More Hot Stories For You