Hong Kong Phil Presents Long March Symphony and Butterfly Lovers Violin Concerto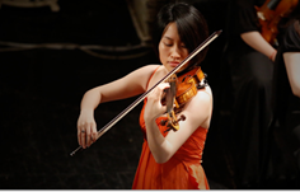 Under the baton of Huang Yi, one of the brightest young conductors in China, the Hong Kong Philharmonic Orchestra (HK Phil) will celebrate the National Day on 28 & 29 September 2018 with two great Chinese symphonic works - the romantic Butterfly Lovers Violin Concerto by Chen Gang and He Zhanhao featuring violinist Wang Zhijong, and the heroic Long March Symphony by Ding Shande, the former mentor of Chen and He - in the Hong Kong Cultural Centre Concert Hall.
The Long March Symphony by the legendary Chinese composer Ding Shande is one of his best known orchestral compositions. Taking the gallant story of the Chinese Workers' and Peasants' Red Army marching over a distance of 25,000 miles, the Symphony is a deeply moving powerful piece. Under the baton of Huang Yi, the HK Phil ends the concert by revisiting this historic event.
The Butterfly Lovers Violin Concerto is Chen Gang and He Zhanhao's recreation of the romantic love story between Liang Shanbo and Zhu Yingtai. The Butterfly Lovers was hailed at its premiere as "a breakthrough in China's symphonic music". The piece incorporates Chinese elements and melodic phrases using western instrumentation. After 60 years since its premiere, "The Tchaikovsky Concerto of the East" will showcase the elegance of Chinese symphonic music through the sensitive representation of the sorrows of Zhu Yingtai.
The concert begins with local composer Austin Yip's Metamorphosis, a HK Phil commissioned work winning the 2017 CASH Golden Sail Music Awards. Music Director Jaap van Zweden commented "the orchestration is wonderful" at its debut. This work takes you to Waterloo Road, where the composer grew up - a microcosm of Hong Kong.
28 Sep performance is sponsored by: Sunwah Kingsway
29 Sep performance is sponsored by: Wing Lung Bank
Holidays: A National Day Concert: Butterfly Lovers & Long March will be held on 28 & 29 Sept (Fri & Sat), 8PM in the Hong Kong Cultural Centre Concert Hall. Tickets priced: HK$ $380 $280 $180 $120 are now available at URBTIX. For enquiries, please call +852 2721 2332 or visit hkphil.org.
More Hot Stories For You