BWW Review: VIVID GRAND SHOW at Friedrichstadt-Palast Berlin - This breathtaking spectacle will prove to be a GIGANTIC hit! Bravo!!!
l am seldom at a loss for words, however, director Krista Monson's, milliner Philip Treacy's, costume designer Stefano Canulli's, and set designer Michael Cotton's creation, VIVID GRAND SHOW left me speechless -- again and again and again. Last night's world premiere at Berlin's famed Friedrichstadt Palace, was an absolute stunner. Every moment in the show presented a consistent level of aesthetic beauty so spectacular in its concept and execution that "my goosebumps got goosebumps."
In its 100-year history, Ms. Monson is the first woman to ever direct one of the Palace's Grand Shows. VIVID has a palpable female sensibility, quite fitting to a spectacle co-created and directed by a woman. While that may seem a sexist thing to say, in fact, it is one of the highest compliments I can give. Ms. Monson's viewpoint and her gentle touch are ever-present. Scenes and moments that a male director might have taken a sledgehammer to, are presented with a lightness that is both disarming and often, quite moving. Male and Female stereotypes are presented and then sublimated to present each character as a fully-rounded human being, regardless of their sex. It was refreshing and unexpected. Gender politics aside, this is first and foremost a world-class entertainment -- a sexy, fun, thrilling, evening in the theater.
Influenced through her years with Cirque du Soleil, Ms. Monson, and the rest of the creative team has taken the Cirque formula, expanded and modernized it. Despite a boffo sound design and bombastic orchestrations, beautifully played by the onstage orchestra, (conducted by Daniel Behrens) VIVID is at its most ingenious during its moments of stillness and quiet. The Friedrichstadt Palace's stage is the largest stage of its kind in Europe and VIVID is the most expensive production in the theater's history. It's easy to understand why. Every inch of space on that enormous stage has been filled with projections, moving sets, unbelievable costumes and headpieces, singers, dancers, and gymnasts. The lighting design by Chris Moylan and Video design by Maxin10sity are both out of this world. Quite frankly, there is so much to take in, that one should see VIVID at least twice to get the full impact of all that is being offered. I, for one, will definitely be seeing the show again.
The original songs, ably performed by Andreas Bieber, Sarah Manesse and especially, Glacéia Henderson-Hopkins, are serviceable at best, and not as interesting as these talented singers would have you believe.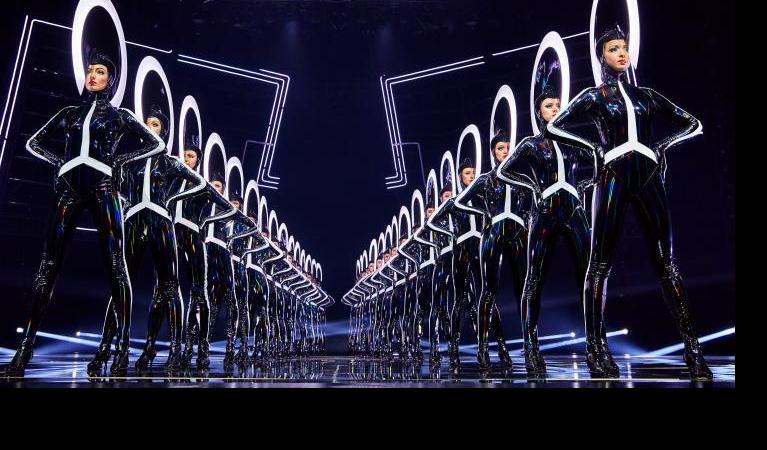 The Friedrichstadt Palace's beloved dance company has been used to their greatest advantage and is integrated into the storytelling in a way that would make the Radio City Rockettes envious. The choreography by Alexandra Georgieva, Dean Lee and Leo Mujic was inspired and always surprising.
Thanks to the Friedrichstadt Palace's General Manager, Dr. Berndt Schmidt, Berlin now has something else to be truly proud of... a world-class entertainment at one its most celebrated theaters. If you will be in Europe at any time in the near future, you must see VIVID GRAND SHOW. It's worth an extra flight to Berlin just to wonder at the gorgeous creatures roaming the stage at the Friedrichstadt Palace.
Photos: Robert Grieschek and Brinkhoff Moegenburg