BWW Previews: Newly Honored MacArthur Foundation Genius Fellow Dominique Morisseau's PIPELINE is Detroit Public Theatre's Season Opener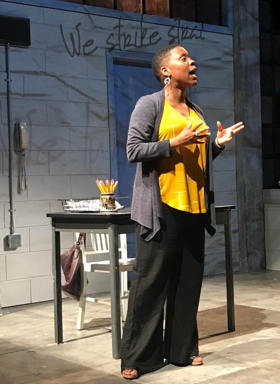 Yesterday was a banner day for native Detroiter and prolific playwright Dominique Morisseau. The MacArthur Foundation named her one of 25 creatives to receive a no-strings-attached $625,000 five-year "Genius Grant." The film of Lincoln Center's production of her play Pipeline was released for a very limited nationwide screening and it was the first preview performance that night of Pipeline, the headliner for Detroit Public Theatre's (DPT) Fourth Season. BroadwayWorld Detroit spoke with DPT Pipeline Director, Candis C. Jones, and DPT Co-Producing Artistic Director Sarah Winkler, before Pipeline's official opening night on Oct. 6 and here's what they had to say:
BWW Detroit: How did you get involved with Detroit Public Theatre?
Candis C. Jones: Dominique [Morisseau] and I connected a few years ago after I invited her assistant, Stori Ayers, to see my work in NYC. Dominique recommended me to the DPT producing team to direct Pipeline.
BWW Detroit: What is Pipeline about?
Candis C. Jones: Pipeline is a remarkable entry point for dialogue to discuss the ways race, gender, and class influence young people's experience in the private and public educational system. This play is very topical nationally. Nya, a public-school teacher, (played by Lisa Strum from New York) sends her only son Omari (played by Wayne State University student Yakeem Tatum), away to private school, hoping he'd have prime educational opportunities. After an incident in school, she realizes that there's no place to protect her son from the challenges of being an African American student in the educational system. Pipeline stems from Dominique's examination of the school-to-prison pipeline and the imbalance of disciplinary policies for students of color.
BWW Detroit: How did you help Candis C. Jones prepare to direct Pipeline?
DPT Co-Producing Artistic Director Sarah Winkler: I connected Candis to Roeper Middle School Director, Brian Corley, and educators from Detroit Public Schools and other area Independent Schools as well as students during the rehearsal process. This play is about our education system--public and private. It asks important questions about both school-to- prison pipelines and gifted pipelines that exist in our schools. The experience and insights of educators like Brian were invaluable resources to our director and cast as we created the world of Dominique's beautiful play.
BWW Detroit: Candis, what did you discover from your talks with the Detroit educators?
Candis C. Jones: Even though Dominique notes that the play can take place in any city, I wanted to find out more about the landscape of the private and public school system in Detroit. Pipeline really gets into the knots of the educational sysytem nationally and proposes that the best place to start in finding solutions is to listen to young people. I spoke with Brian Corley from Roeper, who has national experience in leading equity, diversity, and inclusion engagement. The cast and I also spoke with Charlene Highsaw (a History teacher at Renaissance High School in Detroit) and two of her students in our rehearsal last week. We shared a few scenes of the play and had a robust conversation with them about what it means to be Black men in this school system, graduating, and going out into the world.
BWW Detroit: DPT is having a dedicated student matinee of Pipeline at 10 a.m. on October 18th. Who can attend this performance?
DPT Co-Producing Artistic Director Sarah Winkler: Educators who are interested in bringing students can reach out to me at sarahwinkler@detroitpublictheatre.org
BWW Detroit: Will there be any post-show talkbacks?
DPT Co-Producing Artistic Director Sarah Winkler: There will be a facilitated post-show dialogue at the PNC-sponsored, "Educators Night Out" for Detroit Public Schools educators and the entire audience on Saturday, October 13th. There will also be a post-show dialogue following the show on Sunday October 14th. Please check www.detroitpublictheatre.org for additional post-show dialogue events.
BWW Detroit: What is Detroit Public Theatre's mission?
DPT Co-Producing Artistic Director Sarah Winkler: Riveting productions, relevance, radical accessibility, radical inclusivity and artistic excellence are all central to our mission. DPT's Community Programs and our Education Programs strive to reach and impact the broadest audience possible with stories that challenge and thrill. DPT's Post-Show Detroit Dialogues are also crucial to our mission. They allow audiences to connect with each other as we explore our plays' questions and themes together.
BWW Detroit: How do you like working with your Pipeline cast?
Candis C. Jones: Our cast bonds really well and all the actors are very collaborative. They are all transparent with their hearts and experiences and willing to get in the sandbox with me. Lisa Strum, who plays Nya; and I are the only two artists from New York, so everyone has been very welcoming in hosting us and sharing their love for Detroit.
BWW Detroit: In the month that you have been in Detroit, what have you discovered and what are some of your favorite places?
Candis C. Jones: It's nice to have Detroit be my first regional directing experience. The biggest thing that I've gathered from Detroiters is that they are very proud of the city's history and resilience. I've also been getting around to a host of great local bars and restaurants in our time off, we've gone to the Locker Room Sports Bar; Beans and Cornbread--which is delicious; Bakersfield on Woodward has great tacos and margaritas; And I've heard I have to try Motor City Soulfood and Slows to Go.
BWW Detroit: Detroit Public Theatre seems to be the go-to for Dominique Morisseau's works.
DPT Co-Producing Artistic Director Sarah Winkler: Pipeline is DPT's fourth production of a Dominique Morisseau play; (Detroit '67, Skeleton Crew, Detroit '67 touring production). But the relationship between Dominique Morisseau and Detroit Public Theatre predates even the official creation of DPT. Dominique served on the advisory board when we were a mere idea, granted us permission to produce the Michigan premiere of her play Detroit '67 in our inaugural season and joined our Board of Directors. We are honored beyond measure that Dominique has allowed DPT to become a Detroit home for her brilliant plays that give voice to our city so beautifully.
TO PURCHASE TICKETS:
Sponsored by The Forbes Company and Somerset Collection, Pipeline opens Oct. 6 and runs through Nov. 4. All performances take place on the DPT stage inside the Robert A. and Maggie Allesee Hall at the Max M. and Marjorie S. Fisher Music Center, home of the Detroit Symphony Orchestra located at 3711 Woodward Ave. in Detroit. For tickets, call (313) 576-5111. Call (313) 974-7918 for season packages or visit www.detroitpublictheatre.org.
facebook.com/detroitpublictheatre
Twitter: @DetPubTheatre
Instagram: DetPubTheatre