BWW Previews: UD REP ENSEMBLE 18-19 SEASON - its 10th!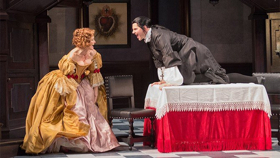 The Resident Ensemble Players, under the artistic direction of Sanford Robbins, is entering its tenth anniversary season and expanding its season offerings to seven shows. Included this season is a World Premiere from the REP's very own resident actor (and one of Aisle Say's favorites), Michael Gotch, and a newly reworked play by Theresa Rebeck. Sandy created this...the absolute most professional theatre in the region...worthy of NY. He is not one to blow his own horn. After having the privilege of seeing 10 years of productions, I will. Sandy Robbins has changed countless lives and enhanced everyone who has ever been involved with or witnessed a REP production.
Says Robbins: "All of us at the REP are excited about celebrating our tenth year of existence with a 7 show season of exceptional, powerful, and widely contrasting theatre experiences, all designed to powerfully impact audiences. From classics to new plays, from farce to tragedy, from Pulitzer Prize winners to timeless conflicts, this season has it all".
LETTICE AND LOVAGE - Sept 15 - Oct 7
Written by Sir Peter Shaffer, who also brought us EQUUS and AMADEUS. L & L is a far cry (or laugh) from the two multiple award winners.
"Enlarge! Enliven! Enlighten!" Lettice is a vivacious tour guide at a rather ho-hum historical manor, who grabs and keeps tourists' attention with fantastic - and hilariously false - tales of the manor's past. Lotte is a stick-in-the-mud bureaucrat incensed at the lies and has Lettice fired. Thus is the beginning for of the most unexpected and tumultuous of friendships in this mad comedy about the importance of friends, history, and the occasional teeny, tiny white lie.
Directed by Rep Ensemble actor/director Steve Tague.
THE SEAFARER - Sept 20 - Oct 7
Thompson Theatre
"Sharky" Harkin has returned to Dublin to gather with his brother and friends for a whisky-soaked Christmas Eve of companionship and poker. When a mysterious stranger arrives and wants to be delt in, Sharky realizes that he's is playing the ultimate high stakes game in this darkly funny and surprisingly uplifting Irish tale. Original music by Rob Milburn and Michael Bodeen. Contains adult language and situations.
WOMAN IN MIND - Nov 8 - Dec 2
Written by Alan Acykbourn, multiple award winner of over 70 plays, including ABSURD PERSON SINGULAR.
Described as the "comic poet of middle class life," Ayckbourn creates a black comedy of domestic madness. Susan's life is far from perfect. A loveless marriage, a son who has disowned her, a miserable sister-in-law. Everything changes one day after an accident in the garden. Suddenly, Susan has regular visits by the perfect husband and family, full of champagne breakfasts and jolly tennis matches. They are everything she has ever wanted, but is any of this real? Is it a perfect dream or a perfect nightmare?
MINOR FANTASTICAL KINGDOMS - Jan 24 - Feb 10
Written by Michael Gotch
Gotch, a Rep Ensemble actor since its inception, is certifiably one of the great comedians in the region. And yet, his title role in Rep's HAMLET a few years back, was so very thoughtful and so very human. This gent is multi-talented.
Stung by personal, political, and economic setbacks, a young, urban couple build an off-the-grid, tiny house in an isolated mountain paradise...or so they think. When family, friends, and some rather quirky neighbors come for a 4th of July BBQ, recriminations fly, revelations come to light, and reconciliations are hard won against a backdrop of personal and literal fireworks.
Says Gotch: "I'm thrilled to have MINOR FANTASTICAL KINGDOMS be a part of the tenth anniversary season at The REP and to have it directed by Tony nominee Mark Lamos and designed by an incredibly talented group of artists. MFK is a sort of semi-satirical, allegorical, seriocomic country house dramedy; kind of like if GB Shaw's HEARTBREAK HOUSE had been adapted by Anton Chekhov and then filtered through Woody Allen who got lost in forest of giant Sequoias. It's hopefully a surprise and a lot of fun for our audience".
(Going through his voluminous files of hundreds of critics through the last decade, Aisle Say concludes that Shaw, Chekhov and Woody have never before been spoken in the same sentence. The only thing I have against Woody is that Ronan Farrow looks as much like him as I do).
INHERIT THE WIND Mar 7 - 24
Directed by REP Producing Artistic Director Sanford Robbins.
Inspired by the sensational Scopes "Monkey Trial" of 1925 when a Tennessee high school teacher was arrested for including Darwin's theories of evolution in his curriculum. This crackling courtroom drama becomes an engrossing boxing match for the two greatest legal giants of the century. As the entire nation watches, galvanized, the conflict transcends creationism vs. evolution to provide a ringside seat for the seemingly endless struggle between facts and belief, in a battle that is as divisive today as it was then.
MAURITIUS - Apr 17 - May 12
Written by Theresa Rebeck and directed by Rep actor Stephen Pilenski
A cunningly crafted comedic thriller about deceit, double-crosses...and stamps. A pair of half-sisters, mourning their recently deceased mother, have inherited the "crown jewel of philately" - the 1847 one- and two-penny Mauritius stamps, worth millions if authentic. A cat-and-mouse game ensues when three seedy, high-stakes collectors enter the sisters' world, willing to do anything to claim the rare find as their own in this fast-paced, twisting, and tension-filled comedy.
FENCES - Apr 25 - May 12
Written by August Wilson
In this Pulitzer Prize and Tony Award-winning masterpiece, Troy Maxson, a former star of the Negro Baseball Leagues is now a trash collector with little future. Embittered and resentful, Troy builds both literal and figurative fences around his wife and son as he come to terms with his past disappointments in Wilson's poetic, powerful, and Pulitzer Prize-winning challenge to the American dream. Denzel just did the movie.
Subscriptions are available now for the season - both 7 and 4 show packages, with discounts for seniors, students, and staff. Single tickets go on sale August 6th.
Rep.Udel.edu 302.831.2204