Click Here for More Articles on STUDENT CENTER - COLLEGE EDITION

BWW Review: Theatre TCU's FIDDLER ON THE ROOF Showcases Wealth of Student Talent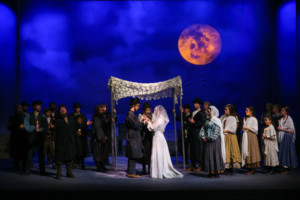 For the Fall 2017 semester, Theatre TCU produced a studio season made up of three successful productions. These included Tom Kellogg in B Flat, an original play written by Theatre TCU faculty Member T.J. Walsh, Sylvia by A.R. Gurney, and finally, the renowned classic Fiddler On the Roof (Book by Joseph Stein, Music by Jerry Bock, Lyrics by Sheldon Harnick) as the closing show of the semester.
---
It is worth noting that Theatre TCU completely sold out all seven performances for Fiddler On the Roof, directed by TCU faculty member Krista Scott, within a matter of minutes. When I attended the production, it was clear as to why as soon as the opening number "Tradition" began. Theatre TCU has proven time and again that they are capable of producing professional, technically thorough productions bursting with youthful student talent.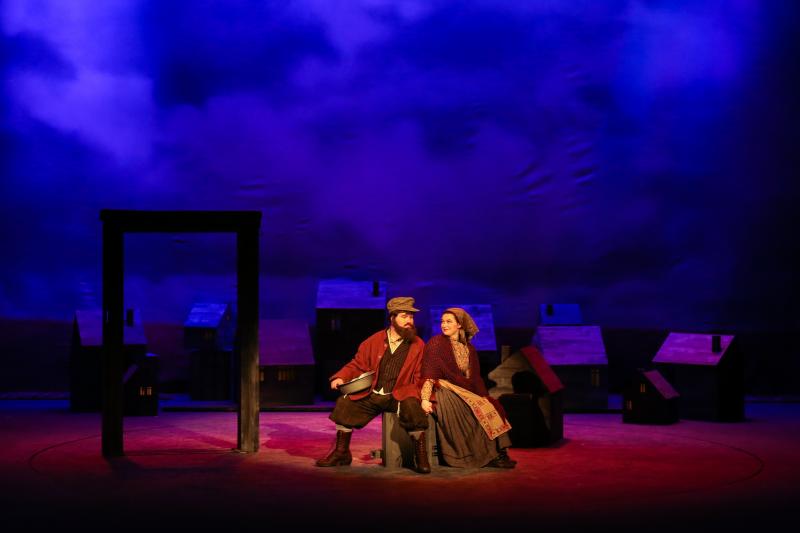 For those not familiar with the storyline, Fiddler On the Roof is founded on the timelessly relevant struggle between traditional values and progressive principles of thought. Fiddler On the Roof centers on the life of the dwellers of Anatevka, a village in Russia in 1905, a time before the Russian revolutionary period. Focusing on the lives of Tevye (Logan Lane), Golde (Ashlee Waldbauer), and their five daughters, it is a tale of custom clashing with social and cultural change. As the time nears for Tevye's oldest daughter, Tzeitel (Maddie Mateer), to be married off, the fibers of Anatevka's devoutly practiced tradition begin to strain as she desires to arrange her own marriage with a poor tailor Motel (Jack Kapple). This sociocultural conflict begins a domino effect as Tevye's remaining daughters begin to deny the validity of Anatevka's tradition in favor of true love and happiness. Fiddler On the Roof illustrates the struggle between the old, tried-and-true ways of life and radically new, "unheard of" customs while communicating the internal struggle that occurs when one's own undisputable values are challenged, modified, or changed altogether.
Storyteller lead character, Tevye, was portrayed with steadfast talent and excellent technical maturity by Senior Theatre TCU student, Logan Lane, who recently appeared as Sweeney Todd in Theatre TCU's production of Sweeney Todd last Spring. Lane provided a strong, foundational performance of Tevye, framing him as a morally stout village lifeline with comedic timing perfectly tuned to the style of this production. Lane seemed born to lead this show and was a delight to watch.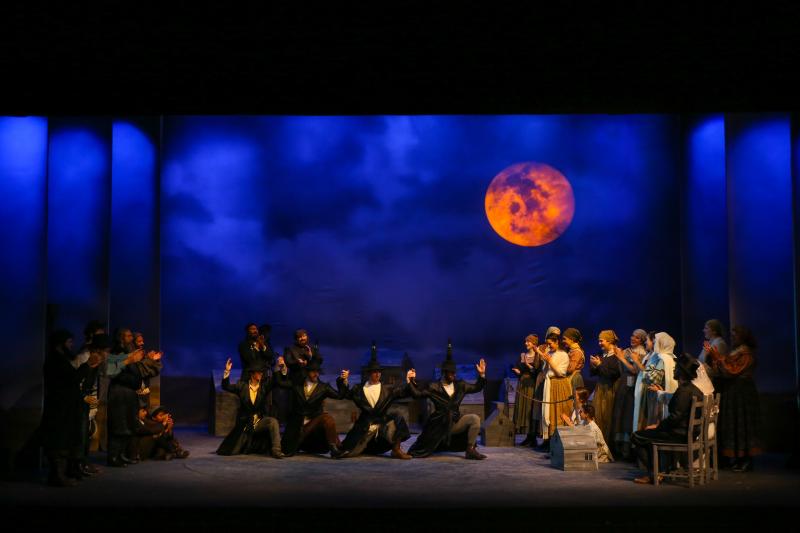 Tevye's daughters Tzeitel (Maddie Mateer), Hodel (Carly Wheeler), Chava (Rebecca Carroll), Shprintze (Samantha McHenry), and Bielke (Danielle Cisco) were all vocally gifted and portrayed their characters with a unified balance of innocence and curiosity for the progressive ways of life. Mateer, Wheeler, and Carroll delivered a playfully enjoyable performance of "Matchmaker", and Wheeler's performance of "Far From the Home I Love" had me holding back tears that inevitably escaped.
A distinguished vocal and acting performance was given by Sophomore Theatre TCU student Lance Jewett as Perchik, the fresh-faced radical newcomer to Anatevka who wishes to break down the barriers of the beloved, but restrictive, traditions of Anatevka. Jack Kapple was an additional presence of youthful energy onstage as Motel, eldest daughter Tzeitel's love.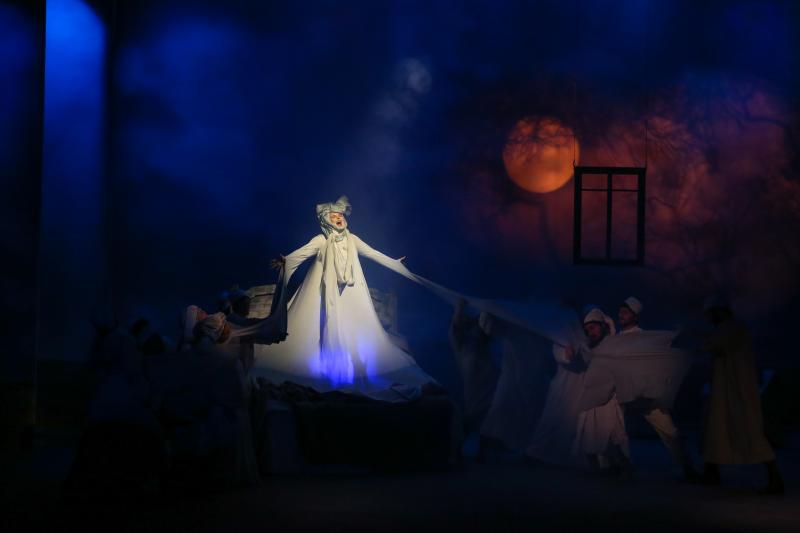 Comedically, Sophomore Theatre TCU student Rachel Poole was a crowd favorite. Hilarious physicality and vocals combined with her timely acting abilities had the audience laughing at her mere presence onstage. Ashlee Waldbauer was similarly entertaining as Tevye's curt, strict wife Golde, whose humorous one-liners and onstage relationship with Lane were lovably amusing. Rachel Sobol was fantastical as the ghost of Fruma-Sarah, whose performance in "The Dream" was very memorable and well-designed.
The entire ensemble did a fantastic job, singing with what seemed to be one seamlessly blended voice. With a cast of over 30 actors, it is notable that the choreography, by Penny Maas, and vocal performances were unified and focused. For this production, Theatre TCU hired a professional orchestra in order to re-create the substance and complexity of Fiddler On the Roof ' s original score, and they certainly delivered. TCU Faculty member Alan Shorter acted as a three-fold professional as Music Director, Conductor, and musician in the orchestra. The professional musicians behind the robust and polished orchestrations included Aimee Hurst Bozarth, Arthur Busby, Roger Dismore, Chard Ostermiller, Larry Spencer, Joel MacMillan, and Michael McNicholas. During the entirety of the production, there was not a moment without masterful music filling the atmosphere of Anatevka.
Costume Design (Murell Horton) was historically fitting and greatly contributed to the style of the production. Michael Skinner created several wonderful moments with his lighting design, my favorites being the Fiddler and townspeople's picturesque silhouettes in front of a large lit moon in the night sky.
Ian Loveall had the challenge of creating a set that could accommodate large choreographed numbers and several scene changes, while being both spatially and financially keen. His design consisted of a village of dollhouse-sized houses that functioned as furnishings, various locations, and prop storage. Loveall's design was an innovative solution that turned artistic limitations into intentional, symbolic choices. In his designs, the houses of Anatevka were quite literally the building blocks upon which the village functioned. Whether celebrating in the bar, working on their land, praying in their home, or interacting in the village storefronts, the symbolic dollhouses were consistently present, reminding the audience that family, faith, and tradition are at the heart of all the people do.
Fiddler On the Roof asks the viewer to contemplate: "Which values are undisputable, to you?", "Is tradition more valuable than happiness?", and "Is tradition something that can be interpreted and changed, or is it inflexible?". Theatre TCU was able to ask these questions with artistic excellence in their performance, leaving audience members in anticipation for the rest of their 2017-2018 season.
Photo Credit: Amy Peterson.
Tickets for Theatre TCU'S Fiddler On the Roof went on sale Monday, November 6th and sold out all performances in just minutes. The production ran November 14-17th with performances at 7:30pm, November 18th at 2:30pm and 7:30pm, and November 19th at 2:30pm. Tickets were $15.00 for adults and $10.00 for students, seniors, and TCU faculty and staff. For more information about the Theatre TCU program, upcoming events, and past seasons, please visit finearts.tcu.edu.