BWW Interview: Dylis Croman of CHICAGO at Bass Performance Hall
When CHICAGO last toured through town, I had the pleasure of speaking with Broadway's Dylis Croman, who returns to the national tour of CHICAGO next week, as the fame-obsessed merry murderess, Roxie Hart. With five Broadway shows under her belt, and several national tours, Ms. Croman returns to Texas, having graduated from the Booker T. Washington High School for the Performing and Visual Arts. Ms. Croman is also no stranger to the musical CHICAGO; she's performed in the show alongside the likes of Billy Ray Cyrus, Bebe Neuwirth, Kara DioGuardi and John O'Hurley, to name a few. To read more about Dylis' journey from Dallas to Broadway (and back), check out my interview, below:
Name: Dylis Croman
Hometown: "I'm originally from Dallas, well, Irving to be exact!"
Current Role: Roxie Hart in the national tour of CHICAGO
Kyle Christopher West: Growing up, what first inspired you to perform?
Dylis Croman: Well, I've been dancing since I was three years old, and I never stopped. I always wanted to go back; my mom never had to take me kicking and screaming. To answer that question simply, I guess it was embedded in me from a very early age. I realized really early on that this is where I felt most at home: performing. Just doing it inspired me!
Kyle: Before performing professionally, did you play any memorable roles in Texas?
Dylis: Musical theater really didn't [become part of my life] until later, after I was already in New York. I did one little thing at Casa Manana when I was growing up. I did PETER AND THE WOLF, but that was really more of a dance show. I think what started musical theatre for me was when I met Ann Reinking at her musical theatre program in Florida. She became my mentor and was an incredible inspiration for me. She pretty much taught me the Fosse style. She took me under her wing and showed me the ropes of musical theatre. She's a huge inspiration and I kind of feel like my career has taken her path a little bit. [Like Reinking,] I did the trumpet solo in FOSSE; I understudied Sweet Charity, and she played Charity, and now here I am I'm doing Roxie, and she played Roxie.
Kyle: That's not a bad career to follow!
Dylis: No. Not at all. It's pretty amazing [laughs]!
Kyle: How does it feel to be returning to your hometown on tour? Have you performed here since you left?
Dylis: You know, I came back through [Dallas/Ft. Worth] with a show called THOROUGHLY MODERN MILLIE. I was in the ensemble in 2003 or 2004, and that was also at Bass Hall. I've done a lot more shows since then. I've grown a lot as a performer, and now I'm going to be playing one of the lead roles! It's just a whole other experience. It kind of does feel like the first time for me!
Kyle: This is not your first time performing in CHICAGO. Can you tell me about your relationship with the show?
Dylis: Well, I can tell you that CHICAGO has, both professionally and personally, seen me through an array of things [laughs]. I've been with the show for almost 7 years, on and off. It's supported me as I've grown. The show has lifted me up as a performer, and also in my personal life, when I've needed it, in such an incredible way. It's so fulfilling, and I think whoever gets the opportunity to play any role in the show is very fortunate. It's made me who I am today; being a part of the show has been life-altering.
Kyle: If you had to pick a favorite moment in the show, what would it be?
Dylis: The very end of the show, I would say, is my favorite moment for Roxie. It's such a full-circle moment for her character, and it happens to be my favorite song to sing. Not only am I fulfilled completely character-wise, I get to emote it with my personal favorite song.
Kyle: You've also appeared on Broadway in A CHORUS LINE, SWEET CHARITY, OKLAHOMA!, THOU SHALT NOT, and FOSSE, and have performed as the lead, in the ensemble, as the dance captain, and even a swing. Is there a role that's been the most memorable or the most challenging?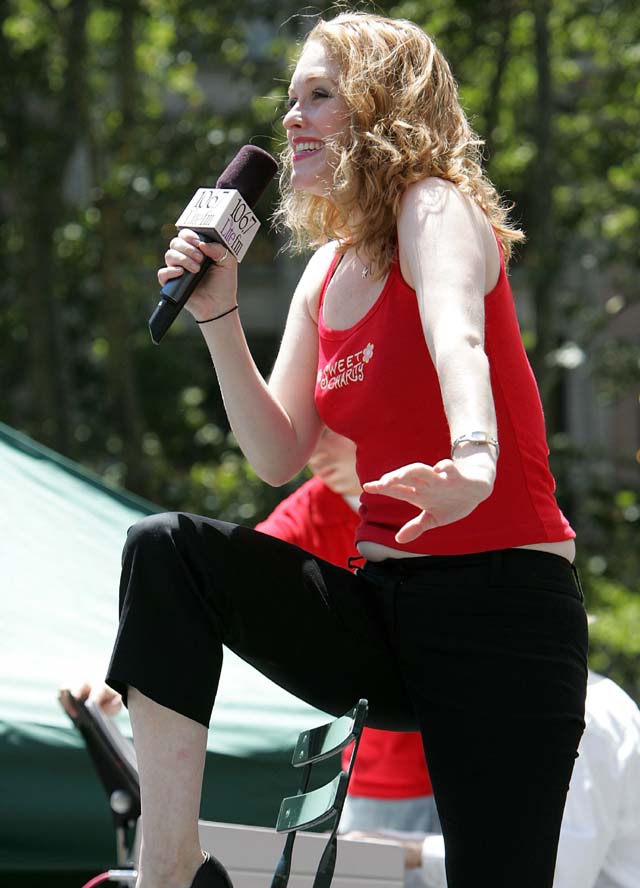 Dylis: Yes! With SWEET CHARITY, it happened while we were out of town, and it was the most incredible moment of my career. Christina Applegate [who played Charity] unfortunately rolled over her foot about 10 minutes into the show one night. [As her understudy,] I hadn't had any rehearsal whatsoever. We were in out-of-town tryouts, and rehearsals for the understudies [weren't scheduled] until we got to New York. The curtain came down for 5 or 10 minutes, and the blood drained completely from my body. They actually asked me if I was okay to go on; they would have accepted me saying no. Without thinking twice, I said yes. I went on, and I did it for the rest of the weekend. It was the most amazing moment of my career, as far as just proving to myself that I can "just say yes" and not let fear get in the way.
Kyle: That was actually my next question! I was working on the promotional marketing team for SWEET CHARITY in New York, and I was hoping to hear your version of the story. There was a lot of buzz about her injury and you stepping in for her, at that time.
Dylis: That's so cool to hear. I don't really consider people talking about me. I happen to like to perform in front of people, but I'm actually a little bit of a shy person. The next thing I knew, people were like "Oh my god!"...I still can't believe I did it!
Kyle: Speaking of onstage accidents, can you remember any onstage mishaps or mistakes that you've experienced?
Dylis: In FOSSE, I was doing hitch-kicks at the very end of the solo, and it's a big moment. I would do head whips in between the hitch kicks, and I'd turn around with three more big hitch-kicks across the stage. On the very last kick one night, my heel got caught in my dress. It yanked me down the ground, and I couldn't get my heel uncaught. There was no getting up. I was the only one onstage, and it was not so graceful! It was the talk of the show that night!
Kyle: If you weren't performing, what other jobs might you see yourself in?
Dylis: The one thing that I've always been interested in, and I might pursue as my body gets older, is to be a masseuse. I really love the idea of healing people, and I guess because I'm a dancer and have had my own aches and pains through the years, I think I have a natural knack for it. I've never looked into schooling for it, but I definitely have thought pretty heavily about it.
Kyle: What is something about you, not listed in your bio, that people might find interesting?
Dylis: That is a good question! I'm not really sure; I'm a pretty simple gal who likes to go to movies and likes to watch her Downton Abby [laughs], and take her yoga classes!
Kyle: If you could select the next credit on your resume, what would that look like?
Dylis: Oh man! I don't necessarily have a show [in mind], but I would love to do more CHICAGO. I would [also] love to do another dance-heavy show, while my body is still young. I did MOVIN' OUT on the road (I played Brenda) and that was one of the highlights of my career. I love dance: that is my first passion!
Kyle: Do you have any interest, like Bebe Neuwirth, to switch roles in CHICAGO for a while?
Dylis: Oh, Good question [laughs]! I would be totally open to playing Velma too...definitely. Both roles, Velma Kelly and Roxie Hart, are cream of the crop!
Kyle: How long are you with CHICAGO this time around?
Dylis: This round, I'm with the show for about a month. The tour ends, for now, in Nevada [in April 2015] and then I don't know what the future is. They are a part of who I am, and they are my family, really. What's so funny is that it's been a part of me since I moved to New York. I did the national tour about 17 or 18 years ago!
CHICAGO runs April 16th-18th at Bass Performance Hall in Fort Worth. Tickets can be purchased at (817) 212-4280 ; or order online at www.basshall.com.
---
Editor's Note: This interview first appeared on BroadwayWorld.com in March 2015 and has been edited only to update performance dates.