Photo Flash: The Brand New Kid At South Coast Repertory
South Coast Repertory will present The Brand New Kid, a musical lesson in tolerance and acceptance, adapted from Emmy Award-winning author Katie Couric's book, as part of its Theatre for Young Audience (TYA) series. Directed by Shelley Butler, with book by Melanie Marnich, music by Michael Friedman and lyrics by both, The Brand New Kid will run May 29 through June 14 on the Julianne Argyros Stage. Low-priced previews are available May 29 - June 5. Opening day is June 6. Press performance is May 31 at 2:00 p.m. All children who attend the 11:00 a.m. Target Family Performance on Saturday, June 6 will receive a free gift. Tickets to The Brand New Kid may be purchased online at www.scr.org, by phone at (714) 708-5555 or in person at the SCR box office.
The musical, adapted from the acclaimed book, uses song and rhyme to address the all too common problem that school children everywhere can relate to, teasing. On the first day of school Lazlo S. Gasky finds himself in a world that's completely foreign to him, literally. Lazlo moved to the U.S. from his native Hungry and soon realizes that his accent, crazy hair and European mannerisms make him an easy target for ridicule at the hands of his classmates. Fellow classmate Ellie McSnelly can relate to Lazlo, due to the unfortunate and somewhat humorous variations made of her last name by the same kids who are now targeting Lazlo. Instead of joining in the "fun" and taking the heat off her, Ellie decides to try to learn more about Lazlo and soon realizes that friendship has the power to cross any cultural divide.
Author Katie Couric is anchor and managing editor of CBS Evening News with Katie Couric, a 60 Minutes correspondent and has won six Emmy awards. Couric published her first children's book The Brand New Kid in 2000, which taught kindness and tolerance, and was illustrated by Marjorie Priceman. The widely acclaimed book was followed by Blue Ribbon Day in 2004.
Director Shelley Butler returns to SCR after directing the Theatre for Young Audiences productions of Charlotte's Web and James and the Giant Peach. Recent directing credits include Charles L. Mee's Agamemnon 2.0 at the George Cadbury Hall Theatre, UK; The Nightshade Family at New York's Summer Play Festival on Theatre Row; the New York premiere of Adam Rapp's Mistral at the Drama League DirectorFest; the world premiere of Eric Coble's Strait On 'Til Morning and Gerald Freedman's A Christmas Carol at Great Lakes Theater Festival; Karen Hartman's Gum at Red Hen Productions Feminist Theatre; Much Ado About Nothing at The Powerhouse Theatre; Romeo and Juliet at Beck Center for the Arts; Steel Magnolias at Porthouse Theatre; and The Normal Heart at Cleveland Artists Foundation. Butler spent two seasons as the artistic associate for Hartford Stage, overseeing new play development; three seasons as artistic associate for Great Lakes Theater Festival; and a season as readings and workshops producer for New York Stage & Film.
Brian Hostenske and Erika Whalen head up the cast as Lazlo and Ellie, respectively. Hostenske returns to SCR after appearing in this season's Noises Off. Additional theater credits include The Winter's Tale and Twelfth Night at Shakespeare Santa Cruz; Mother Courage at La Jolla Playhouse; Bloody Bloody Andrew Jackson at Center Theatre Group; and Labyrinth of Desire, Killer Joe, Measure for Measure and Blood Wedding at the University of California, San Diego's MFA acting program at La Jolla Playhouse. Whalen returns to SCR after appearing in the TYA production of A Year with Frog and Toad earlier this season. She created the role of Helen in the world premiere of this season's An Italian Straw Hat: A Vaudeville. She has appeared in 1776 at Actor's Co-Op, the world premiere of Making Beautiful at the Powerhouse Theater and Hello Dolly! at Welk Resort Theatre.
Jennifer Chang returns to SCR after last season's TYA production of Charlotte's Web. Chang will play the roles of Carrie O'Toole and The Bird. Her theater credits include Gilgamesh at Theatre @ Boston Court, Messy Utopia at Mixed Blood Theatre and Air Raid at National Asian American Theatre Company.
Justin Michael Duval returns to SCR after appearing in this season's A Year with Frog and Toad. He plays the roles of Peter Barsinsky and Doodle the Poodle. Duval's theater credits include How the Grinch Stole Christmas at The Old Globe and The Secret Garden at La Jolla Stage Company.
Justin Figueroa takes on the roles of Ricky Jensen and The Tree. He was last seen at SCR in the Educational Touring Production of Bad Water Blues. Figueroa's theater credits include Once on this Island at Sacramento Music Circus; Assassins, Joseph and the Amazing Technicolor Dream Coat, The Sound of Music and Little Red's Big Adventure at Timberlake Playhouse.
The creative team for The Brand New Kid includes Sibyl Wickersheimer (set design), Tom Ruzika (lighting design), Paloma Young (costume design), Mark Johnson (sound design), Deborah Wicks La Puma (musical director/arranger) and Kathryn Davies (stage manager).
OC Family is SCR's Theatre for Young Audiences Media Partner.
SCR's Theatre for Young Audiences presents three professional productions each season designed especially for children and their families. In addition to the public performances, TYA hosts over 10,000 students from elementary schools annually in an effort to introduce the next generation to the magic of live theater. The TYA series is made possible in part by generous grants from The Nicholas Endowment, The Segerstrom Foundation, Target, The Fieldstone Foundation, Pacific Life Foundation and the Orange County Community Foundation with additional support from Robert & LaDorna Eichenberg.
TICKETS to The Brand New Kid can be purchased online at www.scr.org, by phone at (714) 708-5555 or by visiting the box office at 655 Town Center Drive in Costa Mesa. Performances begin on May 29 and continue through June 14. Ticket prices range from $16 to $28. Low-priced preview performances are available from May 29 - June 5. Performance Times: Previews: Friday, May 29 & June 5 at 7:00 p.m., Saturday, May 30 at 4:30 p.m. and Sunday, May 31 at 2:00 and 4:30 p.m. Regular Performances: Saturday, June 6 at 11:00 a.m. (Target Family Performance), 2:00 and 4:30 p.m., Sunday, June 7 at 2:00 and 4:30 p.m., Friday, June 12 at 7:00 p.m., Saturday, June 13 at 11:00 a.m., 2:00 and 4:30 p.m. and Sunday, June 14 at 2:00 and 4:30 p.m. Discounts are available for children 12 years and younger. The Target Family Performance is Saturday, June 6 at 11:00 a.m. with an earlier performance time and lower ticket price thanks to Target, title sponsor of the Target Family Performances.
LOCATION: South Coast Repertory is located at 655 Town Center Drive in Costa Mesa, at the Bristol Street/Avenue of the Arts exit off the San Diego (405) Freeway in the Folino Theater Center, part of the Segerstrom Center for the Arts. Parking is available off Anton Blvd. on Park Center Drive.
COMING UP: Collected Stories (5/15-6/14), Hard Times (5/23-31)
Photo courtesy of South Coast Repertory.

Justin Michael Duval, Justin Figueroa, Brian Hostenske, Jennifer Parsons, Jennifer Chang and Erika Whalen

Justin Michael Duval, Jennifer Parsons, Brian Hostenske, Erika Whalen, Justin Figueroa and Jennifer Chang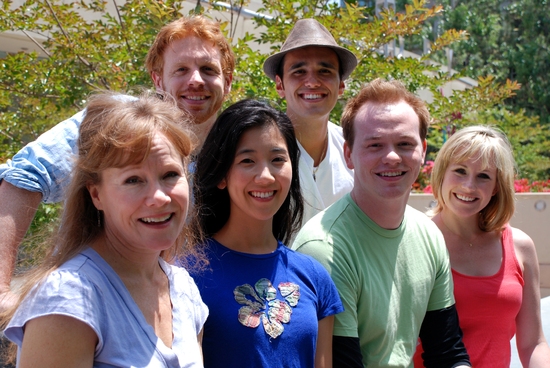 Jennifer Parsons, Justin Michael Duval, Jennifer Chang, Justin Figueroa, Brian Hostenske and Erika Whalen

Related Articles View More Costa Mesa

Stories

Shows
More Hot Stories For You