Photo Flash: EL GRANDE CIRCUS DE COCA COLA at the Colony Theatre
The Colony Theatre is pleased to announce that it is bringing to its mid-size Equity theatre the wildly successful, LA Times Critic's Choice production of EL GRANDE CIRCUS DE COCA-COLA by Ron House, directed by Alan Shearman and based on El Grande de Coca-Cola by Ron House, Diz White, Alan Shearman, and John Neville-Andrews. Check out photos from the show below!
Originally produced by Skylight Theatre Company & Flying Cucumber Productions for fourteen sold-out weeks at the 99-seat Skylight Theatre in Los Angeles, the "hilarious, uproarious and brilliantly executed" (Stage Raw Recommended) EL GRANDE CIRCUS DE COCA-COLA will preview on Thursday, November 5 and Friday, November 6 at 8:00pm. It will open on Saturday, November 7 at 8:00pm and continue through Sunday, December 13. The previously announced production of HUMBLE BOY will be presented in the Colony's 2016-2017 season.
Comments Artistic Director Barbara Beckley, "Since we spent 25 years as part of the 99-seat community, we are thrilled that we have the opportunity to bring this family-oriented and multi-cultural show to our mid-size theatre where it can reach a wider audience and delight many more people. BroadwayWorld called it "Simply Stunning!" and ArtsInLA raved that the actors are "World-class clowns able to make the rest of the world around us disappear." Is it any wonder it was a smash hit at the Skylight? El Grande will soon be headed to London, but first we are so excited to be bringing it to our subscribers and audiences who are going to love it!"
Meet Pepe Hernandez, over-ambitious patriarch of the world's most dubious family of entertainers, whose unflagging confidence cobbled from decades spent touring the bottom-rung nightclub circuit south-of-the-border, has inspired him to ascend into big-top territory and head north to...Burbank, legendary home of Walt Disney, IKEA, and now Pepe Hernandez! Nothing - not even the labyrinthine layout of IKEA - will hinder this fearless, feckless familia in their determined quest for international stardom. Welcome to El Grande CIRCUS de Coca-Cola!

Marcelo Tubert and Paul Baird

Aaron Miller and Paul Baird (BACK ROW) Lila Dupree, Marcelo Tubert and Olivia Cristina Delgado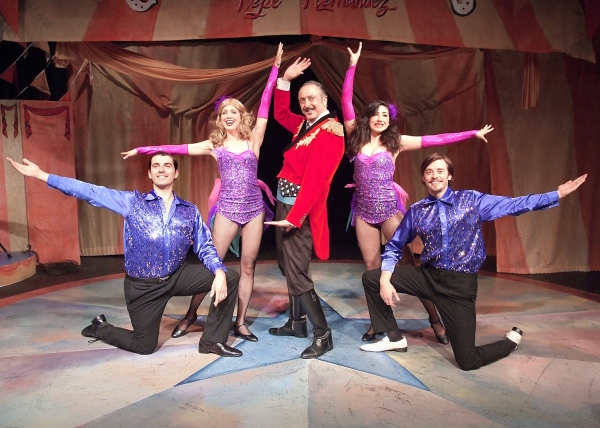 Paul Baird Lila Dupree, Marcelo Tubert, Olivia Cristina Delgado, and Aaron Miller