Westport Community Theatre Presents YANKEE TAVERN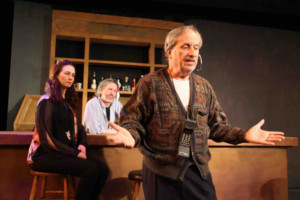 Westport Community Theatre is currently producing Yankee Tavern by Steven Dietz. Performances take place from April 13th through the 29th on Fridays and Saturdays at 8:00 p.m. and at 2:00 p.m. on Sundays, with a Thursday performance on April 19th at 8:00 p.m. Ruth Anne Baumgartner directs the play, which is produced by Joan Lasprogato. Rachel Dalton, Phil Lorenzo, Frank Smith and Ward Whipple are cast in the production.
Steven Dietz's acclaimed dramatic thriller is a fierce, funny and ultimately mind-bending work of theatrical power that grips you until the final word. A young couple find themselves caught up in what might be the biggest conspiracy of all about 9/11. A master of smart dialogue and wily storytelling, Dietz sets his chilling new play in a New York tavern slated for demolition; a stranger walks in, bringing with him a complex and dangerous puzzle. As Dietz said of this play, "The only way to manage these dark and mysterious imaginings is to make them into a story. And there is always someone ready to tell your fears back to you."
Ruth Anne Baumgartner (Director) most recently directed last season's Camping with Henry and Tom for Westport Community Theatre. She has also directed productions of Light Up the Sky, Souvenir, Ice Glen, The Glass Menagerie, Spinning Into Butter, and Measure for Measure, as well as several other staged readings at WCT. She is currently serving on the WCT Board of Directors as Editor of The Prompter and Communications chair, and on the Board of Directors of Town Players of Newtown.
Immediately following the matinée performance of Yankee Tavern on April 22, a talk and Q-and-A will explore the conspiracy theories that swirl around the World Trade Center disaster of 9/11, the subject at the heart of the play. The production's director and cast will join Prof. Gordon Arnold of Montserrat College of Art (Massachusetts) in a discussion of conspiracy theories and American culture. The talk will begin at approximately 4:15; those with reservations for any of Yankee Tavern's ten performances are welcome to attend.
Yankee Tavern is produced by arrangement with Dramatists Play Service. Tickets are $25 ($23 for seniors and $15 for students) and can be purchased at westportcommunitytheatre.com or by calling (203) 226-1983. The Westport Community Theatre is located at the Westport Town Hall, 110 Myrtle Avenue.
More Hot Stories For You