WORKING to Open 2017-18 Season with the Opera House Players!!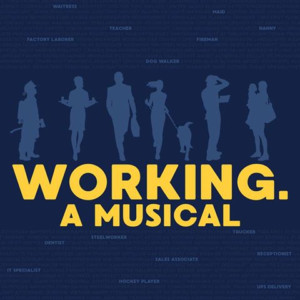 Opera House Players, Inc. proudly presents WORKING as its season opener September 8 through September 24th at the Broad Brook Opera House. WORKING is a musical based on the best-selling 1974 book of the same name by oral historian and radio commentator, Studs Terkel. Told in a series of vignettes, WORKING gives a voice to the often-overlooked men and women of the American workforce. The personal stories and songs they share about what they do for a living and how they do it whether funny, wise, or challenging...are never less than inspirational. Nominated for six Tony Awards, this classic has been updated featuring new songs by HAMILTON creator Lin-Manuel Miranda, along with favorites by Stephen Schwartz (WICKED, PIPPIN), James Taylor, and more!
This production of WORKING features direction by John Pike with musical direction by Kim Aliczi and choreography by Anna Marie Russell.
The Opera House is located at 107 Main Street, Broad Brook, CT 06016. Performances run from September 8 through September 24 (Fridays and Saturdays at 8:00 pm and Sundays at 2:00 pm). Tickets available by calling the box office at 860-292-6068 or visiting www.operahouseplayers.org. Tickets: $21 (adults) and $17 (under 12/over 60). Discount available for groups of 15 or more. Opening night tickets are $17. Student rush tickets for $15 are available in limited quantities ten minutes before curtain.
Gift certificates and 2017-2018 season tickets available by calling the box office.
Opening Weekend:
Friday, September 8 at 8pm
Saturday, September 9 at 8pm
Sunday, September 10 at 2pm
Additional Performances:
Friday, September 15th 8pm
Saturday, September 16 at 8pm
Sunday, September 17 at 2 pm Friday, September 22 at 8pm
Saturday, September 23 at 8pm
Sunday, September 24 at 2pm Broad Brook Opera House
107 Main Street
Broad Brook, CT 06016
www.operahouseplayers.org
All seats reserved Box office: 860-292-6068 (opens August 8th) Online tickets available now:
http://www.operahouseplayers.org/working-2017
OPENING NIGHT, ALL TICKETS: $17 Adults: $21
Over 60/Under 12: $17
STUDENT RUSH TICKETS: $15
(Limited quantity may be available at every performance 10 minutes before curtain with student ID) DIRECTOR:
John Pike
MUSIC DIRECTOR:
Kim Aliczi
CHOREOGRAPHER: ANNA
Marie Russel
l CAST:
Gene Choquette
Samantha Choquette
Angela Dias
Elizabeth Drevits Tomaszewski
Erin Dugan
Milena Gravante Gunnells
Rodney K
Michael Morales
Erica Romeo
Amy Rucci
Brian Rucci
Tom Schutz
Dennis Scott
Andrew Secker
Sherrie Schallack
Ian Yue
WORKING,
adapted by
Stephen Schwartz
and
Nina Faso
From the book by
Studs Terkel
With additional contributions by
Gordon Greenberg
Songs by
Craig Carnelia
Micki Grant
Lin-Manuel Miranda
Mary Rodgers
and
Susan Birkenhead
Stephen Schwartz
James Taylor
Working is presented through special arrangement with
Music Theatre International
(MTI).
All authorized performance materials are also supplied by MTI.