Photo Flash: First Look at DIVIDING THE ESTATE at The Sherman Playhouse
On Friday, September 19, the curtain will rise on DIVIDING THE ESTATE, a Texas-sized comedy by Pulitzer Prize-winning playwright, Horton Foote. The show begins at 8:00 p.m. for a four-week run. BroadwayWorld has a first look at the cast onstage below!
In DIVIDING THE ESTATE, matriarch Stella Gordon is determined not to divide her 100-year-old Texas property, despite her family's declining wealth and the looming financial crisis of the late 1980s. But her three children have another plan. Old resentments and sibling rivalries surface as the members of this hilariously dysfunctional family go head-to-head to see who might claim the biggest piece of the pie.
The production features some of the region's best actors: Leo Paul (Litchfield), Julian Thomas (New York City), Ellen Burnett (Sherman), Christine Amorin (Bethel), Kimberly Marcus and Brian Feinberg (both Danbury), and Erin Shaughnessy, Jackie Decho Holm, Lorina Milay, Phair Haldin, Beth Bonnabeau, James Hipp, and Josephine Harding (all New Milford).
Besides Mr. and Mrs. Almquist, the show's crew includes lighting and set designer Al Chiapetta, sound designersDavid White and Robin Frome, and stage manager Jeff Rossman.
DIVIDING THE ESTATE first premiered at the McCarter Theatre in Princeton, NJ, in 1989. The play received a popular revival Off-Broadway in 2007, then subsequently opened on Broadway at the Booth Theatre on October 23, 2008. The play then received two Tony Award nominations, while Horton Foote won the Outer Critics Circle Award for Outstanding New Off-Broadway Play and the Obie Award for Playwriting. The New York Daily News said the show "goes for laughs and succeeds, and at the same time comments on more sweeping notions of avarice, entitlement and carpetbagging karma...Foote's fine play does go down easy."
DIVIDING THE ESTATE runs September 19,20 26,27,28 October 3,4 10,11,12. Curtain time is 8:00 p.m.Fridays & Saturdays, with 2:00 p.m. Sunday matinees on September 28 and October 12. Tickets for all shows are $20 for general seating. Reservations can be made online at shermanplayers.org or by calling the box office at (860) 354-3622. The Sherman Playhouse is a non-Equity theatre company located at 5 Route 39 North (next to the firehouse) in Sherman, CT.
Photo Credit: Josh Siegel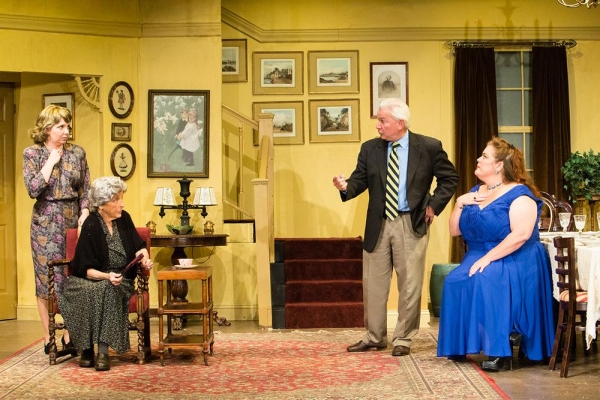 Jackie Decho Holm as Lucille, Ellen Burnett as StElla Gordon, Leo Paul as Bob, and Beth Bonnabeau as Mary Jo.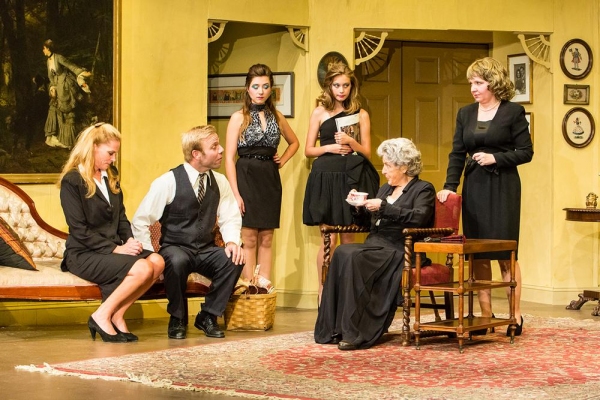 ames Hipp as Son, Erin Shaughnessy as Emily, Phair Haldin as Sissie, Ellen Burnett, and Jackie Decho Holm.

Kimberly Marcus as Pauline (seated), James Hipp (seated), Erin Shaughnessy & Phair Haldin (standing), Jackie Decho Holm, Josephine Harding as Irene Ratliff, and Brian Feinberg as Lewis.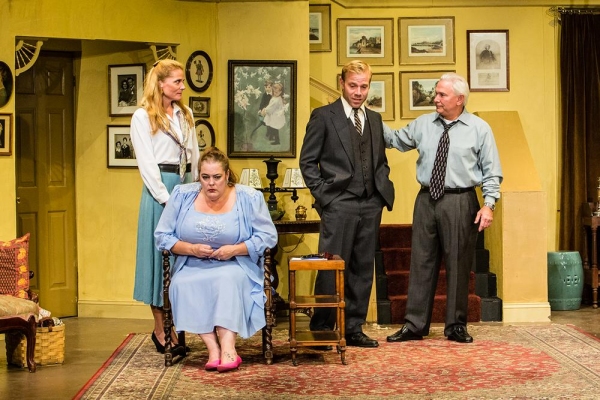 Kimberley Marcus, Beth Bonnabeau, James Hipp, and Leo Paul.

Erin Shaughnessy, Phair Haldin, Beth Bonnabeau, Jackie Decho Holm, James Hipp, Kimberly Marcus, and Leo Paul.