Bushnell Announces New Dates For Upcoming Broadway Series
The series includes Hamilton, Mean Girls, Hadestown, Dear Evan Hansen, and more!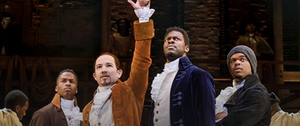 The Bushnell has announced new dates for its upcoming Broadway at the Bushnell series, which kicks off in October with Escape to Margaritaville.
If you have a subscription with The Bushnell for this season, your tickets are secure. The theatre is holding your seats for all of these upcoming shows and have its COVID-19 Guarantee in place to ensure maximum flexibility when it's time to return to the theater.
Learn more at https://bushnell.org/.
Full Lineup:
​Escape to Margaritaville | October 12 - 17, 2021
The Band's Visit | November 16 - 21, 2021
What the Constitution Means to Me | January 26 - 30, 2022
My Fair Lady | March 8 - 13, 2022
Blue Man Group (Encore Series) | March 17 - 20, 2022
Dear Evan Hansen | March 29 - April 3, 2022
Pretty Woman: The Musical | April 26 - May 1, 2022
Hamilton | June 22 - July 10, 2022
Hadestown | Dates TBA
Mean Girls | Dates TBA
For 90 years, The Bushnell has been central to life in Greater Hartford serving as its unique gathering place for arts, education, and community activities.
As a dynamic 21st Century performing arts center, The Bushnell presents, creates, inspires and shares the best in the performing arts; and in partnership with others, serves as a catalyst to advance education, promote economic development and build a sense of community in Central Connecticut.
Today, The Bushnell, a 501(c)(3) not-for-profit, is the State's largest arts organization and has been deemed a "Connecticut Cultural Treasure." Experience The Bushnell - past, present, and future - in the video below, beautifully produced by CPTV.