BWW Review: THE DIARY OF ANNE FRANK at Playhouse on Park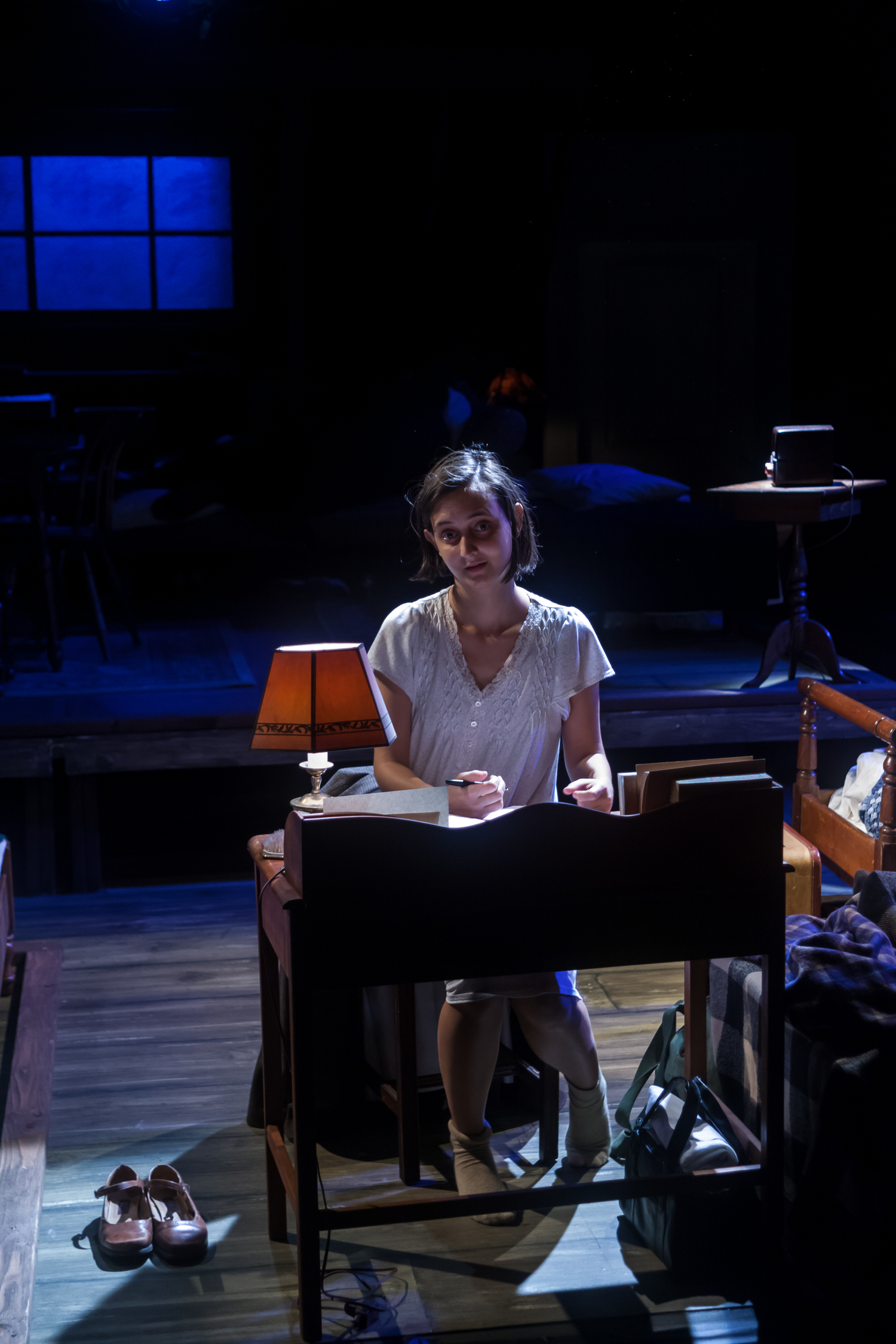 "Everyone has inside of him a piece of good news. The good news is that you don't know how great you can be! How much you can love! What you can accomplish! And what your potential is!" These inspiring words were written by a young Anne Frank in the diary that would go on to become the most famous diary in the world. Her optimism, her spirit, and her joy for life, even in the harshest of situations, has inspired so many since they were captured on the page. And, though young Anne did not live to see her own potential become reality, she left behind a first-person account that tells her story and the intricacies of the daily existence of eight people hidden away in Amsterdam during the height of World War II. Bringing those stories to life on the stage is what Playhouse on Park in West Hartford has done in their latest production of Frances Goodrich and Albert Hackett's THE DIARY OF ANNE FRANK which has been adapted by Wendy Kesselman to include newly discovered writings and survivor accounts of life during Nazi rule.
For many, the book that THE DIARY OF ANNE FRANK is based on, The Diary of a Young Girl, is required reading in school. And though the story may be familiar, the way that Playhouse on Park has brought it to vivid life is fresh, new, and fantastic. From the moment the families arrive in the small attic behind Mr. Otto Frank (Frank Van Putten)'s workplace, to the solemn end of their time in that space, their story is told with simplicity and care. In addition to Mr. Frank the play introduces energetic and talkative Anne (Isabelle Barbier), whose writings in her diary move the plot forward and help illustrate her observations on life in the small space. We also meet her sister Margot (Ruthy Froch) and mother, Edith (Joni Weisfeld), the Van Daans (Allen Lewis Rickman and Lisa Bostnar) and their son Peter (Alex Rafala), Mr. Düssel (Jonathan D. Mesisca) and the two people who have risked their lives to hide them, Mr. Kraler (Michael Enright) and Miep Gies (Elizabeth Simmons). As an audience, we experience, first-hand, the monotony of daily life (quarrels, parental struggles, young love) and memorable moments of togetherness, including an extremely touching scene during Hannukkah where Anne gives out thoughtful gifts to each person in the attic. And though the story is told with a constant sense of hope, the somber ending that most know is coming still comes with shock, surprise, and most of all, tears.
In the role of Anne, Isabelle Barbier is mesmerizing. She nails the innocence of the 13
year old Anne, as well as her curiosity and budding womanhood as the play progresses. She realistically portrays the complexity of a young girl, from a relationship with her mother fraught with conflict, to the blossoming romance with young Peter. Speaking of the romance, the scenes between Ms. Barbieri and Mr. Rafala are beacons of light in a dark time, illustrating that even in the worst of times, love can survive (and thrive). The adults are equally strong - Mr. Rickman and Ms. Bostnar's Van Daans are quirky, sometimes maddening, yet loveable all the same. And Mr. and Mrs. Frank, as portrayed by Mr. Van Putten and Ms. Weisfeld are stalwart, strong and dependable, but also show their vulnerable side in some very poignant scenes. And as Mr. Düssel, Mr. Mesisca is, at times, funny and at others, infuriating, which felt very true to what life in that space could do to a person.
Playhouse on Park is the perfect setting for a play like THE DIARY OF ANNE FRANK. The audience in the black box space feels to be inside the attic with the families, creating a sense of depth and reality that would be hard to replicate on a large stage. This is brilliantly punctuated during intermission, where the cast continues living their daily lives on stage while the audience leaves for the lobby, something that illustrates, even further, how cut off and alone these people must have felt. Ezra Barnes' vision for the play and direction shines through, bringing to life the tension and even joy that transpired in that small attic in Amsterdam. The aforementioned set by David Lewis, fills the entire black box space, but even then, the small rooms, crowded with furniture and people illustrate the close quarters that Anne, her family and the others must have felt constantly.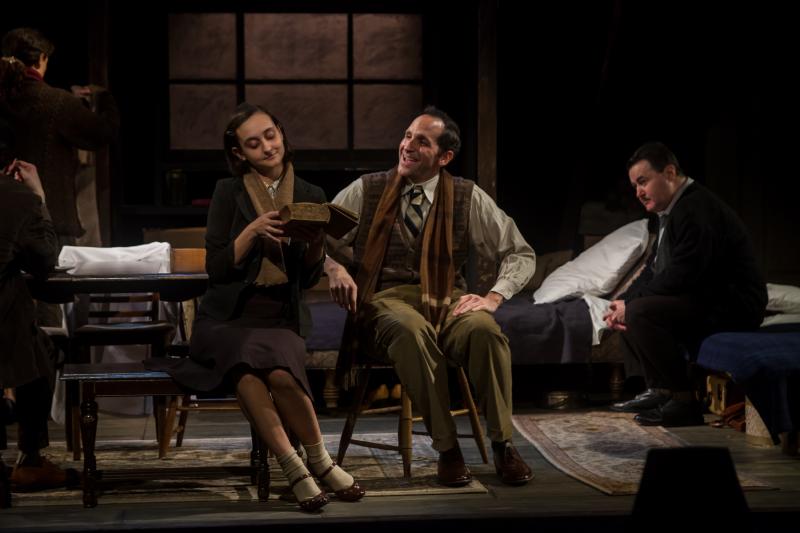 Though the story is familiar to many, and difficult at times to watch, Playhouse on Park has brought THE DIARY OF ANNE FRANK to life with much care, and introduces audiences to a tale of personal connection, determination, and most importantly, hope, even in the darkest of times. It is a moving and important story, one that should be, like the source material is for so many schoolchildren, required viewing for us all.
THE DIARY OF ANNE FRANK runs at Playhouse on Park in West Hartford, CT through November 19th. For more information, call 860-523-5900 ext. 10 or visit www.PlayhouseOnPark.org. Playhouse on Park is located at 244 Park Road, West Hartford, CT 06119
Photo credits: Curt Henderson. All credits listed from left to right.
Top Photo: Isabelle Barbier as Anne
Mid Photo: Frank Van Putten as Otto Frank, Joni Weisfeld as Edith, Alex Rafala as Peter van Daan, Allen Lewis Rickman as Mr. Van Daan, Jonathan D. Mesisca as Mr. Dussel, Lisa Bostnar as Mrs. Van Daan, Isabelle Barbier as Anne, Ruthy Froch as Margot
Bottom Photo: Isabelle Barbier as Anne, Jonathan D. Mesisca as Mr. Dussel, Allen Lewis Rickman as Mr. Van Daan