Photo Flash: The Human Race Brings ORDINARY DAYS To The Loft
There are four performers in the new musical Ordinary Days - four people, that is. Award-winning composer Adam Gwon says there's always a fifth character lurking.
"New York is very much a character, effecting how they look at their lives," says Gwon. But he adds that the show has proven to connect with audiences far beyond New York, "Those outside the city latch onto the themes of struggling to find out what you want out of life and how to reach those goals."
That connection has reached across the country. When Ordinary Days played in California, the Los Angeles Times reported, "You'll likely come out feeling as if you've just had an experience that was more than a little special."Dayton audiences will find a lot to associate with, from Gwon's wonderful music to the printed sayings that one of the characters spreads around Manhattan. The uplifting epigrams were inspired by real New York street artist James De La Vega, but anybody who has ever opened a fortune cookie will recognize the style. New York ties are also prominent among the four cast members in the Human Race production - as are Dayton ties. Two are now NYC residents - Miami Valley School grad
Tory Ross
, who just finished 9 to 5 on Broadway and Human Race Resident Artist
Scott Hunt
(Big River, Snapshots) who has been in New York productions of Les Miserables and Rent. The other two cast members are also Resident Artists -
Katie Pees
(Seussical, Five Course Love), whose stint in New York included a one-woman show, and Wright State MAPP director Jamie Cordes (Wait Until Dark, Man of La Mancha), who once appeared in The New Yorkers, albeit in Florida.Human Race Executive Director
Kevin Moore
, who spent several youthful years in the Big Apple, will be directing. Resident Artist Sean
Michael Flowers
, who lives in NYC now, is the musical director.Human Race Technical Director Scott J. Kimmins designed the set, which features cityscapes by artist Elena Bond. Costume Design is by Laine June Marr, lighting by John Rensel, sound by Nathan Dean and props by
Heather Powell
. Heather Jackson is the production Stage Manager. Ordinary Days is Gwon's third musical, but the first to be produced professionally. It has met with very rapid success - Gwon finished writing the first draft in 2007 and it was very quickly picked up for readings and workshops, and had its world premiere in 2008. The Human Race production is just one of several on tap this year, including one at Roundabout Theatre in New York.Gwon is going to take time out from working on several new shows to come to Dayton for the Human Race presentation of Ordinary Days. He'll take part in the While We're On The Subject Talkback after the June 20 matinee.Ordinary Days will have a preview performance June 10 and official opening June 11, with shows through June 27. Tickets are available by calling Ticket Center Stage at (937) 228-3639 or toll-free (888) 228-3630, or via
www.humanracetheatre.org
.Sponsors for the production are Sam L. Rinehart, CFP, CLU, Ameriprise Financial; Marion's Piazza; Larry S. Glickler, Bradford-Connelly& Glickler Funeral Home; Br
Ian Sharp
; John & Tamara Clough; and The Producers' Circle. Founded in 1986, The Human Race Theatre Company moved to the Metropolitan Arts Center in 1991, taking up residence at the 219-seat Loft Theatre. In addition to the Eichelberger Loft Season, The Human Race produces for the Victoria Theatre's Broadway Series, the
Musical Theatre Works
hop series, and special event programming. The Human Race, under the direction of Artistic Director Marsha Hanna and Executive Director
Kevin Moore
, also maintains education and outreach programs for children, teens and adults, as well as artist residencies in area schools, The Muse Machine In-School Tour, Youth Summer Stock, and The Human Race Conservatory. Human Race organizational support is provided by Culture Works, Montgomery County Arts and Cultural District, Shubert Foundation the Miriam Rosenthal Foundation and the Ohio
Arts Council
. The Ohio
Arts Council
helped fund this organization with state tax dollars to encourage economic growth, educational excellence and cultural enrichment for all Ohioans.
Photos by Scott J. Kimmins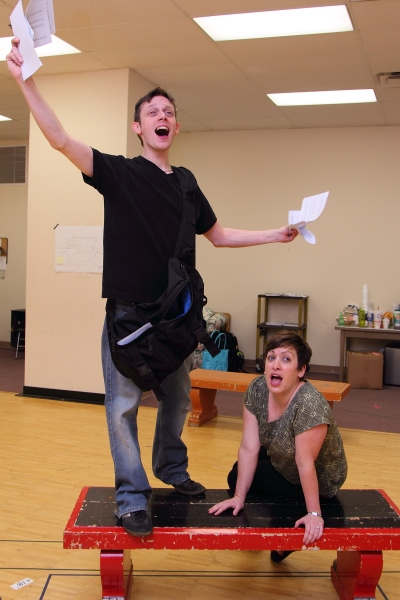 Tory Ross and Jamie Cordes

Scott Hunt and Katie Pees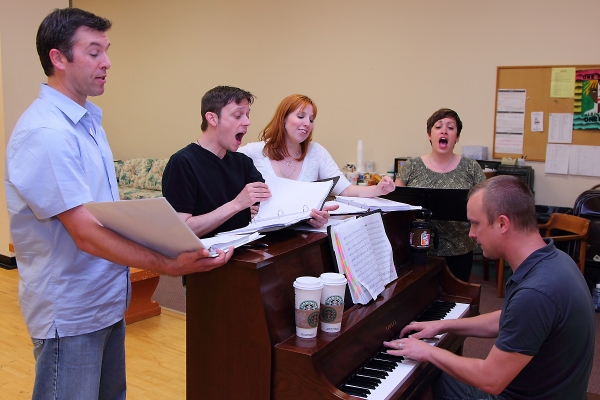 Jamie Cordes, Scott Hunt, Tory Ross and Katie Pees with Music Director Sean Michael Flowers