New Shaw Adaptation Receives American Premiere At Karamu House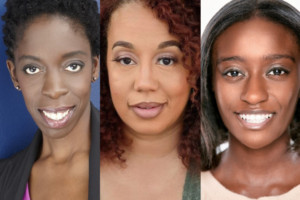 Karamu House, the oldest African American theatre in the country, presents the American premiere of The Adventures of The Black Girl in Her Search for God from March 22 through April 15, 2018. Performances of this sidesplitting comedy written by celebrated Canadian playwright Lisa Codrington, and based on the short story by George Bernard Shaw will be held in Karamu's intimate Arena Theatre in Cleveland, Ohio. Directed by Nina Domingue, the cast is led by India Pierre-Ingram in the title role and includes Kaila Benford, Robert Branch, Samantha Cocco, Michael Head, Mary-Francis R. Miller, Prophet D. Seay, and Karl Toth.
The play follows a young African girl who is abandoned by a white missionary for asking too many questions about God. Taking matters into her own hands, she sets off on her own to find out who-or what-God really is. Along the way, she meets a number of characters who have very different views on God. In the end, she is forced to make her own decisions on God and her search.
The Adventures of the Black Girl... is "a fast and wild voyage into Shaw's original source material that simultaneously turns it upside down" (The Toronto Star). The play was originally commissioned by The Shaw Festival in 2016, playing in The Court House Theatre in Niagara-on-the-Lake, Canada.
Playwright Lisa Codrington shares that this satirical comedy, set in "the Darkest Africa," takes place when Shaw wrote it in 1932. She further shares..."do not get too hung up on any of that, because the play is also home to talking snakes, gods, prophets and a dead playwright delivering a preface in the present." She goes on to share, "Time and space during the production are pretty mixed up," and that since the play was "not [written] by a scientist, historian, biblical scholar or biographer, it is not an accurate representation of the continent of Africa, Africans, the Bible, scientists, artists, snakes, Shaw or Europeans." Codrington speaks through the titular character to unveil that this new adaptation of Shaw's progressive 1930s novella highlights many globally pervasive social justice issues including religion, racism, slavery, patriarchy, privilege, oppression, discrimination, feminism, and iconoclasm, among others.
Lisa Codrington is an actor and playwright, based in Toronto, Ontario. Her first play Cast Iron premiered at Nightwood Theatre in association with Obsidian Theatre Company, receiving a nomination for a Governor General's Award in 2006. Her play Up The Garden Path was also produced by Obsidian at Theatre Passe Muraille in March 2016. As an actor, Codrington has performed for Mirvish Productions, Prairie Theatre Exchange, the Winnipeg and Toronto Fringe Festivals, the Hysteria Festival, and SummerWorks. She has been playwright-in-residence at Theatre Direct, Canadian Stage, Nightwood Theatre, Blyth Festival and Shaw Festival; and co-director of Youth Initiatives at Nightwood Theatre.
Award-winning actress and playwright Nina Domingue steers Codrington's play at the historic Karamu House theatre. Domingue's work as has been featured at the NY International Fringe Festival in her solo performance of Ya Mama! and off-Broadway in Ntozake Shange's It Hasn't Always Been This Way, directed by Diane McIntyre. Other acting credits include: Home by Samm-Art Williams starring James Pickens, Jr. (Karamu House/Project1Voice); for colored girls... as lady in orange, directed by Dale Shields (Karamu House/Project1Voice); Venus as The Venus Hottentot (Cleveland Public Theatre); Merry Wives of Windsor as Mistress Quickly (Great Lakes Theater); Nickel and Dimed (Cleveland Public Theatre/Great Lakes Theater); for colored girls... as lady in red (Karamu, directed by Terrence Spivey); and the World premiere of Medea at Six with Cleveland's Ensemble Theatre. Other solo work includes: Nilija Sun's No Child... (Cleveland Public Theater), The Little Mermaid (Cleveland Play House), and A Jewel of a Tale (Cleveland Play House). Film credits: Bringing Henrietta to Life (Henrietta Lacks), The Passageway (Dr. Collins), A Day of Racism (Sancha). Awards/Honors: "Best Actress in a Play" (Cleveland Theatre Collective), "Memorably Distinctive Performances in a Theatrical Season" (Cleveland Theatre Collective). Domingue received a Bachelor of Arts in Theater Arts from Dillard University of New Orleans, and a Master of Fine Arts in Acting from West Virginia University.
The design team includes scenery and costumes design by Inda Blatch-Geib, lighting design by Marcus Dana, and sound design by Rob Peck.
This production is sponsored by KeyBank Foundation. Tickets range from $15-$37 and can be reserved online via www.karamuhouse.org or by calling 216.795.7077.
Completing the 2017-18 season, Karamu House will present Passing Strange written by Stew and Heidi Rodewald from May 10 through June 3, 2018. Karamu is grateful for the generous support from the following 2017-2018 season sponsors: Ohio Arts Council, Cuyahoga Arts & Culture, The Cleveland Foundation, KeyBank Foundation, The George Gund Foundation, The Good Community Foundation, Bank of America, The Kulas Foundation, and Dominion Energy.
ABOUT KARAMU HOUSE
In 1915, Oberlin College graduates Russell and Rowena Jelliffe opened the Playhouse Settlement in a Cleveland area called The Roaring Third. The Jelliffes wanted to build an environment where people of different races, religions, and social and economic backgrounds could come together to seek and share common ventures through the arts, and Karamu House was established as a gathering place for racially-diverse members of the surrounding community at that time. As the community became predominantly African American, Karamu responded with programs geared to their needs and interests. Today, Karamu is evolving to be reborn as a beating heart for the entire community, regardless of race, ethnicity, sexual orientation, gender identification, or age, as it embarks on its second 100 years, retaining its historical identity as "a place of joyful gathering." Core programs include a five-performance, socially-relevant and professional quality theatre season; arts education in drama/theatre, music and dance for all ages; and community programming, such as a lecture series, and spoken word and music performances, that invites participation and engagement, reflection, and a re-commitment to cultural values.
For more information about Karamu, visit us online at www.karamuhouse.org.