BWW Review: Dobama's 'Sunset Baby' exposes the underbelly of the great sacrifice of survival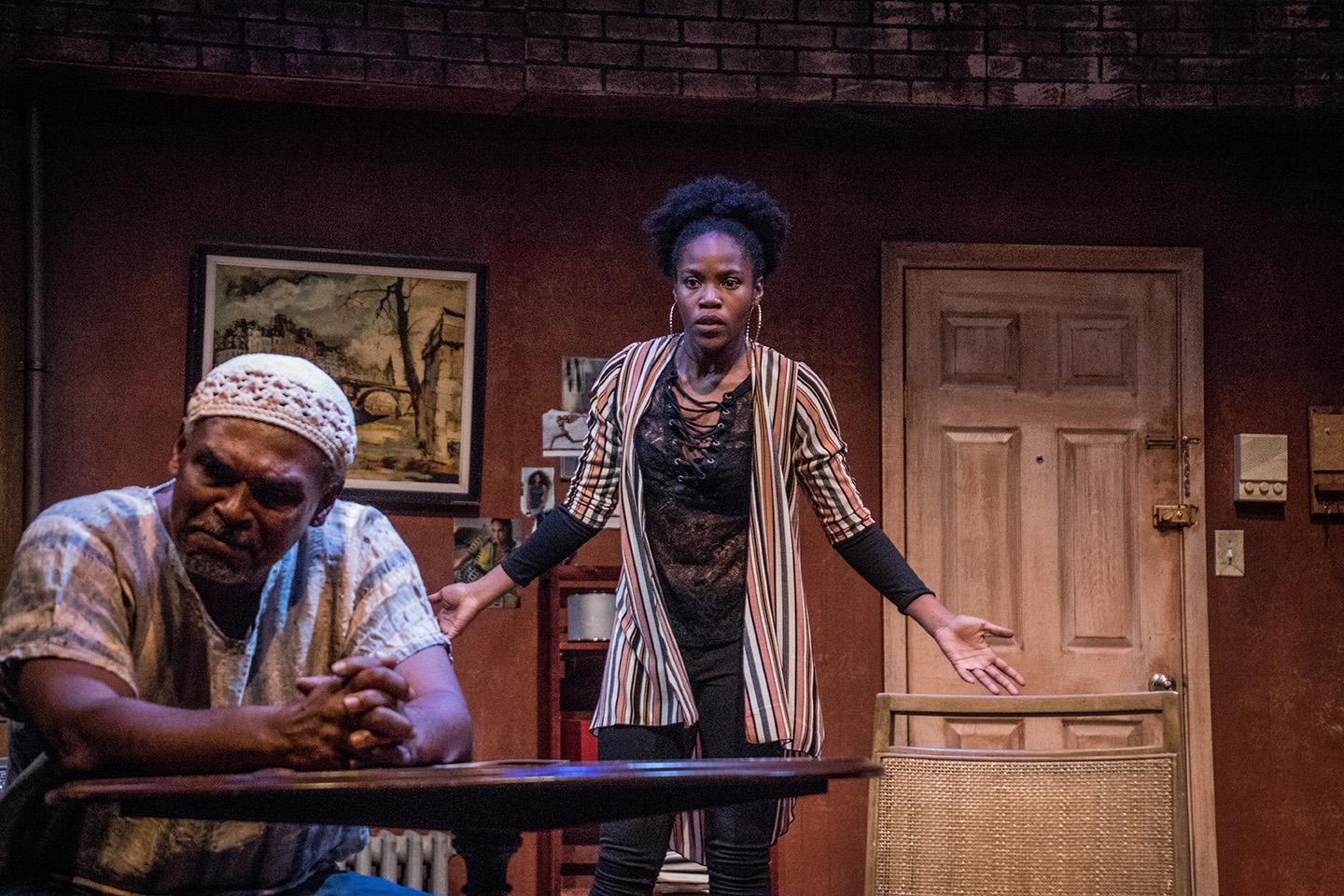 Dobama kicked off its 59th season with Dominique Morisseau's three character, 90-minute play, about two generations of urban outlaws struggling to find their way through life by lying, stealing and often hiding their real feelings.
Morisseau became a playwright almost out of necessity. While working toward her degree in acting at the University of Michigan, she found herself frustrated over the lack of roles for African American women. She started to write plays from a feminist perspective that contained opportunities for female performers, especially black women.
The two-time NAACP Image Award winner was listed as one of the top "20 Most Produced Playwrights in America in 2015-16."
On the surface, "Sunset Baby" focuses on Nina, a sensuous young black woman who goes through life with a chip on her shoulder and a "I'll do anything to get through life" attitude. She, along with her "boyfriend" Damon, the father of a young boy from another relationship, sell drugs, scheme and pull guns when necessary, to "make it."
Nina's mother recently died, leaving her a packet of love letters that she had written, but never mailed to her husband, Nina's father, Kenyatta, a jailed member of the Black Panther Party.
Kenyatta, an advocate for black rights, was an active member of the organization, founded by Bobby Seale and Huey Newton in the 1960s, which was identified by FBI director J. Edgar Hoover as "the greatest threat to the internal security of the country." Hoover supervised "an extensive counterintelligence program to undermine Panther leadership, incriminate party members, discredit and criminalize the Party, and drain the organization of resources and manpower." Though the group did initiate violent reactions to police, they also instituted a variety of community social programs, including health clinics and food programs.
Kenyatta, who abandoned his wife and child because of his belief in the Black Panther cause, was put in jail, and became alienated from Nina (who was named after singer and Civil Rights Activist, Nina Simone).
When he attempts to reunite with his daughter, he is rejected. She wants nothing to do with him and refuses to let him even read the letters left to her by her mother, letters sought out by scholars interested in writing about the revolutionary '60s.
Kenyatta has difficulty expressing his emotions. Nina has no cap on her feelings of abandonment and disdain for her father. In utter frustration she rants, "I sell drugs and rob my own people, and my mother died an addict. And now here's daddy coming back here to be sentimental." She concludes with a withering epitaph: "Ain't nothin' sentimental about a dead revolution."
Damon is adrift in his own tortured way. He blurts out about the mother of his child, "[she] making me out to be the bad guy, when I'm only half-bad."
"Sunset Baby" is wisely directed by Justin Emeka. The frustrations and misunderstandings come out clearly. His cast is up to the task of bringing to life Morisseau's often over-lapping, powerful, Ebonic-tinged speeches and sounds.
Mary-Francis Miller transforms herself into Nina. She doesn't act, she is! Greg White, though sometimes hard to hear due to his controlled demeanor, is on course as Kenyatta. His final scene is emotionally wrenching. Ananias J. Dixon plays the smoldering "black man frustrated by life" with the proper attitude.
Scenic designer Laura Carlson Tarantowski has the unenviable task of trying to create the needed intimate, "distressed apartment in Brooklyn" in the long rectangular Dobama acting space. She doesn't' completely succeed. The audience in the center areas of the theatre are close enough to feel included, while those in the side sections are too far away for the needed intimacy. The apartment is also too large, too "respectable" for the distressed. A more confined acting area would have added to the strangling feeling of the speeches.
The use of Nina Simone songs during the show were both a boon and a problem. They set the proper tone, but when they underscored spoken lines, even when the volume was low, they distracted from the speeches.
Capsule judgement: "Sunset Baby" is an unnerving, thought-provoking script which exposes the viewer to not only the black experience in this country, but forces them to think back to both the turbulent 1960s and the effect the political and societal problems of the day had on those who actively lived through those times. It is a well-conceived production worth seeing.
"Sunset Baby" runs through September 30, 2018, at Dobama, 2340 Lee Road, Cleveland Heights. Call 216-932-3396 or http://www.dobama.org for tickets.
Next up at Dobama: "John" by Annie Baker, the Pulitzer Prize winning playwright of the very successful Dobama production of "The Flick." It will star Dorothy Silver, Cleveland's Grande dame of theatre.