Review: BECK CENTER BROADWAY ALUMS IN CONCERT at Beck Center For The Arts/on-line
Beck's stream is a total must see!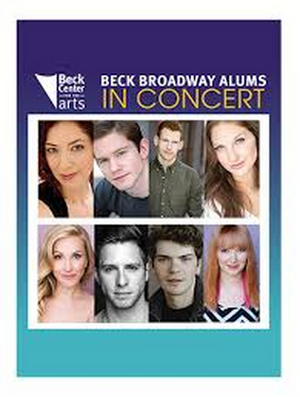 Beck Center often coordinates with Baldwin Wallace Music Theatre program to produce some of the area's best musical theatre. Not only does the stage often sparkle with BWU students, but thespians from all over the area are cast in some of the Beck shows.Hosted by Kathleen Rooney Faubel, a BWU alum whose talent was showcased at Beck in The Little Mermaid and Evil Dead, The Musical, and her husband, Jarid Faubel, a showcase is being streamed which features performances and interviews with former BC actors and singers who have gone on to Broadway and professional touring company appearances.Rory O'Malley, a St. Ignatius and Carnegie Mellon grad, who appeared on Broadway in The Book Of Mormon,
The 25th Annual Putnam County Spelling Bee
and Hamilton, opened the program with a well-interpreted "A Good Thing Going," which is from Sondheim's Merrily We Roll Along
.
Some of the members of the cast of Beck's Dog Fight (for my review of the original production go to
https://royberkinfo.blogspot.com/2015/02/dogfight-fails-to-live-up-to-beck.html
), did a medley from the show. Included was Colton Ryan, BW grad, who not only sang in that number, but did a charming personal interview. Ryan made his Broadway debut in Dear Evan Hanson, and went on to appear in the new Bob Dylan musical The Girl from the North Country. Other performers were Zack Adkins, Gabe Brown, Mike Cefalo, Nick Drake, Andrew Kotzen and Stephan Stubbins.
Keri Rene Fuller, showcased in Beck Center's Bloody, Bloody Andrew Jackson and Dogfight brought her talents to Broadway in Waitress and did the latest national tour of Cats. She sang a plaintive version of "Before It's Over."Corey Mach, who performed in Joseph and the Amazing Technicolor Dream
Coat at Beck Center prior to becoming a BW student and taking his talents to Broadway, appeared on the Great White Way in Kinky Boots, Hands on a Hardbody and Godspell. He toured in Wicked, Flashdance: The Musical and Rent. In this program he did a delightful rendition of "You'll Be Back" from Hamilton.The Faubels not only did a walking tour of some of the Broadway theatres, but interrupted their hosting to perform an engaging rendition of "It's De-Lovely."Rebecca Pitcher, performed at Beck in Sweeney Todd and She Loves Me, and is noted for her long run as Christine in The Phantom of the Opera on Broadway. She also appeared in Carousel on the Great White Way and toured in The Sound of Music. She not only sang "How Could I Ever Know" from The Secret Garden, but told the tale of how she accidentally caught on fire while performing in "Phantom."
Cassie Okenka, another BW alum, performed at BC in Moby Dick the Musical before rocking her way to Broadway in School of Rock and Bonnie and Clyde. For the reunion concert she sang, "Put a Little Love in Your Heart."Cincinnati Conservatory of Music alum, Max Chernin, who sang "Sailing" from A New Brain, was seen on the Beck Center boards in Aida and The History Boys. He performed in Bright Star and Sunday in the Park with George in NYC.The concert ended with Libby Servais, who was in Glinda in Broadway's Wicked, also performed there in Lysistrata Jones. She was accompanied by and sang "'Till There Was You" from The Music Man, with her husband.Capsule judgment: For anyone who loves musical theatre and talented Broadway performers, Beck's stream is a total must see! For free tickets to this engagement, which runs March 5 to March 28, 2021, go to
ShowTix4U.com
. Also consider making a contribution to keep Beck as a thank you for the show and as a boost for their viability as a performing arts center.