TCT Presents The Frisch Marionette Company's Production Of THE WIZARD OF OZ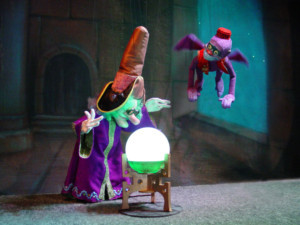 The Children's Theatre of Cincinnati is proud to present The Frisch Marionette Company performing everyone's favorite story of Dorothy's trip over the rainbow, THE WIZARD OF OZ.
TCT's Producing Artistic Director, Roderick Justice says, ""Frisch Marionettes is one of the most mesmerizing live theatrical performances I have ever witnessed. We are excited to share this experience with you and bring this story to life on our Showtime Stage on Red Bank."
Kim Kern, TCT's Managing Director and CEO says, "At TCT, we believe it is vital to collaborate with other arts organizations to provide a variety of age appropriate arts experiences to instill a love of the arts in our future generations of arts patrons."
THE WIZARD OF OZ is an American fairytale and is an inspiring story about unlocking the potential that exists within each of us. This production is one of The Frisch Marionettes' proudest achievements. Celebrate America's rich musical heritage as you travel down the Yellow Brick Road with Dorothy to find out why a Lion, Tinman and Strawman are all singing the Blues.
Produced and directed by Kevin Frisch.
This show is ideal for children ages 4+. Learn more about the art of puppetry when Kevin Frisch hosts a kid-friendly talkback after each performance.
Tickets are $15 each plus service fee and are available exclusively through ticketmaster.com or by calling 800-745-3000.
Discounts are not available for these performances. Every person, regardless of age, needs a ticket. Children 0 to 12 months who do not need a seat and will sit on your lap will be required to have an Infant Lap Pass for each show in every seating location throughout the theater. Lap Passes are just $1.
Performances will be held:
Friday, September 14, 2018 at 11:00 am - 12:00 pm
Friday, September 14, 2018 at 2:00 pm - 3:00 pm -- Special Homeschool performance
Saturday, September 15, 2018 at 11:00 am - 12:00 pm
Saturday, September 15, 2018 at 2:00 pm - 3:00 pm
Sunday, September 16, 2018 at 2:00 pm - 3:00 pm
Performed on The Children's Theatre of Cincinnati's Ralph and Patricia Corbett's Showtime Stage, 4015 Red Bank Road, Cincinnati, OH 45227.
About Kevin Frisch and The Frisch Marionette Company:
In 1986, Kevin Frisch moved to New York City and joined The Puppetworks, Inc. of Brooklyn, New York. The next nine years were spent touring the New York Metropolitan area as well as performing in The Puppetworks' permanent theatres in Brooklyn and Macy's Herald Square. In 1995, Kevin established The Frisch Marionettes in Cincinnati as an exceptional entertainment and educational experience for children and adults alike, proclaiming the many virtues of this unusual art form. Kevin Frisch has built puppets, masks and costumes for The Central Park Zoo, New York Aquarium and The Puppetworks Inc. of New York. His puppets have been seen in People Magazine, SHOWTIMES' "Twisted Puppet Theater", the PBS Documentary "The American Puppet," and onstage with The Cincinnati Opera as well as in the New York store windows of 'Saks 5th Ave.', 'Bloomingdale's' and 'Hermes New York' and in the family film "Mr. Magorium's Wonder Emporium" featuring Dustin Hoffman and Natalie Portman. Kevin and his puppets have appeared in television commercials for Joseph Toyota of Cincinnati. Most recently, his puppets have appeared in the hit television shows "2 Broke Girls" on CBS and "Warehouse 13" on the Syfy channel. For the past five seasons, The Frisch Marionette Company has designed puppets for TCT's MainStage productions at the Taft Theatre

Related Articles View More Cincinnati

Stories

Shows
More Hot Stories For You